For six years, the Business Record has published a survey dedicated to shining a light on issues that women face in Iowa, both at work and at home. While the survey is not scientific and different people respond every year, one thing has remained the same: Women are still not on equal footing with their male counterparts in many aspects of life, including pay, representation, treatment and responsibilities. While progress has been demonstrated in recent years through the #MeToo movement and the increase of diverse representation in political office, the pandemic has exacerbated these issues. 
This analysis aims to provide a wide-angle view on some of the biggest issues that survey respondents identified. A selection of responses is included with open-ended questions. More topics, such as family leave policies, discrimination and the role of male allies, will be covered in-depth in future editions of the Fearless newsletter.

– Emily Blobaum, Fearless editor  
---
Who took the survey?
A total of 376 people participated in the survey between Jan. 24 and Feb. 12.
What do you consider to be some of the biggest advancements of women in the last year?
Analysis: If anything, 2020 was a historical year of extremes. On one end, women saw historic job losses. More than 2.3 million women have left the workforce since February 2020, causing the labor participation rate to decline to levels not seen since the 1980s. On the other end, women experienced historic firsts. Iowa's congressional delegation became majority female for the first time. Delaware's Sarah McBride became the nation's first openly transgender state senator. Kim Ng became the first woman to be the general manager of a major league baseball team. Sydney Barber was named the first Black woman to serve as the U.S. Naval Academy brigade commander. And perhaps most significant was the election of Kamala Harris to the vice presidency. But advancements don't always come in the form of firsts; sometimes they come in the form of awareness. While the pandemic and the economic fallout certainly affected women and people of color at higher rates, causing the exact opposite of advancement, it also shed light on already-existing issues.
---
"Seeing more females elected to public office was a win for women and our entire nation. But from an overall standpoint, this last year has been a setback for women. According to the National Women's Law Center, 80% of the workers who have left the labor force are women. This is a substantial setback as women are leaving the workforce due to a lack of a support system and taking on more child care, household and online teaching responsibilities. Additionally, the industries most impacted by COVID, such as health care, hospitality, service, education and others, are female-dominated occupations, which further impacts women leaving the workforce."
---
"For decades women gracefully balanced professional lives with motherhood. In the last year, men and especially fathers who have been working from home have seen firsthand that it is not a graceful act. I think more than ever the intensity of being a working parent has been illuminated. Now that the other half has felt the pain, I think we are seeing massive changes in corporate policies that finally address the complexity of family and work."
---
"People are listening to Black women more, reading their books and taking them seriously. Though there is still a long way to go."
---
"I think we are making steps in the right direction to lift voices of women and start to address these longtime systemic issues by just bringing light to the fact that they exist. Movements like #MeToo have caused women to start to band together and realize that the way they have been treated wasn't JUST them. We're at the tip of the iceberg but starting to dig a little deeper into resolutions."
---
"We celebrated the first woman vice president and first woman to referee the Super Bowl, which represent great examples of advancement. But on a more local level, the pandemic has highlighted the fact that women are incredibly resourceful, which is an advancement in and of itself. Women have become quite accustomed to juggling the demands of career and family while battling gender norms. But of late, women have assumed additional responsibilities while in many cases receiving little support themselves: home schooling, responsibility for the mental health challenges created by the pandemic for themselves and those they love, caring for the physical and mental health of family and friends, and in many cases, caring for the health of small businesses in their communities. Over the last year, women have shown, whether driven by desire or circumstance, incredible adaptability and resilience."
---
What are the biggest challenges, obstacles or barriers that you and other women face at work? 
Analysis: Arguably the biggest challenge that women faced at work this last year was the fact that they lost work. While unemployment rates between men and women have mostly evened out now, at the start of the pandemic last year, the female unemployment rate was at 15%, compared with a male unemployment rate of 13%, leading to the coinage of the term "shecession." For those who maintained employment, issues of pay equity and discrimination still persisted. The killings of George Floyd and Breonna Taylor last year brought forth a nationwide reckoning on racism, both at individual and systemic levels. Women continue facing personal challenges, too, like lack of confidence and imposter syndrome. 
---
"I think shame undergirds so many of our struggles. Am I good enough? Do people think I'm doing a good job? How do people perceive me?"
---
"The risk of a bad idea, failure. Women are much less likely to take risk, which also sets us back from owning large portfolios! We need the confidence to break through and empower others to take risks!"
---
"I think the perception of working women is one of the biggest issues. If you spend a lot of time at work, do you not care for or want a family? If you're in a position of leadership, what did you have to do to get there? You must be opinionated and brash to be able to succeed. If you are a stay-at-home mom, do you not have your own goals and ambition? (Even just typing that made me cringe.) I struggle with this and 'looking young,' which I don't believe would have even been an issue if not for being a woman, which led to feelings of imposter syndrome, a lack of self-confidence and burnout from trying to prove myself."
---
"Rate of pay for clerical jobs is lower than male-dominated jobs. I've been at my employer for over 10 years and still make less than $15 an hour for doing clerical work."
---
"I have examples in the last year alone how a young woman can be an expert and is dismissed while a slightly older man in a suit gives the same advice and is well received. It was not about word choice, delivery or posture. It was pure and simple sexism."
---
"The good old boys club is alive and well in Des Moines. Sexual harassment and inappropriate boundaries from men at work, the fact that women even in leadership positions are more frequently asked to do menial tasks or arrange meetings or run errands."
---
"I think racism and the intersection of race, gender and other-isms are the single greatest barriers to women in the workplace. Women of color in particular face a completely different work environment than white women."
---
What are the biggest challenges, obstacles or barriers that you and other women face outside of work?
Analysis: Sexism continues to be a form of discrimination that women experience outside of the office. With traditional gender roles still very much at play, the pandemic forced millions of women to either quit or balance their jobs with taking care of their children after schools and child care centers closed their doors. Fear for personal safety and treatment of women on social media were also identified as challenges. Recently, female reporters at national news outlets like Taylor Lorenz and Seung Min Kim have been victims of widespread harassment on social media. Other barriers and obstacles that respondents identified were more personal, like time management and imposter syndrome. 
---
"Women take on the majority of family/household responsibilities, leaving little mental space or actual time to work on work outside of business hours."
---
"Fear of walking alone at night."
---
"I don't use social media platforms. However, what I hear about misogynistic, sexual attacks on ladies is alarming."
---
"Adequate division of responsibilities in the home — I earn more than double my husband and also am predominantly responsible for all household decisions as well as all meal planning and preparation."
---
"The chore gap and emotional toll gap, especially during a pandemic. As we are confined to home, women carry the brunt of the house work like cooking, cleaning, taking care of the kids. Beyond that, women have the labor of organizing things. Spouse or partner wants to help clean? The woman of the house is typically the one who tells him "what" to clean. He wants to make dinner? "Well, what do you want?" The woman chooses. Even if she's making dinner, she's still in charge of deciding what to cook, what to put on the list, etc. It's like a management system."
---
"An issue that women face is the negativity of social media. It is the attention-seeking, instant gratification nature of people on social media that is toxic and can be deadly, especially in younger women. The pressure to have a life like those shown on Instagram, the need to be 'liked,' or to have so many views is truly a heavy load."
---
"Women place a lot of pressure on themselves to be great at work and home. These are challenges that we can navigate IF we learn how to manage our expectations and ask for help from our family members."
---
In the past five years, have women made significant progress in obtaining a better balance of gender parity in politics?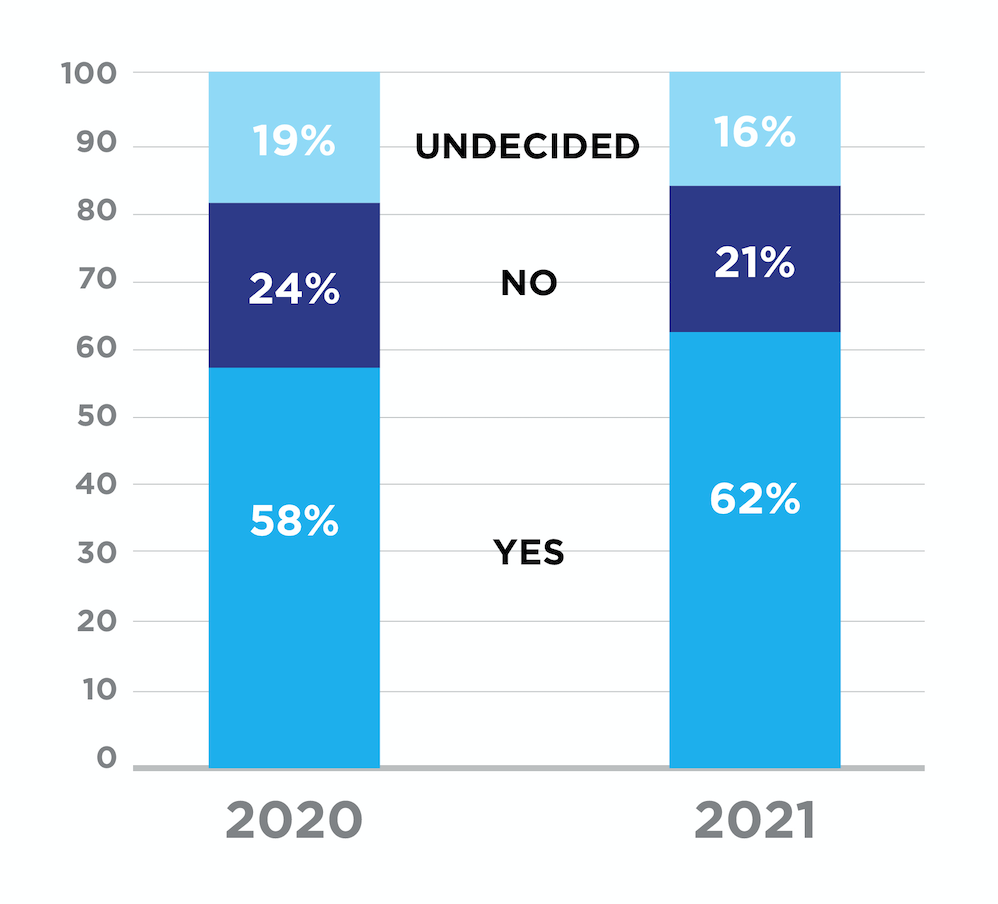 Analysis: On the national stage, increases in female representation in politics have been attributed to backlash from the Anita Hill hearings in the 1990s and the election of President Donald Trump in 2016. Currently, women make up 26.5% of seats in the U.S. Congress. At the state level, women make up 28.7% of seats in the Iowa Legislature, down from a record high of 29.3% in 2019 and 2020. In a previous story, Karen Kedrowski, director of the Carrie Chapman Catt Center for Women and Politics, said: "[Twenty-nine percent is] enough to be able to influence the agenda. But having said that … I would be happy if we could see that women were as represented amongst our elected officials as they are in the adult population. … Women are 52% of the voting-age population, so I think it would be great if we approached 52% amongst our elected officials." 
---
How big an issue do you perceive access to affordable child care in Iowa to be?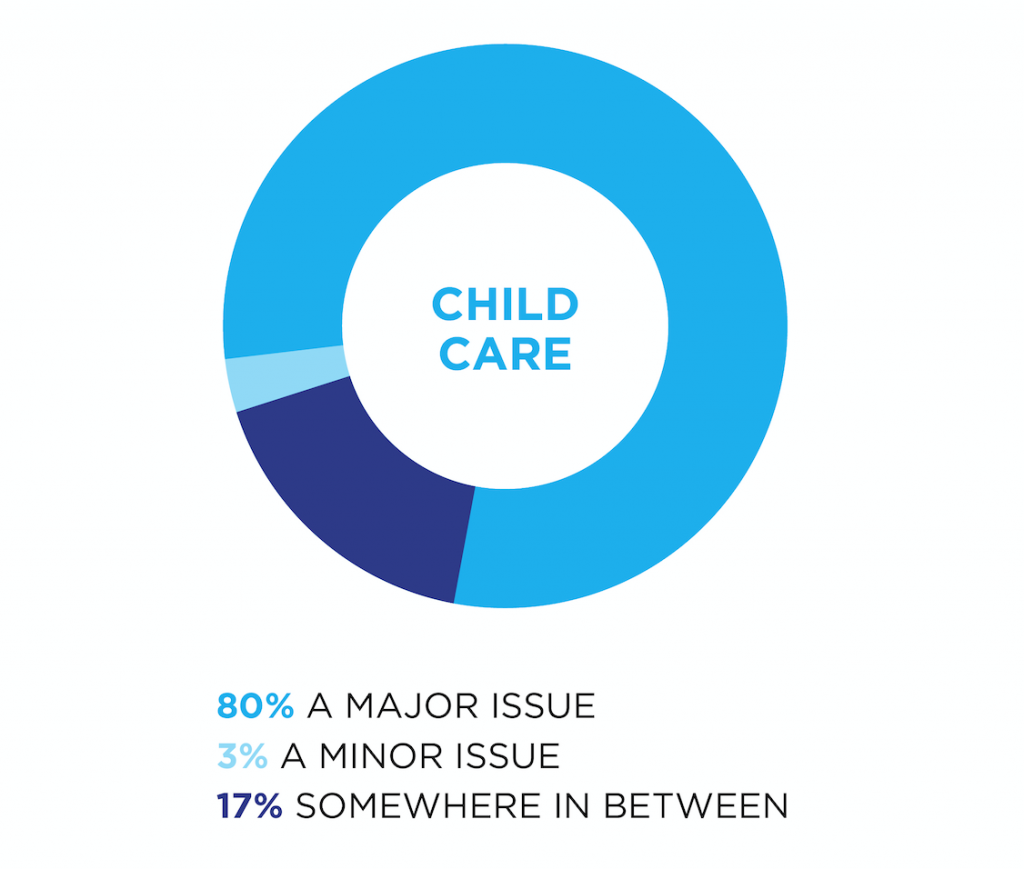 Analysis: Access to affordable, quality child care was an issue before the pandemic hit. Nearly 25% of Iowa's population lives in a child care desert, and on average it costs more for a child under 5 to attend full-time child care at a Department of Human Services-licensed center than it costs for in-state tuition at any of Iowa's regent universities. To make matters worse, a report by the Center for American Progress last April estimated that 51% of the child care supply in Iowa could be lost as a result of the pandemic. Gov. Kim Reynolds, lawmakers and business leaders listed child care as a top priority in the 2021 legislative session. 
---
How big an issue do you perceive pay inequity in Iowa to be?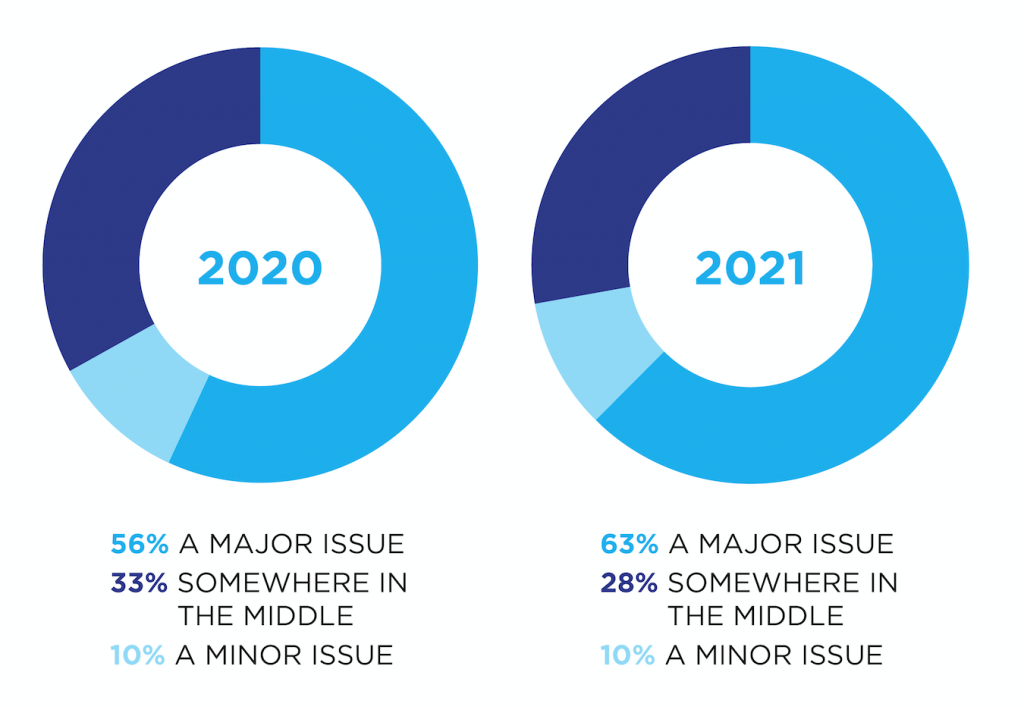 Analysis: Compared with last year, more respondents see pay inequity as a major issue this year. A recent analysis by the Institute for Women's Policy Research found that racial and gender wage gaps are still profound. Compared with white non-Hispanic men's earnings, the median weekly earnings for Hispanic women were 58.7%, Black women's were 63.6%, White non-Hispanic women's 79.6% and Asian women's 95.2%. 
---
Rate how supportive you perceive these industries and groups to be of women in business.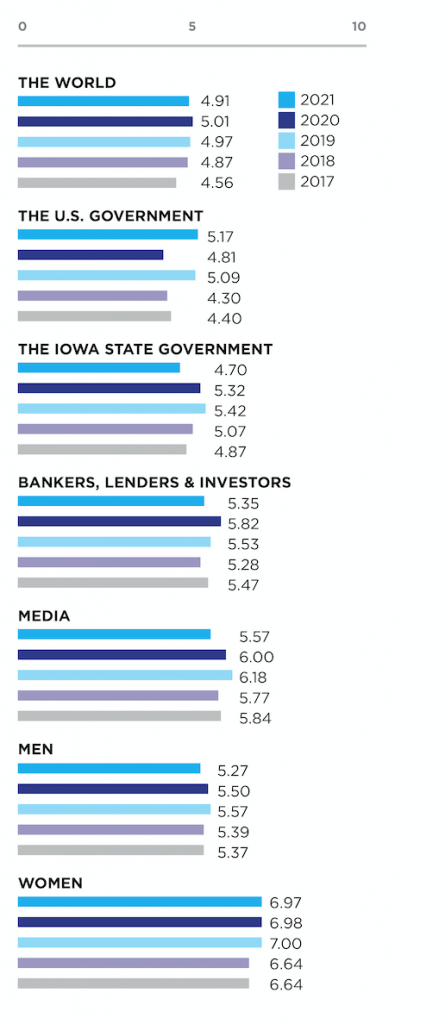 Analysis: This question has appeared in the women's survey since it began in 2016. This year, we decided to look at the previous five years to see what progress has been made, if any. The ranking reflects an average based on respondents assigning each area a value from 1 to 10, with 1 not being very supportive and 10 being very supportive. Most of these rankings hover around the 5-point mark, which signals that we still have a long way to go on the road to progress. No individual group shows a steady path forward; averages fluctuate from year to year. When looking at where we were at in 2017, the area with the highest positive point difference is the U.S. government, which saw a 0.77-point increase. Areas that have seen a negative point difference compared with 2017 numbers are the state of Iowa government, bankers/lenders/investors, media and men. Further analysis of this question will appear in future Fearless coverage.
---
Tell us how close you perceive women are to reaching full equality with men.

Analysis: We formatted the question differently on this year's survey to be on a sliding scale rather than a ranking from 1-10. Previous years have seen an average of 5.78 out of 10.
.
.
.
.
.
---
Do you feel that you've been treated equally to your male co-workers?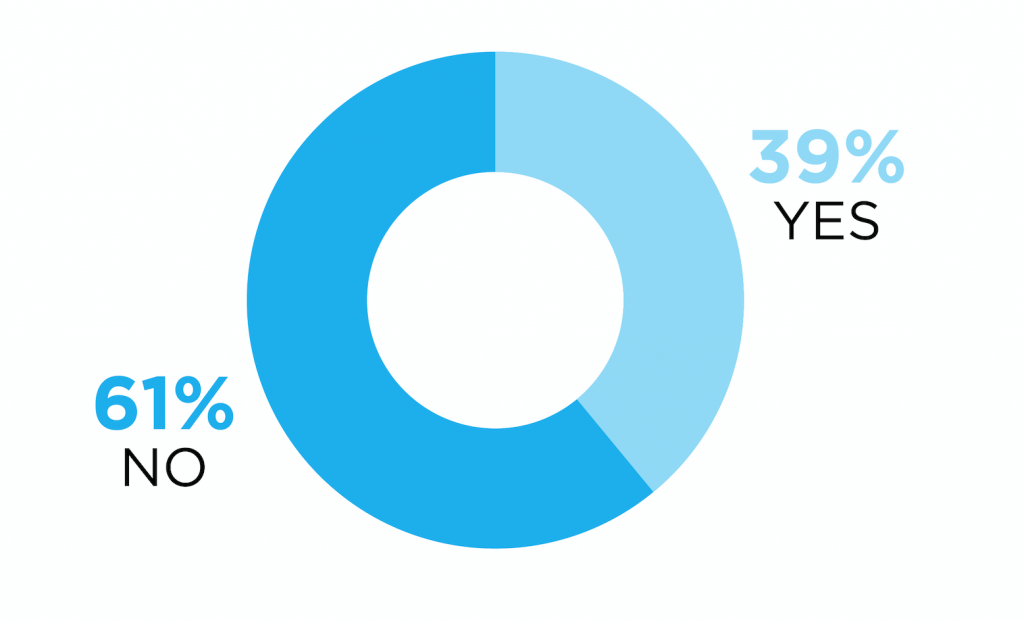 Analysis: This question was also asked in the 2017 survey. That year, 65% of respondents said no.
---
"I'm asked to do additional work that is outside of my job description on a regular basis like making and fetching coffee for board meetings, filling in at reception and having to reach out to disgruntled citizens because the men don't want to deal with it. Additionally, I have to deal with being called sweetie, not being taken seriously, and being constantly talked over and interrupted."
---
"I'm frequently treated much differently for being a tough woman than a man with the same behaviors or attitudes."
---
"I have had great managers at times who treated me fairly. However, I feel that ended when I became a mom."
---
"I was fortunate that at the time I came into the workforce, there was a real push to have women in leadership. And then I worked my butt off to continue to prove that I could be a leader. I was given some great opportunities by enlightened men."