Annual Fearless survey: 80% of Iowa women say they're burned out and top issues include child care, pay equity, harassment
By Emily Kestel
Since 2016, the Business Record has published a survey dedicated to shining a light on issues that women face in Iowa, both at work and at home. The survey is not scientific and different people respond every year, but one thing has remained the same: Iowa women have yet to experience equity with their male counterparts in many aspects of life. The following responses and analysis aim to provide a wide-angle view on some of the biggest issues that respondents identified, including burnout, pay, child care, representation of women in leadership and political positions, and treatment at work.
More topics, such as family leave policies, the #MeToo movement, conversations about social issues and the role of male allies will be covered in depth in future Business Record and Fearless stories. Sign up to receive the weekly Fearless newsletter to be the first to read the analysis.
Note: Due to rounding, some percentages may not add up to exactly 100. Written responses have been lightly edited and condensed for clarity.
— Emily Kestel, Fearless editor
Who took the survey?
A total of 286 people participated in the survey between Feb. 21 and March 6.
What are the biggest challenges, obstacles, or barriers that you and other women face at work?
Women continue to face the same barriers at work that they have for the last several decades, including sexism, harassment and lack of representation. Women continue to make less money than their male counterparts and have yet to see equal representation in many C-suite or board positions. Women also continue to live in fear of their emotional and physical safety. One example worth mentioning: Within the last year, unprovoked attacks on Asian women have skyrocketed. One thing you'll discover as you read these responses is that what affects women at home also affects them at work.
---
"It is absolutely exhausting that in 2022 we are still facing and talking about so many of the same challenges that have existed for decades — equal pay, access to opportunities, flexible work, navigating biases, and physical and emotional safety. And let's be clear, while these are common barriers for all women, women of color are disproportionately impacted across the board."
"Equal pay. Opportunities for advancement. Having a voice/seat at the decision-making table."
"Middle-aged women continue to be passed over and underestimated."
"Women remain underrepresented in leadership, especially political leadership. Even though we have record-breaking numbers of women in elected roles, the staff positions remain significantly dominated by men."
"Literally, everything. I feel like I am constantly explaining why my kids (or I, God forbid) have doctor's appointments, sickness, or school-related absences. This is a fact of life. Employers need to get on board to see that we are all trying to do our best with limited resources. It is INCREDIBLY frustrating that as moms, we take the brunt of everything and oftentimes, end up sacrificing our own health and well-being for job opportunities."
"There are many but here are the two biggest: 1. Women's work is overall valued less than men's. 2. The mental load of being the primary caregiver at home and increasing challenges in the workplace at a time when most child care options are hard to find."
"I'm not in the workplace, only watching and listening to those who are. Leadership is expressing genuine fear about availability of the workforce. The upward pressure on wages, costs associated with COVID and the supply chain disruption are all serious challenges. These affect women so much because they are most often the front line – paid the least, yet the most necessary."
"Women of color not only have to navigate a work world that was designed by and for men but also one that was designed by and for white people. Sexual harassment and assault continue to plague the workplace, especially when power dynamics put a woman in a more vulnerable position. Often, women have to decide whether to set boundaries or experience career advancement."
"Remote and hybrid work introduces flexibility, but may limit future promotion opportunities."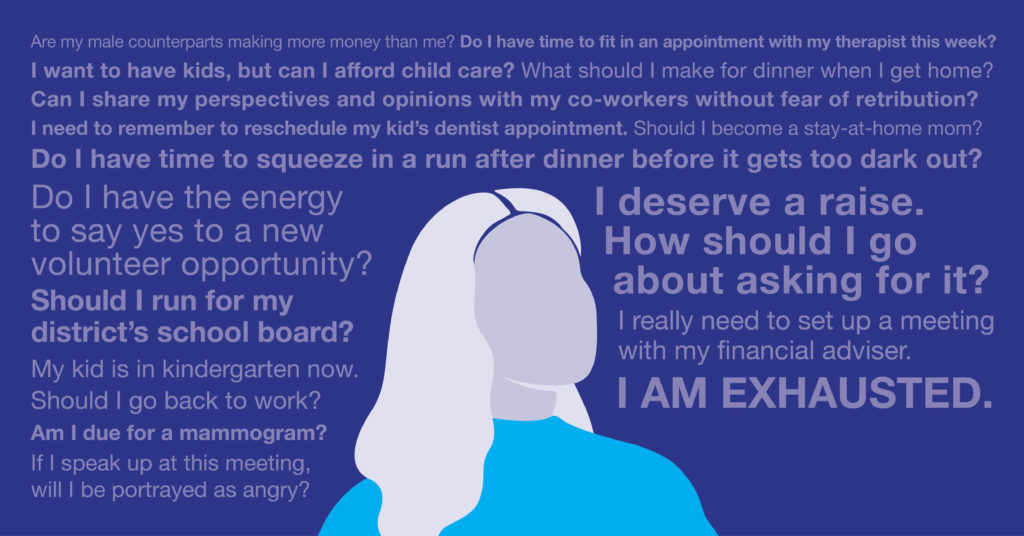 What are the biggest challenges, obstacles or barriers that you and other women face outside of work?
The juggling act of being fully present at work and at home was a common theme this year for those with children. One person summed it up like this: "The internal and external struggle that one cannot be both successful in work and also being a parent."
---
"I would be remiss if I didn't speak to the high levels of violence men commit towards women. If you haven't experienced it personally, most women know someone who has been affected by violence and are aware that could happen to them. An author who speaks on women's rights has posted this question every year for the past 4-5 years on Twitter: "Women: Imagine that for one day men were removed. Just one day, they would return the next day without harm or impact to them, what would you do?" Do you know what the number one response has been by tens of thousands of women every year? "I want to be able to go for a run or walk at night while listening to my headphones." That's it – to just exist without threat to our safety."
"Child care. Iowans should be outraged with lawmakers, policymakers and employers who fail to see that valuing women employees means also helping to provide adequate and safe child care at all ages. The pandemic revealed that there is little momentum or desire to address this by the men who fill most of these positions, many who want to protect unborn children but then do not address the care needed for them when they are outside a uterus."
"Insufficient child care and high-priced child care. The amount of domestic work on top of a career. Lack of mental health resources. Unfair and inequitable health care systems. Domestic violence."
"New legislation regulating abortion is going to significantly set women back professionally, financially and potentially even physically."
"Trying to do it all. Women have been some of my biggest supporters and a lot of women haven't been. We still have an opportunity even more to come together and respect and support the decisions each other has made as fellow women. Working outside of the home, staying home, or leading a company — it's all just personal choice."
"Trying to juggle a variety of work and non-work obligations, including child care, household labor, trying to maintain relationships, volunteer work, and still trying to find time for hobbies and relaxation. All while fielding calls and texts for work-related questions in what's supposed to be non-work time."
What do you consider to be some of the biggest advancements of women in the last year?
As expected, responses to this question were wide-ranging. Many were sports-related, which is fitting, given that 2021 and 2022 were Olympic years. Women also saw historic gains in both the private and public sectors in terms of representation in high-level positions. To name a few within the last year: Jane Fraser became the first woman to lead one of Wall Street's four major banks, Mary Barra became the first woman to lead the Business Roundtable, the number of women running Fortune 500 companies hit a record high at 41 and Ngozi Okonjo-Iweala became the first woman to lead the World Trade Organization. (Want to see more historic gains and milestones of women within the last year? Check out an archived Fearless newsletter.) Another theme that I saw in responses was that there continues to be a greater sense of awareness and action by employers in response to issues that women face, including access to affordable child care and paid family leave.
---
"We're slowly starting to see more female leaders in higher-level roles in large organizations."
"Equal pay for women's soccer. Pay transparency laws."
"Outstanding success of women athletes in the Olympics."
"Nominating a Black woman to the U.S. Supreme Court."
"Highly visible and placed positions in the federal government. Greater visibility of women in local public policy and social issues."
"The accomplishments and leadership we have from multiple companies, across the state and at the government level as well. Our Governor is well-spoken and whether you agree with her or not she is a woman and has stayed poised, respectful and strong in navigating the past couple years."
"Of the students who received their master's degree in business administration in 2019-2020 at Iowa State, 50% of them were women. This is in the same ballpark of the nationwide number of 48.5%."
"The most visible state positions (Governor, Iowa Economic Development Authority, Iowa Workforce Development, etc.) are women. We have a woman senator and three women members of the House. Women are being chosen to lead across the state."
"Many organizations are ensuring that women are included in conversations and opportunities where they were previously overlooked."
"Women have always had a voice. But in the past year, I've noticed women using their voices collectively to demand change. It's not just individuals sharing their stories and speaking their truth ― it's masses of women working together to amplify the message so it's impossible to ignore."
In the past five years, have women made significant progress in obtaining a better balance of gender parity in politics?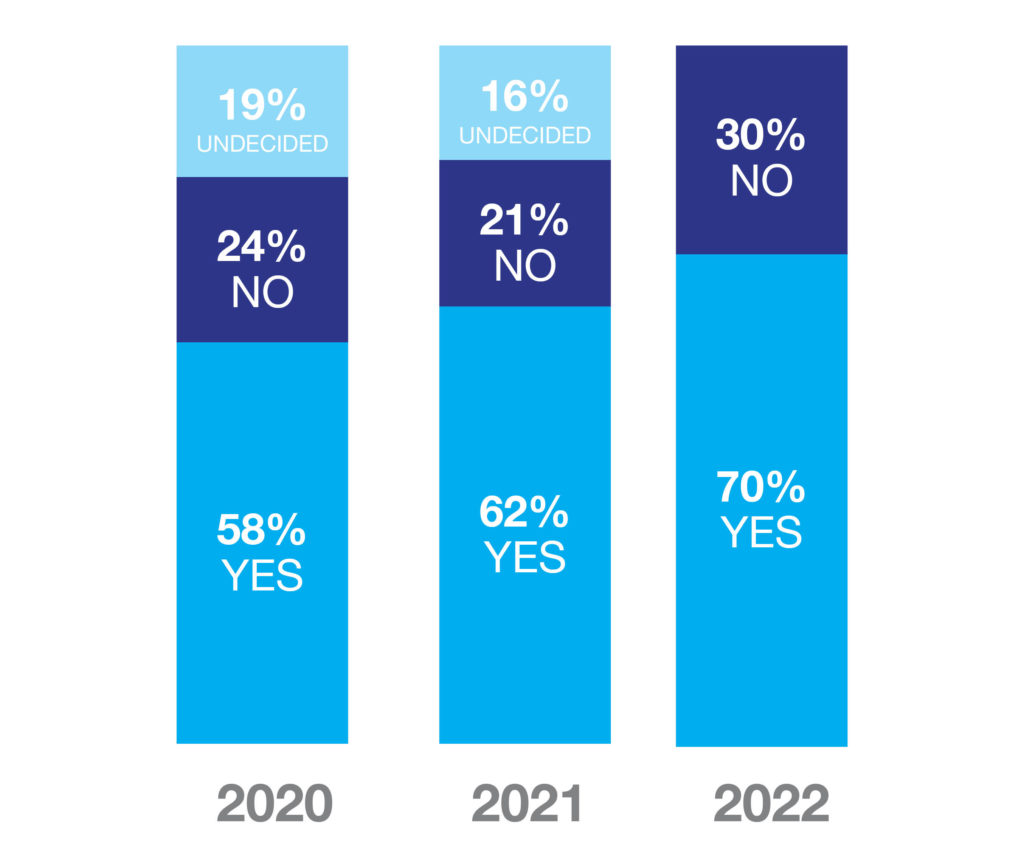 We didn't include an undecided option in this year's survey. Nevertheless, the majority of respondents in the last three surveys indicated that they do believe there's been significant progress made on the gender equality front. Some highlights: 28% of Iowa legislators are women, Iowa's congressional delegation is majority women, the U.S. has a woman as vice president for the first time and a record number of women are currently serving in Congress. Furthermore, in just three election cycles, Iowa has gone from never electing a woman as governor to an election where both major parties are likely to nominate a woman. 
---
"Progress, yes. Equality, no."
"Yes, but I don't think it's enough nor the end of the story. Too often we frame things in black and white when things are often gray."
"The glass ceiling has been broken to the extent it is less notable for women to seek elective office – it's happened at nearly all levels."
"Iowa has a woman governor, three out of the four Iowa representatives to Congress are women and we have one woman U.S. senator. But staff positions for these politicians remain male-dominated."
"I see more women in Congress. I am pleased to see a woman nominated for the Supreme Court and a president who cared enough to have a diverse Cabinet. I may not agree with the president nor Iowa's governor on all policies, but I see efforts to have women lead."
"Yes, I think we've seen more female candidates and of course had successful elections. We should celebrate the advancement of women serving regardless of political affiliation. I know I do, even if I don't agree with a particular woman's platform."
"Women who have been elected continue to be bullied. One need only to look at Reps. Alexandria Ocasio-Cortez or Liz Cheney for examples."
"Politics over the last five years have been a circus and women have been represented in ways that make me cringe."
How big an issue do you perceive access to affordable child care in Iowa to be?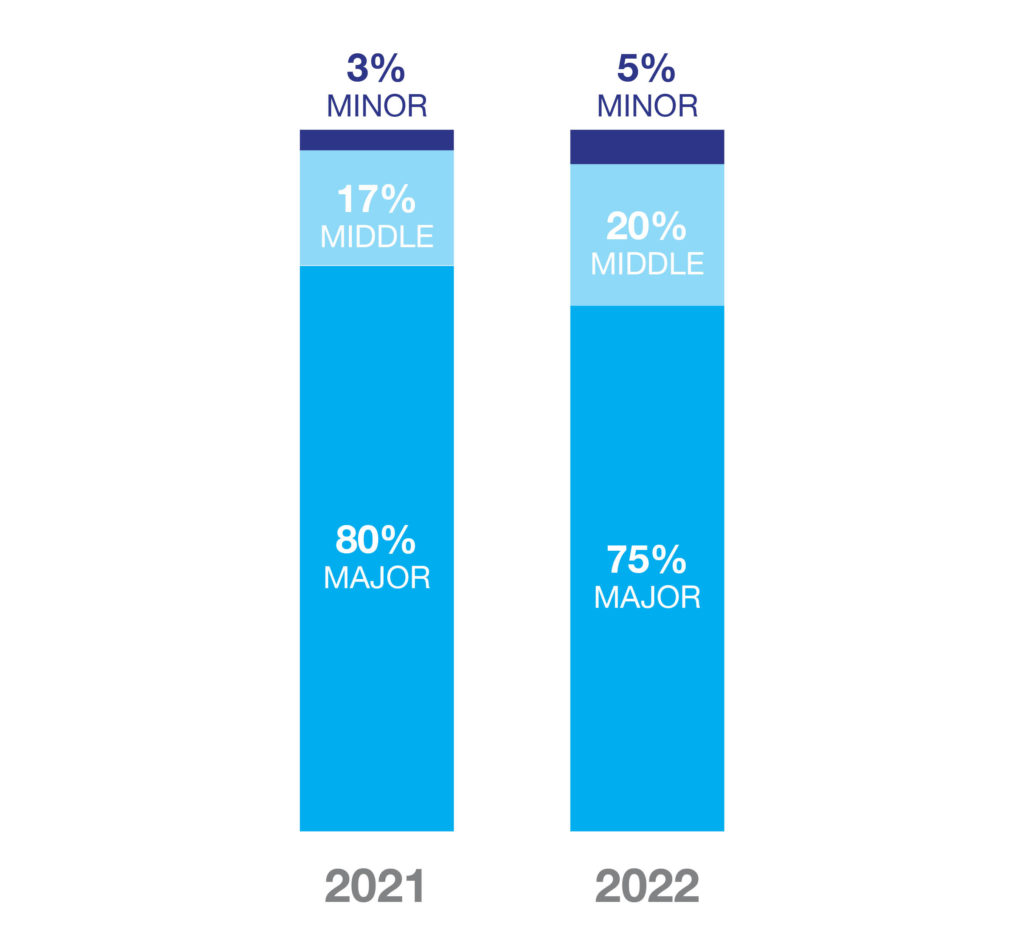 As in most other states, access to affordable, quality child care in Iowa was an issue long before the pandemic thrust it into the spotlight. About a quarter of Iowans live in a child care desert and parents can expect to pay more than $1,000 per month on child care. Furthermore, the child care industry has not been immune to the workforce shortages that have plagued the nation. Child care workers make just over $20,000 per year on average, leading them to look for higher-paying work elsewhere ― and a shortage of workers leads to a shortage of available care. Last year, Gov. Kim Reynolds assembled a task force to come up with solutions, many of which have already been implemented or are working their way through the Legislature. 
---
"Child care access in Iowa is outrageous. It's expensive and it's a hard industry where workers (mostly women) are hugely underpaid. Rural child care is even worse."
"I pay more for child care than rent. You don't get to be picky about where your child goes because there are waitlists everywhere. If you want a particular place you have to get on the list before your child is even born. Wages need to be higher to retain good staff and incentives need to be given to companies to invest in child care for their employees."
"There are not enough quality child care spots in Iowa and it is very expensive. The recent grants aren't cutting it. The only reason I stayed in the workforce when my children were of child care age was to continue to feed into my retirement a little and keep our family medical insurance coverage. Most of my paycheck went to paying our child care bill."
"It's a chicken and egg problem. If child care workers were paid more, parents couldn't afford to pay for the care. Therefore, I suggest the federal government remove the cap on the amount that can be set aside in a flex account. This will allow parents to pay for child care with pre-tax dollars."
"I believe we are going to have to look at child care as a government AND private sector-supported service that is critical to supporting workers. When I was raising my own daughters, women were often criticized for working outside the home and therefore there was no willingness to support child care needs. Today, we recognize that women are NEEDED in the workplace but we have not adapted to provide safe, effective, affordable and accessible options for child care."
The 2021 Women in the Workplace report by Lean In and McKinsey found that women are significantly more burned out than ever before. Have you personally experienced burnout within the last year?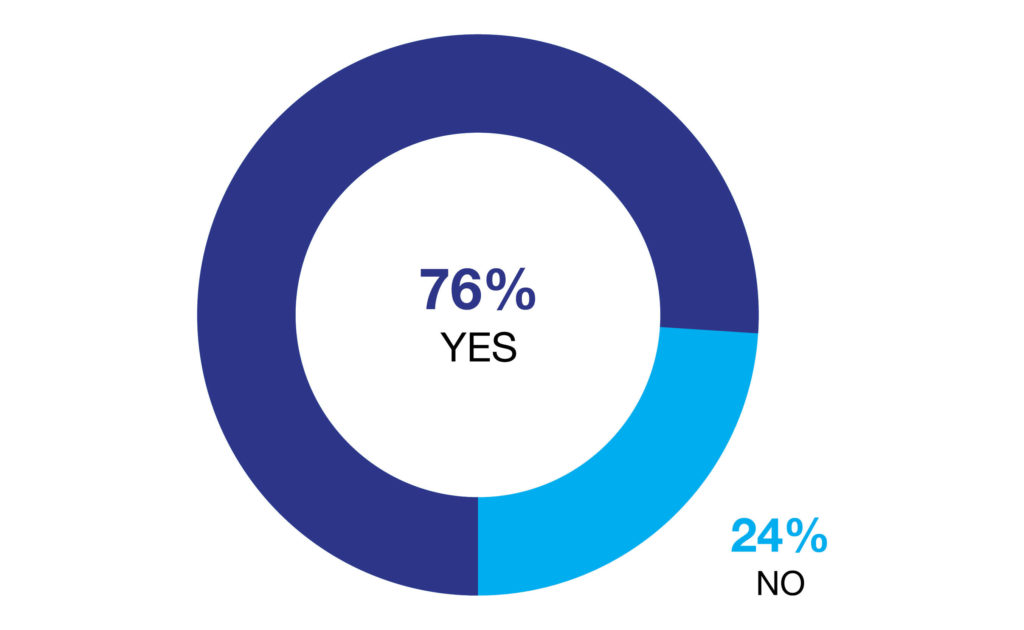 The word "burnout" has been tossed around a lot the last few years. Researchers generally define burnout as a syndrome manifested through three primary aspects: exhaustion, cynicism and a sense of ineffectiveness. Note: When you adjust to look only at responses from women who answered this question, the rate of respondents who answered "yes" increases to 80%. That being said, men aren't immune from burnout, either. A recent New York Times piece indicated that the way men primarily experience burnout is through cynicism, which may look like depersonalization or emotional distancing. Women tend to experience burnout more through the aspect of exhaustion. That checks out in many of the responses. Several mentioned taking a step back – or stepping away entirely – from their commitments in order to address burnout. 
---
"Overwhelmed. Overscheduled. Overburdened. Overworried. Not sleeping well. Muscles always tense. Unable to relax."
"For me it's the nonstop part of being a working mother. There is not a moment, it seems, when I am not needed by children or work."
"As a single mom working full time, burnout doesn't even begin to describe it. I am exhausted end-to-end by the pandemic, workplace demands in a time where people can and should be more flexible, and ongoing turmoil with school operations."
"I am tired, yes, but I'm energized by the amazing work that I see going on around me. I also stepped into a new leadership position, so I'm more energized than exhausted, even though I'm running hard."
"I cut back on long hours a few years ago after determining that my health, family, and friendships deserved more time than my career."
"I left my job of 14 years because I couldn't handle the juggling act anymore. Now I'm doing something that is much more flexible, which is what I need at this stage in my life."
"My biggest burnout was and still is the lack of equality and respect. My workload continues to increase, but my pay and the level of respect I receive do not increase. No one else is qualified to do my job, or has the ability to do my job, but I am not respected at all. I am the only female in my warehouse. I am constantly [subjected] to sexual conversations, and overall belittlement of my ability to do my job. If I report it, my supervisor makes a couple comments to fellow employees telling them to stop or risk getting written up, which generally makes things worse. Nothing ever happens and the behavior continues. I am ready to just quit my job, but I cannot afford to be unemployed."
"Stress, depression, anxiety and the lack of mental clarity are all new issues for me in the last two years. I'm not managing it well right now, but I plan to remove a large volunteer segment from my life to open up more time and headspace for work and family."
"Burnout for me looks like, 'Why am I still doing this when no one seems to care or notice?'"
"COVID burned out everyone. I want to be responsible for my children's education. The attitude of schools and their unwillingness to be in person for a long period of time burned out every mom in the world."
"I try to be perfect at the office and a perfect mother, which typically leaves me feeling like I am not perfect at either. This also leaves no time to focus on myself and recharge."
How big an issue do you perceive pay inequity in Iowa to be?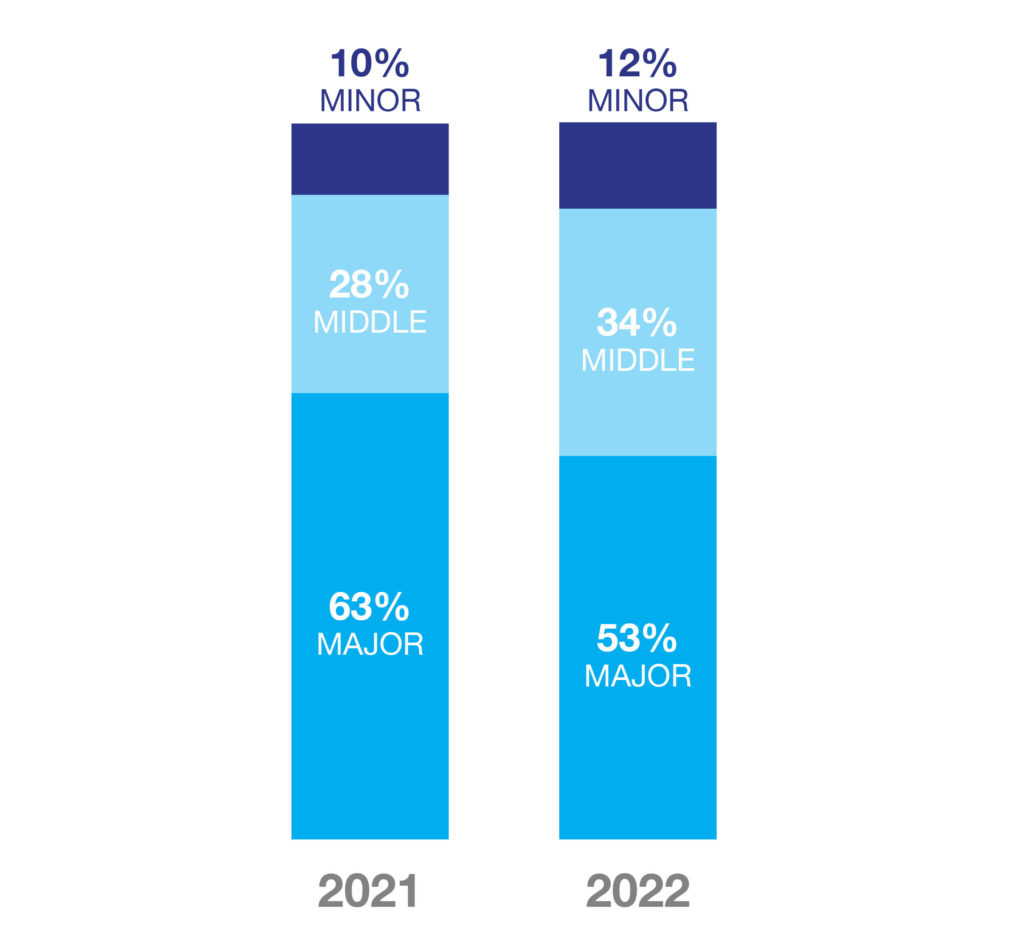 Compared with last year's findings, roughly the same rate of respondents indicated that pay inequity is a minor issue. This year though, a higher rate of respondents indicated that it was a middle-of-the-road issue rather than a major one. Since Equal Pay Day was introduced in 1996, the U.S. has improved on pay disparity by just 8 cents. Then, women were making about 75 cents for every $1 a white man earned. Now, it's 83 cents. When you break it down further, women of color continue to lag further behind. Asian American, Native Hawaiian and Pacific Islander women make 75 cents for every dollar a white man makes. For Black women it's 58 cents, for Native American women it's 50 cents, and for Latinas it's 49 cents. The opinions on how to tackle this gap differ. Look for more coverage on this topic in future Fearless stories. 
---
"To me, anything short of parity is a major issue."
"We have challenges, but no more so than other states. Pay inequity needs to be addressed at the job level, and account for performance, not just experience or women will always be underpaid due to maternity leave and child care."
"If the stats still show the pay for the exact same job is different, that ought to be a crime. It's hard to have pay equity if one person has been in a job for 10 years and the other hasn't. Why is it fair to have them the same pay? It isn't. Can't help it if the mother had to take a career break to be a full-time mother for a couple years or so. Perhaps there could be some pay scale that adds those non-worked years into the pay at 50%-75% so the pay isn't so disparite between co-sectioned workers and those women who had to take a few years break. This would be bold and very fair and also encourage women to be a full-time mom for at least 1-5 years up until full-time kindergarten."
"There is a pay gap as well as an opportunity gap. The higher-paying positions are more frequently held by men, so more women need to be given/earn these positions. For starters, require companies to disclose pay at time of hire and annually at a minimum. With more women in positions of leadership, this could self-correct."
Do you feel that you've been treated equally to your male co-workers?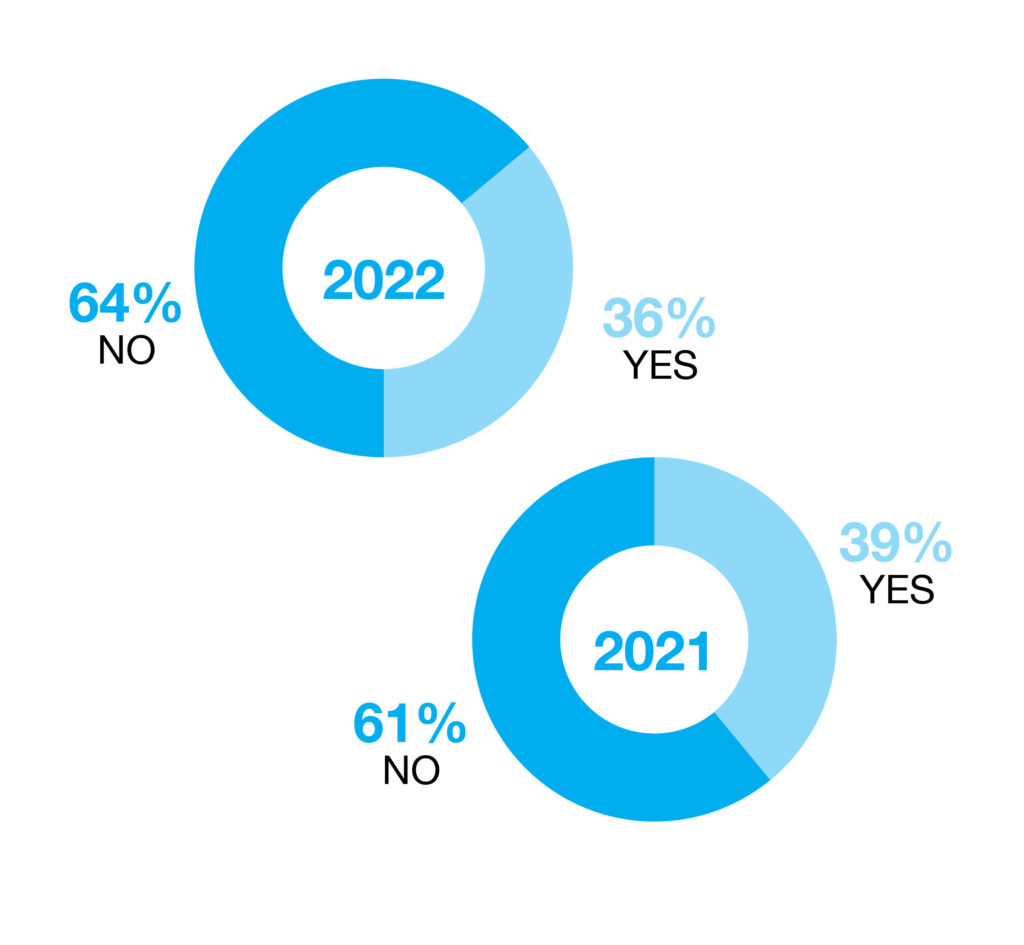 This question also appeared in the 2017 survey, and responses were similar: 27% of respondents said yes, 65% said no and 8% put N/A. The fact that the percentage of people who answered no is nearly identical to this year's responses means that substantial progress has not been made.
---
"I am viewed as too young or inexperienced compared with male counterparts who are the same age or younger."
"The moment I became a mother, my career track changed. In one high-level job, I explained the hours I would need to work to balance family obligations. Within a year, I was told I was not meeting expectations because I was not attending enough networking events or staying late enough at the office."
"By my coworkers, yes. By clients, I often feel like I'm not taken as seriously."
"I am expected to be the note-taker, meeting-scheduler, etc."
What are effective ways for men to be allies to women? 
It's just a fact: Women won't experience gender equality without the participation of men. One person wrote, "I don't think most men have ill-intent to hold women back, I think most are truly oblivious that they are doing simple things that have a great impact on the culture and ability to provide an inclusive workplace for all genders." There are dozens of ways men can be allies to women in both work and life – many of the responses indicated that education on gender inequality, listening to women's experiences and being involved in household labor would help. Find more ways that men can be successful allies for women on the Fearless website.
---
"When women share ideas in meetings, vocally acknowledge them and their ideas and pay attention if someone shares something similar to what a woman previously said. Say something like, "Your point is good and reinforces the point that Kathy made a moment ago." Research shows that women's ideas aren't heard and acted upon in the same way as when a man speaks in meetings."
"Find ways to ensure women are paid or or asking their worth. My first paid speaking engagement, I submitted a proposal to the client unsure what to charge and put an amount that felt big to me at the time. He came back and said "I'm going to level with you, I want you to at least double your rates because my leadership team won't take you seriously if you aren't charging at least X. Also know that company Y charges X for the same work." If you have access to information or authority to change what they make, make sure you are helping women ask for and get what they deserve."
"Become a champion and mentor – advocate for opportunities and coach when it makes sense. Research consistently shows that access to mentoring and sponsors at work decreases when you are a woman, and the gap is wider if you are a woman of color. For the men who may still be holding onto fear from not wanting to engage alone with women because of the #MeToo movement, it's really quite simple – just think, view, and respect the women in your work world as colleagues."
"Spend time learning about the challenges that women face, listen to their stories, and get courageously curious with yourself about what beliefs you might hold or biases may be unchecked that could impact how you show up. It isn't a question of if you have bias, (we all have bias), but what are you doing to see, notice, and challenge those biases."
"Listen and be empathetic to the unique issues we are faced with between work and family life. Offer ways to help offer support and flexibility to women so we can still maintain our voice and role at high levels."
"Men in leadership positions – from the statehouse to the office – recognize that moms are some of the best employees. We are adept at time management and juggling priorities. We want the best for everyone. Trust that we can do the work, but it might not look like traditional hours or settings."
"Take greater responsibility for raising a family."
"Be willing to discuss ways to stop seeing the world as "us versus them." Equality can't happen when everyone is in a defensive stance."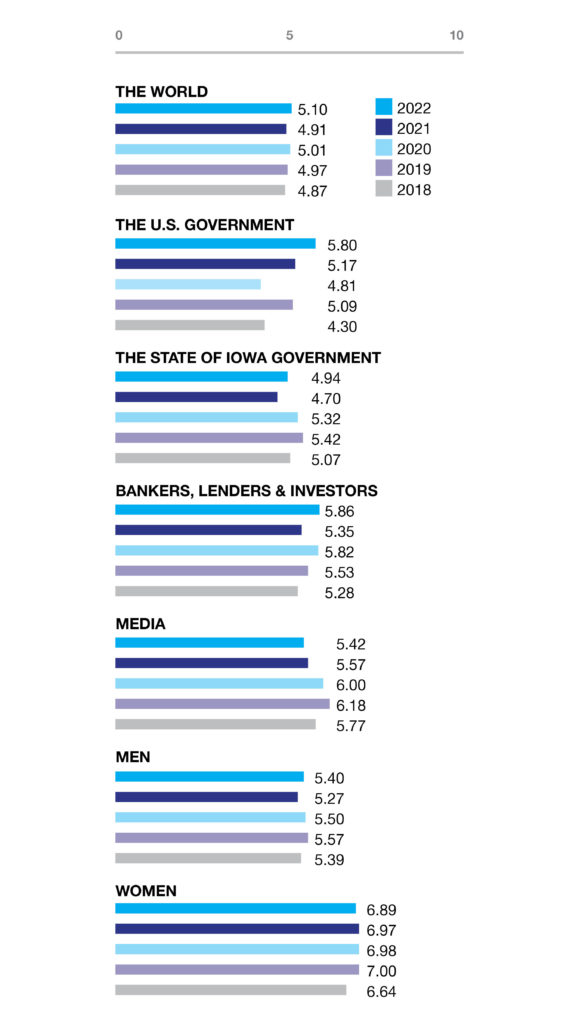 Rate how supportive you perceive these industries and groups to be of women in business.
This question has appeared in every gender issues survey that the Business Record has published. This year, we decided to look at the previous five years to see what progress has been made, if any. The ranking reflects an average based on respondents assigning each area a value from 1 to 10, with 1 not being very supportive and 10 being very supportive. Most of these rankings hover around the 5-point mark, which signals that we still have a long way to go on the road to progress. No individual group shows a steady path forward; averages fluctuate from year to year. When looking at responses from 2018 compared with 2022, the area with the largest positive point difference was the U.S. government, which saw a 1.5-point increase. The two areas that saw negative point differences were the state of Iowa government and the media. Further analysis of this question will appear in future Fearless coverage.
This article appeared in the weekly Fearless e-newsletter. Sign up to receive it for free at https://fearlessbr.com/e-newsletter/.