By Emily Kestel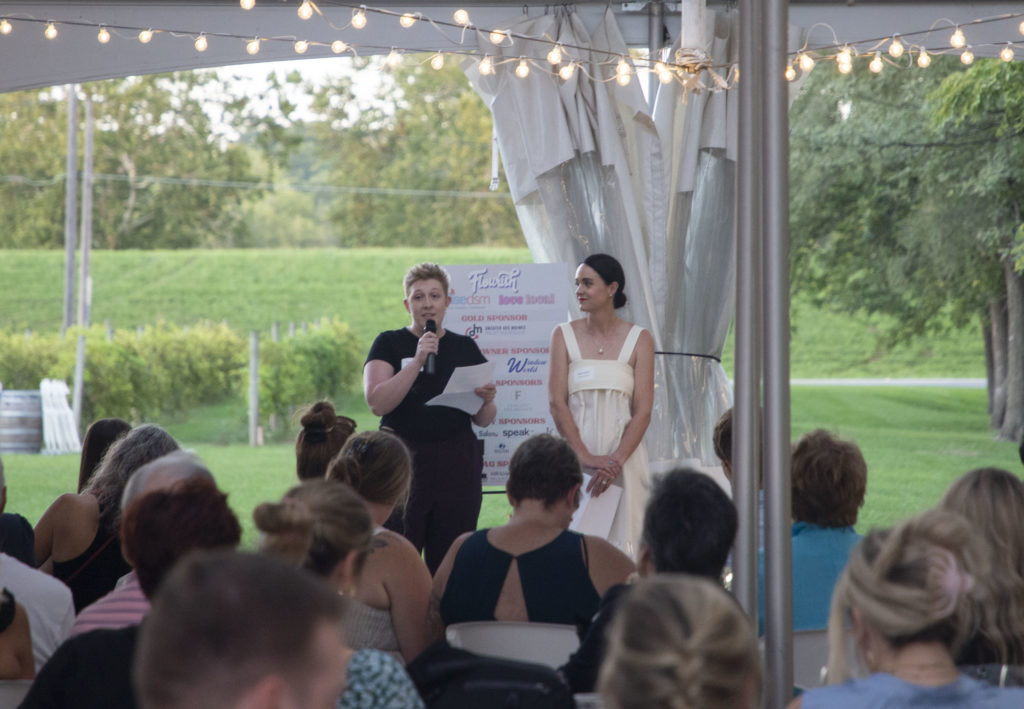 Imagine pulling open the door to a small neighborhood bakery. The homey smell of yeast, butter, sugar and spices gently wafts through the air. You peruse the counters for freshly baked sourdough bread and pie to take home to share with the people you love the most.
Kristen Daily and Chelsea Smith want to build that in Des Moines. Daily is the baker and owner of Pie Bird Pies, a home-based bakery in the Drake neighborhood. Smith is a self-taught sourdough bread maker and runs an artisan sourdough bakery called Bread by Chelsa B.
"Our bakery is a place where you know your bakers and run into your neighbors. It's a place that celebrates local food and ingredients. You know where your flour, eggs and fruit is coming from," Daily said. "The bakery we want to build is truly an extension of our homes."
Both Daily and Smith started their popular businesses in the midst of the pandemic as a form of self-care and a way to connect with the community.
"I love how food and cooking brings people together," Smith said. "Over the past few years, Kristen and I have been amazed by demand for our pies and sourdough bread, and we're excited to grow and serve more people."
The two are joining forces to build a brick-and-mortar bakery together. "Partnering is the most sustainable way for both of us to grow," Smith said.
The two hope to open the bakery in the heart of Des Moines within the next year, and after winning $3,000 from this year's Flourish Fund event, they're that much closer to their dream.
The Flourish event was started by local business champion Emily Steele in 2018 to give women and gender-nonconforming business owners a chance to earn funds by pitching their business ideas to the community.
Applications are open to any Des Moines-area woman or nonbinary individual who runs a small, for-profit business. An external review committee narrows down the applicant pool to three finalists. From there, eventgoers listen to the finalists' pitches and vote on their favorite. Whoever gets the most votes takes home the entire proceeds, which are generated through ticket sales, T-shirt purchases and sponsorships.
This year's finalists were Morgan Chicchelly, founder and creator of Des Moines Girl, Cassandra Spence, owner of DSM Culinary, and Daily and Smith. As runners-up, Chicchelly and Spence both walked away with $500 for their businesses.
More than 150 people attended the event at Jasper Winery on Sept 20.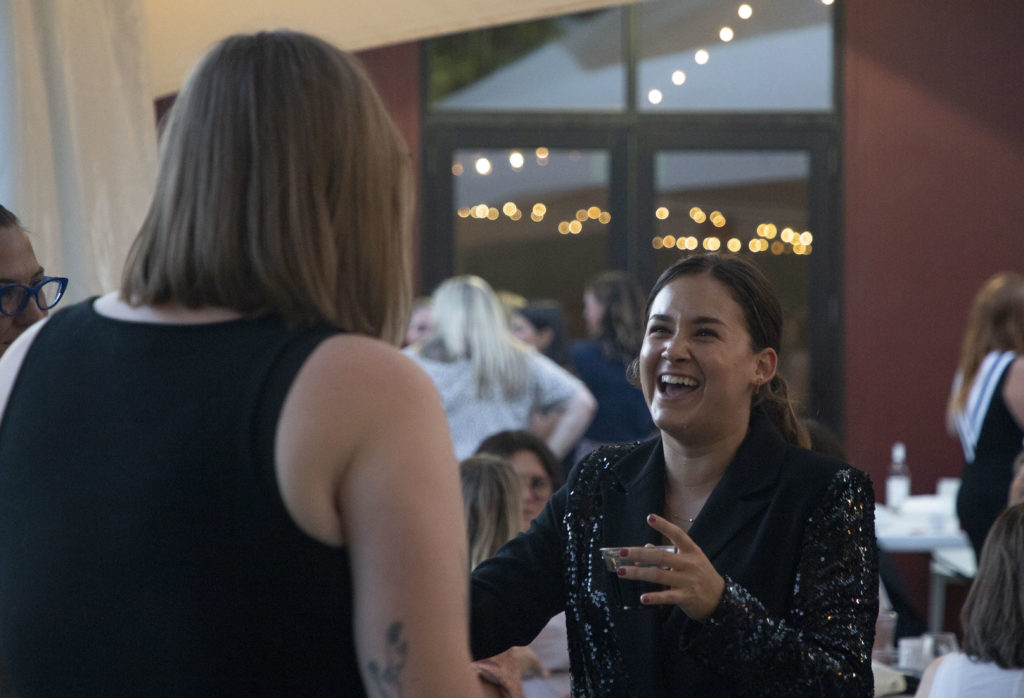 Des Moines Girl is a micromedia platform that provides weekly guides, itineraries and fun things to do around the metro. The platform launched in April 2021 after Chicchelly noticed a lack of media platforms that elevated small businesses in a way she envisioned.
Local businesses are at the focus of Des Moines Girl, Chicchelly said in her pitch speech.
"Small businesses dictate the energy, the tone, the culture of cities. If Des Moines wants to grow and be a good place to work and live for young people, they also need to put resources into their small businesses," she said.
She hopes to grow the platform and continue sharing stories of small businesses in the community, and also hopes to have in-person events.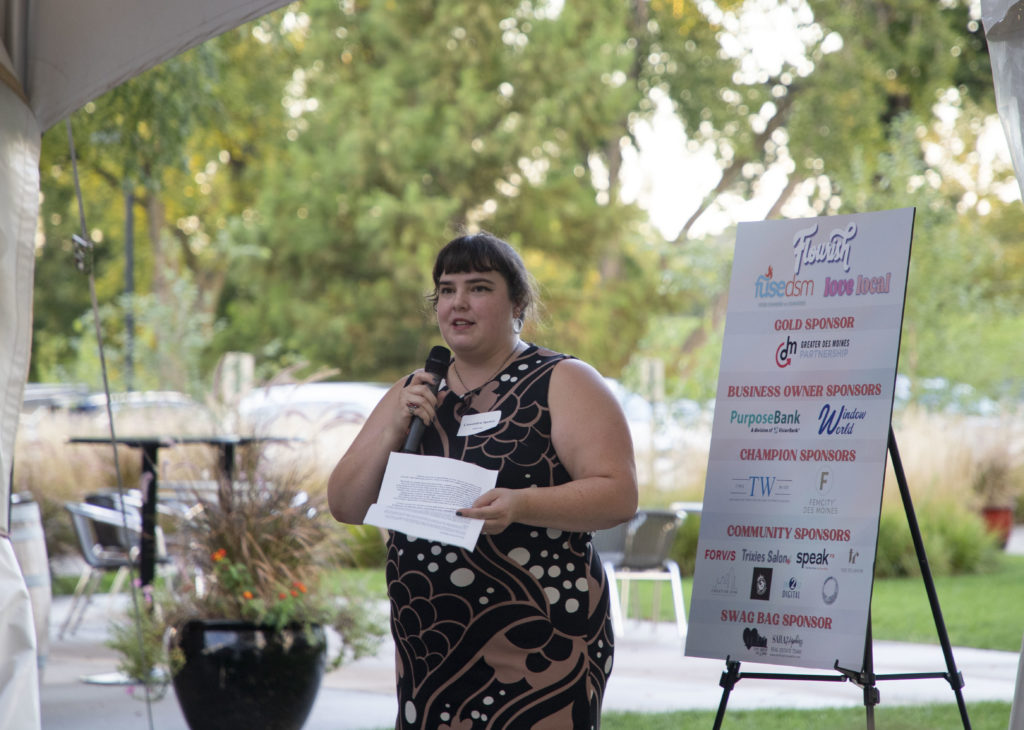 Spence, also known as "Chef Cass," is the owner of DSM Culinary, where she teaches culinary classes to the public. Each class has a theme and participants cook alongside a chef to learn about the cuisine, practice kitchen skills and socialize. Spence has been teaching cooking classes for seven years and originally operated out of the Des Moines Social Club.
In her pitch, she said she's looking to open a small, modular space in Valley Junction that's open to the community, and specifically other female and nonbinary entreprenuers as a place to connect. The space will include an industrial kitchen and Spence will teach interactive culinary classes out of it.
"I feel very passionate about giving other women and nonbinary culinary artists a space to feel safe, valued and supported," Spence said. "We're not competing with each other here, but creating camaraderie and community."
Steele said she'd like to see support for small businesses in the area grow.
"The fact that we had 15 applicants, we have more businesses to fund that clearly could use the capital to move forward," Steele said. "My hope is that we have a bigger pot of money every single year … while still really holding onto that community investment feel."