Story by Emily Blobaum, graphics by Lauren Burt
Iowa is one of eight states that have gender balance laws for civic boards and commissions, but is the only state where the requirement additionally penetrates down to the city and county levels.
The law reads that all appointive boards, commissions, committees and councils of the state should have an equal number of women and men.
To put it in practice, it states that no person shall be appointed or reappointed to any board or commission if it would mean that the number of members of one gender was greater than the other. But in reality, there are no consequences if they aren't balanced.
"The downside of the law is that there's no punishment and there's no monitoring. So the Catt Center stepped in to shine a light on how well local governments are doing and to keep the gender balance law front of mind, so we can remind local officials that this is important," said Karen Kedrowski, director of the Carrie Chapman Catt Center for Women and Politics.
Since the law went into effect in 2012, the Catt Center has examined membership of county and municipal boards and commissions five times. In its most recent data collection that ended in spring 2020, it found that women hold a third of county board and commission seats while 67% of county boards and commissions are gender-balanced. Of the 83 counties that chose to participate, 14 have achieved gender balance.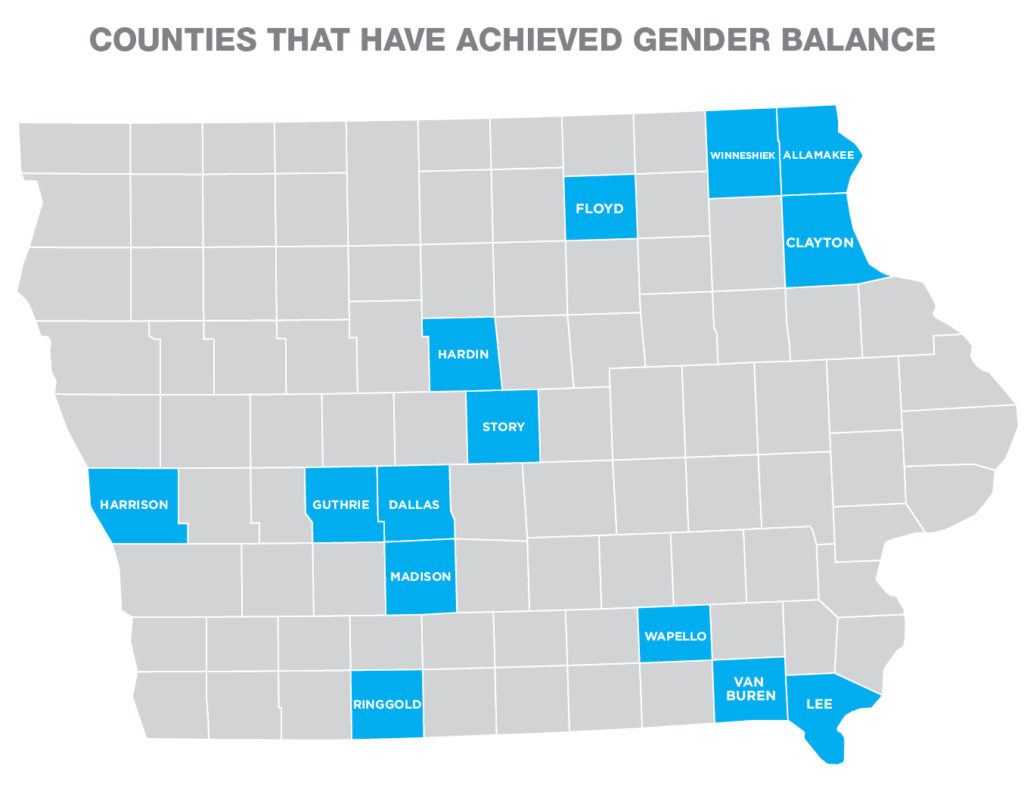 Of the 186 cities that chose to participate in the Catt Center's data collection, 33 have achieved gender balance on all nine boards and commissions examined. Sixty-nine percent of the city boards and commissions are gender-balanced while women hold 41% of seats.
"What we're seeing is that there's a flat number of women that are serving on these local boards and commissions, but they're better distributed," Kedrowski said.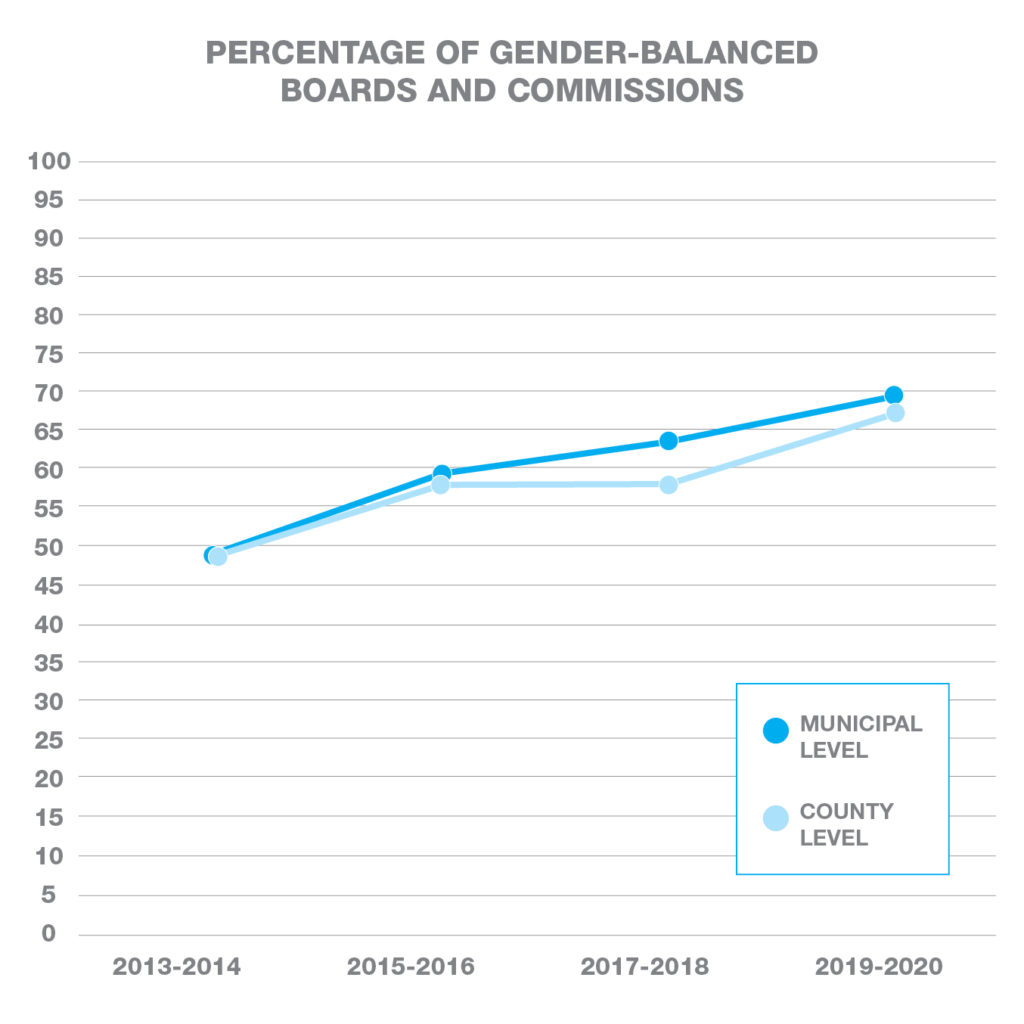 Across the state, municipal boards and commissions that have seen the biggest increases in female representation since 2014 include the airport board, planning and zoning commission, water works board of trustees and zoning board of adjustment. All seven county boards have seen increases in female representation since 2014, with conservation, review and adjustment having the highest rates of increases.
Kedrowski said she would like the Catt Center to take it to the next level — when they have the time, money and human resources — by developing a resource document that addresses issues with recruiting and retention.
"One of the concerns that we hear over and over again is 'We can't find anybody to apply for these positions, so when we get somebody, we're going to throw them in,'" Kedrowski said.
She added that similarity bias is also at play, meaning that in general, people hang out with other people that look like them. To oversimplify, if a county board is made up of only white men, the chances are high that they'll appoint another white man to fill a vacant position.
Representation of people from all backgrounds is important in all levels of political office for both symbolic and substantive reasons.
Barriers to entry specifically for women include imposter syndrome and caregiving responsibilities. Another issue that Kedrowski hopes to address in future analyses is when boards and commissions meet.
"If it meets at 9 a.m. on Wednesday mornings, that might be great for farmers who have very flexible schedules, but that might not work for schoolteachers," she said.
Another barrier is the laborious process of searching for boards and commissions, looking for open seats, and remembering application deadlines, Kedrowski said.
"Any way we can make it easy for women to enter into the political process is going to help improve representation."
The Catt Center worked with the Iowa Department of Human Rights to help create a database of state board and commission positions, which launched in December 2019.
The database, called the Iowa Talent Bank, began as a spreadsheet back when Sen. Mitt Romney was running for president in 2012. One of the questions Romney addressed during a debate was how he finds enough women to fill cabinet positions. In a response that quickly went viral, he said that he had "binders full of women."
Back then, the spreadsheet existed only as a place to house information about people who were qualified to serve. Now the Iowa Talent Bank is set up to be a matchmaking and mentoring service that works like this:
People who have an interest in serving on state boards and commissions create a profile with information about basic demographics, party affiliation, education and work background, and which positions they're interested in.
They can then browse and apply directly for different positions, regardless if they're open or not.
Appointing authorities are able to look at profiles and reach out to you about serving.
There's also a section that pairs mentors who have experience with serving on boards or commissions with mentees who are interested in becoming a board or commission member.
There are 180 state-level boards or commissions. As of Jan. 5, there are more than 110 positions currently open and more than 400 that are about to become open. Among other things, members of these boards and commissions determine:
Where tax money goes.
Who gets medical licenses.
Which judicial nominees are sent to the governor for district courts.
Training standards for law enforcement.
Changes to city boundaries.
Where hazardous waste can be dropped off.
"Most people think that they have to be elected to make a difference in government," said Monica Stone, deputy director of the Iowa Department of Human Rights. "And we certainly want more women in elected office, but that's not the only way you can gain experience or make a difference."
Lastly, Stone says the larger goal of the Iowa Talent Bank is to increase inclusion and representation of all Iowans serving on boards and commissions by bringing in more women of color and people who have varying socioeconomic backgrounds and education levels.
"We really need those voices in government, because the government impacts everyone. Those appointed positions are really intended to be the voice of the people."
If you are interested in serving on a state board or commission, visit the Iowa Talent Bank website. If you have questions, you can email Monica Stone at monica.stone@iowa.gov.