By Emily Kestel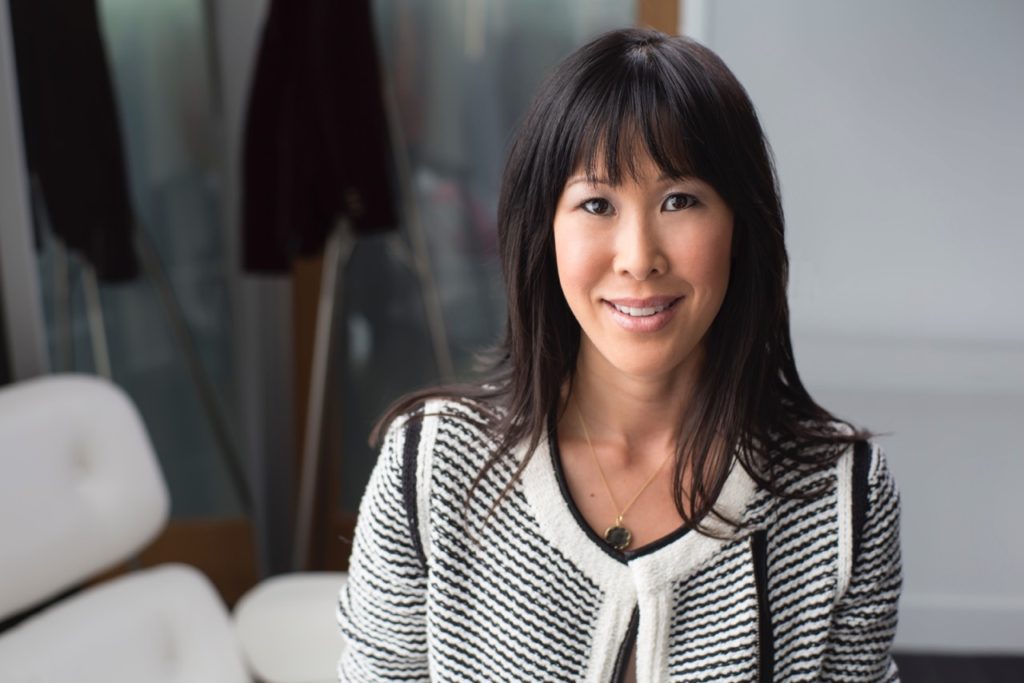 In 2009, journalist Laura Ling and a colleague were violently apprehended by North Korean soldiers along the Chinese border while working on a documentary about North Korean defectors. They were charged with trespassing and "hostile acts" and were imprisoned for 140 days under Kim Jong Il's communist regime.
Today, Ling is the director of programming for Very Local, a streaming service through Hearst Television Inc. that celebrates and elevates local communities.
Ling will share her story and how she maintains hope at this year's Chrysalis Inspired event on Oct. 11.
"Very few of us have a moment so defining as did Laura Ling, when she spent 140 days in captivity in North Korea. Her ability to navigate this ordeal is just part of her remarkable story of strength, hope and resilience," Chrysalis Executive Director Terry Hernandez said. "She is a tremendous model for the work of Chrysalis: to ensure that every girl and woman has the right to live in dignity and in freedom from fear and oppression."
We caught up with Ling ahead of the event. Below is a Q&A, which has been lightly edited and condensed for clarity.
What drew you to the Chrysalis Foundation and the work that they do?
I am so impressed and inspired by the work that [Chrysalis] is doing to change the lives of girls and women to empower them. Their after-school program for young girls is so critical and can be so impactful in the life of a teenager or a preteen. The fact that their mission as it relates to girls is to give them the tools so that they feel more confident and empowered to navigate this world, I think is just so needed right now. I have a 12-year-old daughter, and I think there's absolutely a correlation between the increase in mental health issues going on with young people and young girls specifically, and the fact that social media just kind of took off around 2019, at the same time that those rates started to increase. For Chrysalis to be dedicated to finding these safe places for young girls to gather, to learn from each other and to support each other in these after school programs, I think is life-changing.
You mentioned mental health and social media, but what are some other big issues and barriers for women and girls that you're seeing?
On a general level, there are unfortunately so many barriers. I mean, women right now lead men in earning bachelor's degrees and master's degrees, yet we're so far behind in all industries, in positions of leadership, as well as in pay equality. And I think that we need to overcome some of the existing barriers that have been in place. The boys' club … still exists. Giving women tools that they can utilize is also important. For employers to be aware of how they're hiring and who they're hiring. We all benefit when companies are more diverse. We all benefit when there's a diversity of ideas out there and diversity in leadership.
As a journalist, you've spent years reporting on some of the darker, underreported and misunderstood parts of our society. What are some issues that you think deserve more attention and action?
Well, since we're on the topic of women and equality right now, to further that, I think that the pandemic has disproportionately impacted women when it comes to women in the workforce. And as we speak, women and men are gathered in Iran, in different parts of the world, speaking out for greater freedoms, that was spurred by the tragic death of the young woman who was not wearing a head scarf. So I'm paying attention to those big issues that are happening in the world, especially as it relates to women and freedom and equality around the world.
What are some strengths that you think girls and women have that they bring to the table?
Women have a unique style of communication that can be beneficial in aspects of leadership, a sense of empathy and compassion that I think is absolutely critical. But just a diversity of ideas. And I think that as a mom, I feel like I have learned so much from my children that I bring into the workplace and I bring into my own personal growth.
How did you continue to maintain strength and hope throughout your imprisonment in North Korea?
I was so overwhelmed with fear. When I was first captured, I did not think I would survive that situation. That first day of my captivity, I didn't know if I would survive that day. I had never felt that level of fear in my life. But then again, this may sound cliche, but throughout that experience, I was able to discover things about myself that I didn't know existed, strengths that I didn't know existed. It wasn't immediate. It took time. It took time for me to realize that there were internal tools that I could utilize. I started practicing the act of gratitude. It's a ritual that helped me sustain that situation and to maintain hope. Here I was isolated in what is perhaps the most isolated country in the world. There were things that I discovered that I did have control over. So I could control my communication with my interrogator and my guards. So in that respect, I began to think very strategically about how I communicated with everybody that I came in contact with. I meditated, I kept my strength and my energy up. So I focused on things that I had control over. So even in situations that might seem out of control, when you don't have control over anything, I think you'll discover that there's more that we have in control of ourselves than we might think in those situations and lean into those situations.
In your book that you wrote with your sister, Lisa, "Somewhere Inside: One Sister's Captivity in North Korea and the Other's Fight to Bring Her Home," you said you had a lot of time to sit and think. What did you think about?
I thought of every possible thing in my life. I thought about regrets. I thought a lot about the people that I have met and interviewed over the course of my career, so that also helped give me strength. I've covered a lot of situations where people have struggled for freedom around the world, and so I thought of people who had risked their lives because of religious persecution in China. I thought of sex workers in Myanmar, native tribes in Brazil. Thinking about their struggles gave me strength. I thought about how much I missed my family, and now it has shed light on the importance of balance in one's life. That remains at the forefront for me and I think it's a really hard thing for people that are so dedicated to their professions and their busy lives, but to just take a step back and take stock of those things that really matter in your personal life as well.
Do you live your life differently than how you did before you were detained?
Absolutely, and there are things that I learned from that experience that I carry on to today. Even though it happened so long ago, I really don't think there's a day that has gone by when I don't think of something that happened in that situation. So it was undoubtedly a defining period of my life. It impacted how I am as a mother, how I am as a manager, as a leader, and what my priorities are.
We're currently living in a very tumultuous and consequential period in American history right now where many people feel dejected and hopeless about the direction the world is headed. What gives you hope for the future?
Honestly, one of the things that gives me hope are organizations like Chrysalis. They're at the front lines right now in terms of they are doing the hard work of helping to empower lives right now and to give people hope. I can't think of a better organization to be supporting.
What does it mean to be fearless?
Being fearless means being able to use your voice. And I will be talking about this a little bit [at the event], but to not take our liberties for granted, especially at a time when liberties globally and domestically are at stake. To really look at our freedoms, not just as a right, but as a responsibility. I think that that's how we can be fearless for ourselves and for our communities.
How does someone become fearless?
I think that we're empathetic. I think we are kind. I think we use our voices, but at the same time we listen to others. We're open-minded. We have an open perspective. And then on the flip side of that, being fearful has kept me safe for the most part. But I think sometimes our fears can evolve into strengths and so we can develop some tools from our fears. Our fears can make us more prepared, more proactive. So it's how we navigate those fears that can lead us to a place of fearlessness.
The Chrysalis Inspired event will take place at the Sheraton in West Des Moines on Oct. 11 from 11:30 a.m. to 1 p.m. Tickets are on sale on the Chrysalis website.