Two communities share the experience of closing their units and how they adapted
By Sarah Bogaards, Business Record staff writer
Editor's note: This is part two of a three-part series focusing on the closure of birthing units in Iowa, the factors driving the trend and how it is changing maternal health care in Iowa. Part one looked at the overall problem, this piece explores a couple of communities that have lost a birthing unit in the past two decades, and part three will look at potential solutions. As one of the first birthing unit closures since 2000, Fairfield's story sets the scene for how a closure would require more communities, especially other rural areas, to adapt to a regional model of care in the future. The closure of Marshalltown's birthing unit in 2019 made it the largest non-metro community to shutter its unit, and it demonstrates the continued presence of regional care 20 years later.
Fairfield closure foreshadows future
When the Fairfield Ledger, the town's local newspaper, shared the news in July 2000 that families would no longer be able to deliver their children at Jefferson County Health Center, the community wasn't aware that this closure would be just the start of a series of birthing unit shutdowns across the state in the next 20 years.
Dr. Curtis Smith was the hospital's emergency department manager at the time and is currently the chief operating officer.
He said when hospital leaders announced to department managers their intention to close the obstetrical unit around late 1999, the birthing unit was battling the leading cause of closures: not enough births. There were only 50 births in the unit in 1999, the Ledger reported in the news story of the closure.
Family practice providers performed all the deliveries, and they were relieved by the closure, Smith said, because with so few births, concerns about providing a high quality of care arose.
"We just felt it [was] getting to a point where it's harder and harder to stay proficient, and we didn't want to have a bad outcome for a baby or a mom. We just recognized this wasn't one of our strengths, and this wasn't a direction as an older county that we needed to focus on," Smith said.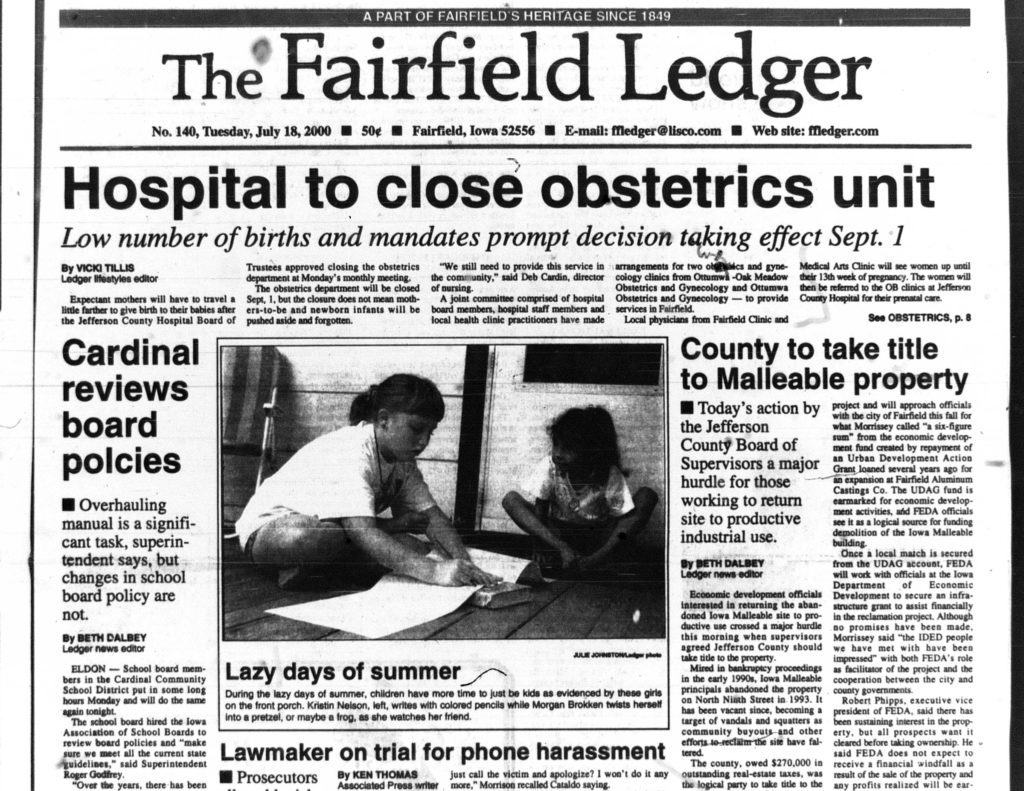 For Fairfield residents, he said the closure was a shock initially.
"Typically, the birth of a child is a very joyous time and to be celebrated, and [now] it's like, well, what's going to happen to the family unit?" he said.
Some residents expressed concern at the time and have since inquired about the possibility of bringing the unit back. At first the hospital worried that residents may go elsewhere for other services in addition to OB-GYN care. But these worries never came true, Smith said.
Ed Malloy, who started serving as Fairfield's mayor in 2001, said one reason he thinks the closure did not receive more of a response was the economic activity dominating the community's attention at the time.
He remembers residents voicing disappointment, but with the city's progress in developing entrepreneurship, business, and arts and culture, the closure didn't set off alarm bells.
Economic development "tends to dwarf some of the more singular issues that every community is facing, like whether they have an OB-GYN or not, whether they have a rural hospital or not," Malloy said.
With 20 years since the closure behind them, Jefferson County and its approximately 15,600 residents have settled into the model of care found in many rural Iowa counties.
Being a small local hospital, using traveling providers for specialties that can't be supported full time was standard for Jefferson County Health Center. It already offered clinics for cardiology, pulmonology, podiatry and more — the natural way to pivot after the birthing unit closure was to add an OB-GYN clinic.
A nurse practitioner from nearby Ottumwa Regional Health Center specializing in obstetrics and gynecology has made once or twice weekly visits to Fairfield since the closure. The current provider has additional certifications as a nurse midwife and a women's health care nurse practitioner.
When the unit closed in 2000, every southeast Iowa county touching Jefferson County had an open birthing unit. Today, Ottumwa's is the only one remaining, meaning families could be traveling farther to deliver.
Smith said the most common options are Ottumwa, Burlington (which is also located in southeast Iowa), Iowa City or Pella.
For the number of residents seeking OB-GYN care, he said delivering services through local clinics that are run by traveling providers is serving as "a good compromise." Iowa Department of Public Health data shows about 30% of Jefferson County residents are 65 or older and the birth rate gradually declined overall since 2000.
Some voices still ask about bringing back the birthing unit when hospital leadership gathers community input, and Smith and his colleagues reevaluate the possibility every few years.
The last evaluation was four years ago, but Smith said volume remained too low to warrant a return, and he doesn't expect those numbers to change much in the future.
It might not seem surprising considering overall population growth in Jefferson County has been stagnant, declining just 1% since 2000.
Fairfield fights for its place
Josh Laraby, executive director of the Fairfield Economic Development Association, said the population remaining unchanged is a sign that the county "held [its] own" in the face of rural population losses across the state, per the 2020 census.
Factors that kept the population stable include strong manufacturing, finance and education sectors and entrepreneurship opportunities, Laraby said. Fairfield's largest single employer, Cambridge Investment Group Inc., was founded in 1981 and has grown to employ about 900 people in Fairfield.
Still, as in other rural counties, it is a continuous effort to attract and retain residents. Laraby said recruiting physicians, providing affordable housing and child care are challenges for the area.
"I believe we have to work twice as hard and be twice as creative in rural Iowa when it comes to economic development, quality of life, public-private partnerships, things that cities can do to attract and retain workforce," Laraby said. "We have to work twice as hard, and I see that as a good challenge because there is this movement toward the urban areas and concentration toward the urban areas."
On the other hand, Laraby said there is more interest from young families to move to a smaller town like Fairfield. He said they are seeking a "different pace of life" and after the pandemic, they see smaller towns as safer from a public health standpoint.
By focusing on basic infrastructure like housing and a child care initiative to help restore 658 spaces that were lost, Laraby said it is the association's goal to first solve these problems for current residents and then look toward growth in businesses and population.
If Fairfield does start to see more young families, a conversation about bringing back the birthing unit could arise, Laraby said, although other challenges may stand in the way.
"That is a fundamental service. It's as important as the school system, it's important in terms of affordable housing and child care," he said.
Although fundamental, health care availability and access to a local birthing unit are not often determinants of population change. It is urbanization, rather, that's driving rural shifts, Smith said.
"I think it's just natural, people want to get out of a small town," he said. "What we see here is, 'I want to go live in Des Moines,' 'I want to live in Iowa City,' 'I want to live in Chicago.' Smaller communities are decreasing in size; I don't think it has to do with not having an OB service here."
Employment is the main factor determining where people choose to live, Liesl Eathington, coordinator of the Iowa Community Indicators Program, said, explaining the Fairfield Economic Development Association's efforts to retain the existing population and workforce.
Eathington said small and midsized communities should work on retaining residents, as more consolidation can create a cycle that hampers population and economic growth.
"Every time you've got a different industry that's experiencing this trend toward urbanization and consolidation on a larger scale, you do have consequences on the local economy that can turn around and have a feedback effect that inhibits further growth," she said.
Laraby said attracting residents is a "competitive game" so Fairfield and its rural counterparts need to have a clear vision for their community and its identity and commit to it.
"I think there's a difference of opinion that people will just move here, and in my opinion it is a competitive game, it is a marketing game, it is a quality of life game, and you have to work on all of these things to be attractive. … In a healthy way you want to please everybody, [but] you have to be clear on who you want to attract," he said.
Marshalltown closure arrives after waves of change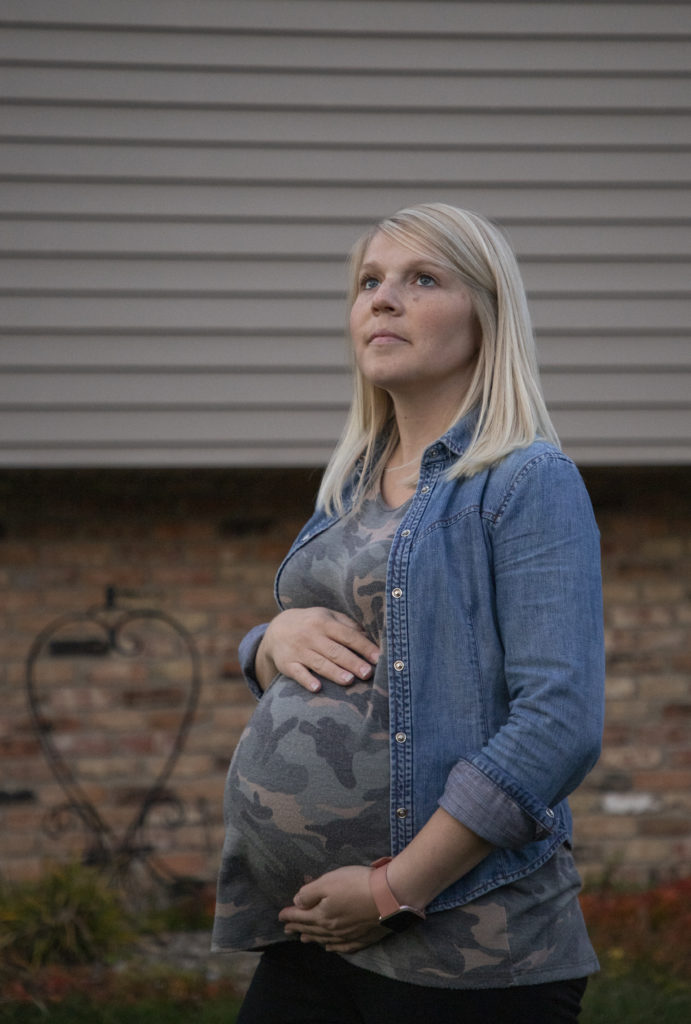 Like Fairfield, Marshalltown experienced the shock of a sudden birthing unit closure in August 2019 when the UnityPoint Health hospital announced that low volume and difficulties attracting a second OB-GYN were causing the unit and the women's health clinic to close.
"When it came down to it, our consultants said this [obstetrics] was a service the community cannot support," hospital President and CEO Jenni Friedly said in a Times-Republican article.
There was a 45% decrease in births at the hospital in the six years before the closure, with 2018 hitting a record low of just 18 births, the Times-Republican reported.
Moms Angie Pietig and Dani Minkel both lamented the loss of the vital service and a quality facility for the city of more than 27,000, the largest non-metro community to lose its unit since 2000. Other residents voiced their feelings and experiences on the Times-Republican's Facebook post that relayed the news.
"Whether your personal experience was good or bad, this is a huge loss for our community as a whole," one comment on the post read.
"This is ridiculous. Grinnell has less deliveries than Marshalltown and they're still open."
"This is why hospitals should be a municipal service. At this rate our hospital is going to be nothing but a lobby for Des Moines, Ames, or Iowa City."
While the birthing unit closure was unexpected, it wasn't the first surprise to originate from the local hospital or its OB-GYN practice.
The facility that is now named UnityPoint Health-Marshalltown was previously known as Central Iowa Healthcare, an independent hospital with more than a century of history in the area. It filed for bankruptcy, and UnityPoint Health-Waterloo acquired the hospital and took over operations in May 2017.
The hospital closed the catheterization lab and the intensive care units in 2018 due to financial reorganizing and loss following the bankruptcy. In part because of the hospital changes, more residents started seeking care elsewhere.
Before UnityPoint Health's purchase, the hospital's OB-GYN care was provided by the Women's Care Group, a private practice staffed by Dr. John McCarville, Dr. Richard Dowell and several midwives. Patients had their appointments in the women's health clinic located on the hospital's campus, and those who were pregnant delivered in the birthing unit inside the main building.
The practice kept operating when UnityPoint became the owner, but changes were on the way.
McCarville left the practice, leaving three midwives and one provider. Then in 2018, Dowell quit and took his patients' records with him.
In December 2018, the Iowa Board of Medicine initiated an investigation, and alleged several of Dowell's former patients had been unable to obtain their medical records from him, the Times-Republican reported.
Dowell and McCarville's practice officially closed in early fall 2018, and UnityPoint decided it would start its own OB-GYN clinic in the same space with the same staff.
The hope was that Dowell's patients would continue coming to the clinic for services, but they needed a new physician.
Enter Dr. MaryBeth Anderson, who joined the hospital staff in January 2019, coming from a private practice in Wisconsin.
She said she was hired to "grow and develop the OB-GYN program" in addition to delivering patient care at the renamed Women's Care Clinic and Birthing Center.
The unit saw progress during 2019. Anderson and hospital leaders were looking for a second obstetrician, and a fundraising campaign to purchase new equipment raised at least $70,000 in February — so the August closure was not anticipated.
"That was unexpected from the perspective of those working in labor and delivery and in the clinic because we had just been interviewing candidates. … We hadn't hired the right person, but we were in the process," Anderson said.
She said she and other hospital staff were aware that UnityPoint was having a third-party study done in 2019 to determine how to "allocate their resources."
One of the three plans that came out of the study proposed closing obstetric services, although not everyone agreed with that idea.
"That was not the plan or wishes of the administration, but apparently was the wishes of those that were higher up," Anderson said.
Although the closure was "very upsetting" for her personally, she said it was also a loss because of the great staff and patients.
She thought some of the difficulty recruiting another OB-GYN came from her being the only physician at the time and new hires wanting "more resources and more colleagues."
"When you have a small community, and you have a practice like that, and you don't have a lot of partners, there's difficulty in getting enough people to cover. You have to be able to cover hospital emergencies, surgeries and labor and delivery 24/7, and even if there's midwives, midwives … can't do the role of physicians," she said.
Anderson said physicians are the most needed resource for a birthing unit, so as the costs of staffing and providing quality care increase while the number of births and OB-GYNs decrease or stagnate, especially in rural areas or smaller towns, the combination ultimately makes OB-GYN services something that is easier to outsource to a nearby hospital.
"It may be easier to concentrate those resources, but that means other people have to travel to get to them. It's not ideal as a patient, but as a system trying to provide those services, it appears as though that's a way for them to provide those resources," she said.
The unit's progress abated following the decision. The two midwives who were employed at the time left for other practices, and Anderson is back at the same Wisconsin practice as before.
Adapting two years on
The same adaptation period Fairfield experienced nearly 20 years earlier following its closure has been underway in Marshalltown for the last two years.
The next closest delivery options for Marshalltown families now lie around an hour away in each direction in Des Moines, Ames, Waterloo and Grinnell.
Expecting parents can still find prenatal care locally. Primary Health Care has a nurse practitioner who offers a range of obstetric and gynecology services, just not delivery, and McFarland Clinic recently expanded OB-GYN services to its Marshalltown location with delivery available at Mary Greeley Medical Center in Ames.
McFarland OB-GYNs Dr. Bonnie Beer and Dr. Beth Soulli will travel from Ames twice a month and five midwives will rotate weekly coverage. Beer said McFarland has done outreach to Marshalltown since McCarville and Dowell's practice closed, and this expansion will give the community an established relationship with providers who can also perform deliveries.
UnityPoint still offers local OB-GYN care with the help of traveling providers as well. A group of eight midwives, some of whom used to work in Marshalltown, started rotating weekly trips to the hospital's Multi-Specialty Clinic in January 2020.
This is how Minkel, a school counselor and mom of two, has been able to receive prenatal care for her current pregnancy locally and still work with some of the midwives she knew from the birth of her first two children. She said she plans to see the midwives in Des Moines during the last few weeks of the pregnancy and she hopes to deliver at Methodist West in West Des Moines.
Both Minkel and Pietig said they still feel that Marshalltown's population warrants a local delivery option for the community.
Comparing this experience to her last two pregnancies, Minkel said, "I definitely don't feel like [the care] is as effective as when everything was local, but I also don't feel like we have a choice right now."
Another cost of the shift is that some Marshalltown women who weren't pregnant stopped getting annual preventive exams if travel was required, Minkel said. All the local care options that have become available since the closure provide gynecology services.
She said the closure and this new model of regional care seen in Marshalltown and across the state haven't made her or people she knows reconsider living in the town or having more children. But it has forced them to work within the situation and find a way to still seek care.
Given the efforts Marshalltown has initiated to revitalize and develop the community, Minkel said she worries changes like the closure could hurt goals to bring more young people to the area.
"I do think when people are thinking about having a family that they think through this aspect, and it's just something that we don't have to offer," she said.
University of Iowa OB-GYN Dr. Stephen Hunter said that a good adaptation to birthing unit closures is keeping some prenatal care options available locally, as those appointments help identify any risks in the pregnancy and are "critically important to a healthy outcome."
He added that traveling providers and clinics reduce the demand for expecting parents to find time and transportation to go out of town for their prenatal care as well as for delivery.
Regionalized care is already in Iowa, but Hunter said in the face of closures, small and midsized communities can expect it to become more prominent and require more changes.