As told to Emily Blobaum
Roxanne Conlin became the first female nominee for governor on a major party ticket in Iowa when she ran against Terry Branstad in 1982. Ten years later, she became the first female president of the Association of Trial Lawyers of America. In 1977, she became one of the first women appointed as a U.S. attorney. This interview, which has been formatted to be entirely in her own words, has been edited and condensed for clarity.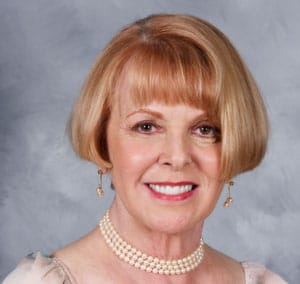 Someone once said to me, "You can't change the world, but you can change your little part of the world." So that's what I set out to do in my life.
I really wanted to be the governor of Iowa. If I was going to do it, I had to do it as a woman. I really didn't have any options in that regard. I love Iowa. In 1982, it was the farm crisis. Century farms were being lost to foreclosure. It was a very desperate time in Iowa and I had some ideas about how to make it better for Iowans. That's why I ran.
I thought I knew a lot about politics. I had run Willie Glanton's campaign for the Legislature. I worked on policy for the attorney general, I had been president of the Polk County Young Democrats. I had been active in politics since I was 16, when I volunteered for John F. Kennedy's presidential campaign. I made telephone calls and put bumper stickers on cars at Merle Hay Mall. On election day, we had a babysitting pool. People didn't take their kids when they went to vote back then. So we would take care of your children, as long as you were going to vote [for Kennedy]. Honestly, when Kennedy won, I thought I'd done it. I thought my babysitting pool had won him the presidency. I absolutely loved the idea that my participation made a significant difference in the world. I became hooked.
I was always aware that I was doing something that no one had done before. Being the first is sometimes lonely. Sometimes amazing. Sometimes nerve-wracking, scary, discouraging, disheartening. A lot of things. But mostly it's thrilling.
The constant pressure to be 100% all of the time was difficult. You had to be cheerful. You had to know all the answers. You had to shake every hand. I was committed to the idea that every citizen had the right to talk to me. We talked to 500,000 people. I had extraordinary volunteer support. Women had always done the scut work of politics, but for us the governorship was more of a cause than a campaign. It was an effort on the part of Iowa's women to show that women could do anything. As the standard-bearer, I was the person who needed to do that.
There were serious challenges. And of course I was often picketed. I was often threatened with my life. I had significant security at times because the threats were credible. But it never scared me very much. Part of it was just virulent misogyny. It always came in letters or phone calls. Phyllis Henry, the first woman assigned to patrol duty to the Des Moines police force, was my volunteer coordinator and security person. Then she became the first woman in Iowa to become a U.S. marshal. I felt like a lot of people had my back.
The press was horrible. Someplace up in northwest Iowa, a local newspaper ran the headline "Woman candidate throws her bonnet into the ring." I thought, "Oh, dear God." After I won the primary, another paper published a whole page of pictures of me with different hairstyles.
We did 12 stops a day, seven days a week. In between, we drove all around Iowa. We were lost part of the time, because we didn't have GPS. Sometimes I had no idea where I was. I would just say, "I'm so glad to be here in this county," because I would forget where I was. We had to work harder because I was the underdog. No one thought I could win, and it turns out they were right.
When I lost, I was devastated. We had gotten so close. I literally wore out a pair of slippers because I never left my house.
After the campaign was over, I got 1,000 letters. That's not an exaggeration. They were from women and little girls from all over the state. People ask me, "Was it worth all the time and energy and pain?" When I think about these girls, I think it sure was.
I think back to all of the women who helped in my campaign who went on to serve in public office. I was recently on a conference call with California Rep. Katie Porter. She started off her remarks by saying that when she was 8 years old, living in Iowa, she went to a parade and saw a candidate for governor, that candidate being me. She thought to herself, "Well, if she can do it, I can do it too." I was so happy to hear that.
It is important that people be able to look at people in power and say, "That's someone who looks like me." The importance of that cannot be overstated. In the 55 years that I have been a lawyer, we've made enormous progress in politics, law and economics. We've made giant leaps forward, but there's still a long distance to travel on the road to equality. It will continue to be important to see visible proof that we are represented.
When a woman does well, she is an exception. When a woman does poorly, she reflects on all other women. That is terribly unfair, but it remains true today. We will have achieved true equality when a mediocre woman can be as successful as a mediocre man.