As told to Emily Kestel and Jami Milne. Portrait by Jami Milne.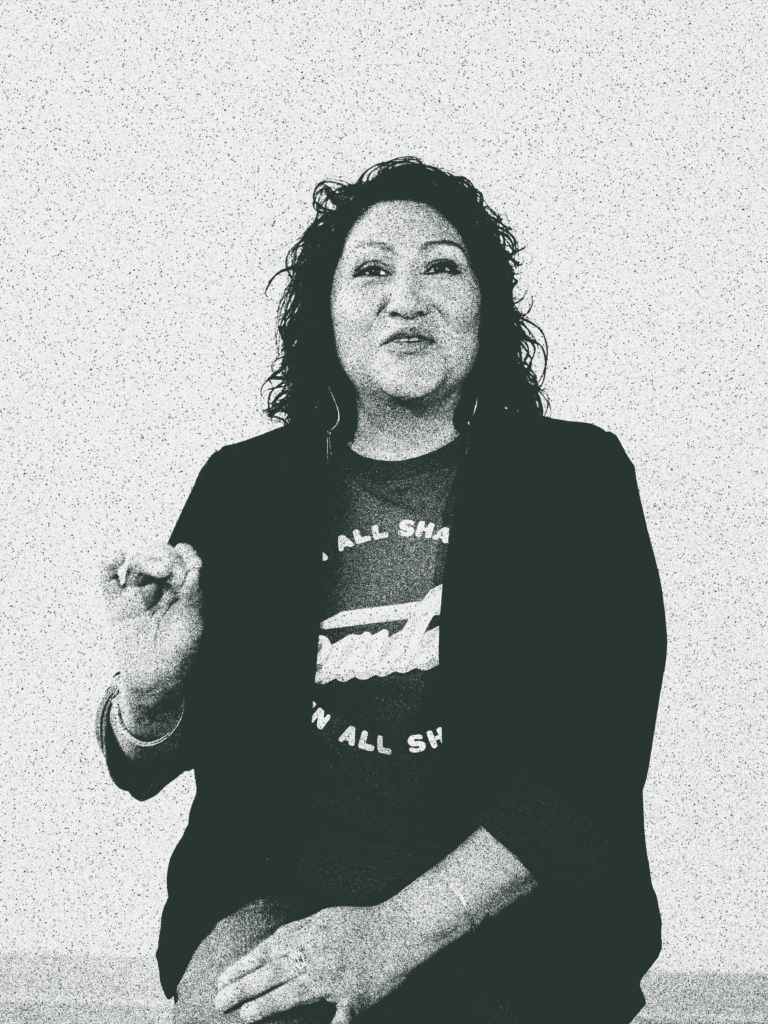 What inspires you in life?
Injustices inspire me. When I'm able to see a path where I can help remove barriers and help be part of the change to get rid of those injustices, that makes me very giddy.
What was the hardest compromise you had to make in order to achieve success?
I would say the hardest compromise was time with my children when they were growing up, because I was always very involved in the community. I dragged my children to board meetings, to volunteer, to resource fairs, they were always there with me. I always worried that I was missing out on some other, you know, playtime, maybe going to and doing other things. They're 23 and 22 now.
What do you feel least confident about?
I was diagnosed with ADHD about a year ago. Since then, a lot of things make sense. I'm in therapy, and I take medication for it. I know the difference now of what it's like to be medicated and nonmedicated with ADHD. But that is something that I feel makes me feel less confident sometimes, depending on where I am in the day if my medication is running off.
What's one experience that you've had that influenced how you operate in your role today?
It takes 30 seconds or less to change someone's life. My life was changed by four people that were instrumental for me when I was a teenager and when I moved to Iowa.
My geometry teacher, Mr. Ayala, encouraged me to graduate from high school. I didn't think I needed to because I was undocumented. He said, "Sonia, it doesn't matter that you are undocumented right now. You're only 16 years old. You never know when the laws are going to change. Graduate from high school, it will give you a leg up." No one had ever told me that I was smart. I graduated from high school with honors. That changed my life.
My cosmetology teacher in high school was in cosmetology school. And like I said, I grew up in a household where there was no nurturing. My mom was always in survival mode and there was no affection. That was something that I was craving. When I was in high school, my cosmetology teacher called me "kiddo." I remember the first time that she was like, "Hey, kiddo." I had no idea what kiddo meant because I didn't know English. But every day, I went to cosmetology school just to see her and to feel nurtured.
And then Maria Alonzo. She's a shero. She saw something in me and she encouraged me to follow the human services path. She prepared me, she coached me. She's the reason why I'm in this career.
And then Dr. Sandra McGee, who's no longer with us. She was always very encouraging and taught me a lot about how to work with survivors of sexual assault and domestic violence.
What art form speaks the most to you?
Music. It gives me peace. It transports me back to different memories. It's very serene for me. I especially love heavy metal.
How can you build a more equitable world for everyone, especially women?
For us to have a more equitable world, I believe that we need the people who have the power now to share power. We need representation, and not just tokenism. The communities that are underrepresented, right now we are all together, we are the majority. So we need to have the majority of the representation where all of the policies are being made.
This story is part of a collection of 10 stories produced by Ballet Des Moines and Fearless as part of its "SHE" series. To read all of the other stories, visit this link.