Stories compiled by Emily Blobaum, Fearless editor
Each year, more than 15,000 children in the U.S. are diagnosed with cancer. Roughly 11% of those diagnosed die. Yet research on pediatric cancer remains underfunded – just 4% of the federal budget for cancer research is earmarked for childhood cancer.
Although the issue deserves to be paid attention to all the time, September is designated as Childhood Cancer Awareness Month.
The Business Record talked with three mothers of pediatric cancer patients – one whose child is a cancer survivor, one whose child died from cancer and one whose child is currently fighting cancer.
The following stories have been formatted to be in their own words and have been lightly edited and condensed for clarity.
---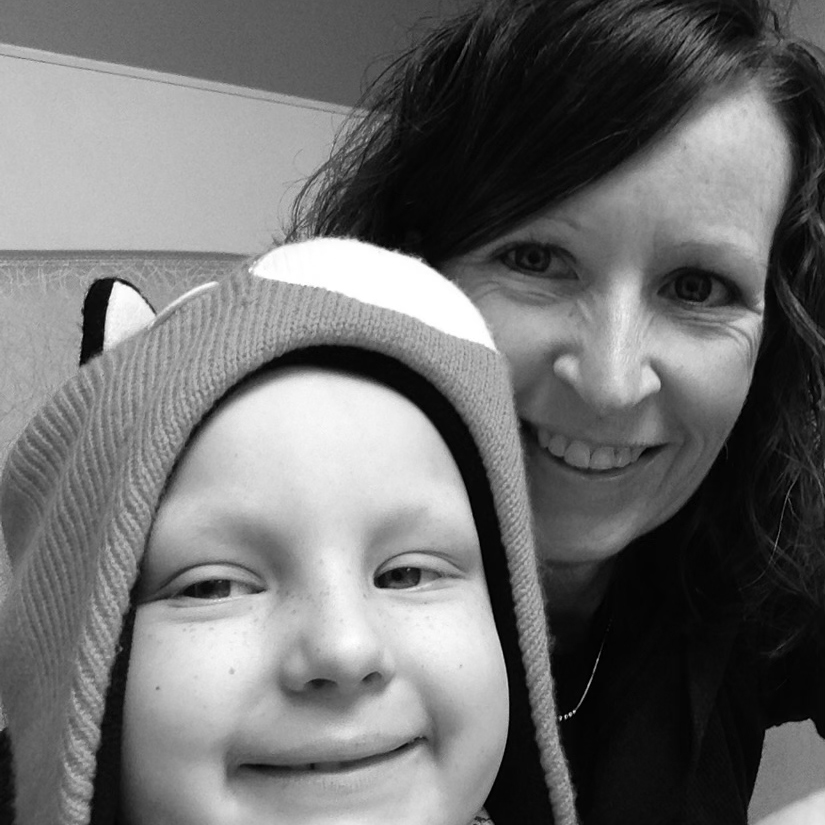 Jen Storbeck
Jen Storbeck is the mother of Camryn, who was diagnosed with stage 4 neuroblastoma in October 2010 and died in April 2014. Every year, the Storbecks host Princess Camryn's Christmas in July event, where they collect donations and items for Blank Children's Hospital and Children's Cancer Connection. She and her family live in Clive.
Camryn will always be 7. She should be almost 15.
She was diagnosed with stage 4 neuroblastoma just before her fourth birthday. She was healthy and normal. We had twins in May of 2010 and all of a sudden she started acting strange. The twins were 2 months old and we thought that she was just aching for attention. She didn't want to walk. We went to doctors for 2½ months before getting a diagnosis.
To find out that we had a cancer diagnosis was shattering. We'd never heard of neuroblastoma. They sent us in for some scans and we checked into the hospital for three days. We came to find out that she had a tumor the size of a gelatinous grapefruit in her stomach that nobody had been able to find.
We had several hospitalizations when they couldn't get her counts up. The longest time we spent in the hospital was for three weeks straight. I was thankful that there was a Starbucks at the hospital. You lose yourself in so many things when you're living in a hospital on a regular basis. By the fifth or sixth time staying there, you realize that you definitely don't need jeans – you need slippers and sweatpants.
Before Camryn was diagnosed, I sold insurance and worked from home. About the time that the twins were born, I started slowing things down a little bit, and after she was diagnosed, I quit my job altogether. So I was basically in charge of taking care of her. It was a full-time job, going back and forth to clinics. We were fortunate in that I could quit my job. My husband is a firefighter for the city of Des Moines and has excellent benefits.
I feel like the twins were raised by our family and friends. Our parents would come and stay with them, our best friends would take them whenever they could. I don't remember having to do anything other than go on autopilot and do everything I needed to be there for Camryn.
Your whole focus becomes that child. You're given that child because you're supposed to take care of them and then you feel like a failure because your child has cancer and you think that you've done something wrong. Obviously it's not your fault. But you think, "What can I do to help? What can I do to make my child better?" As a mom, it was my job to be strong for her, but it was to teach her how to be strong, too.
She didn't get the chance to be a stay-at-home cancer patient because we wanted her to live a normal life. We even got to the point when we would have to go to the clinic to have blood draws, I would make the appointments for 7:30 a.m. so she could go back to school.
We went to Iowa City for about two months for a stem cell transplant. After that procedure, it was a constant battle. We periodically had to go back to Iowa City for blood transfusions. She was actually cancer-free after one year. Her scans came back clear and we had a really good outlook on things.
Then we went in for a six-month follow-up and they found that the cancer had returned. So we started everything over again in 2013. She would be doing really good and then she'd go down. We were supposed to be going to Boston for an experimental treatment in May.
A lot of people know when their child is ready to die. We did not know. We were at the clinic on Friday, and then she came home and played with the neighbor's puppy. Sunday, I went shopping with a friend. On Monday, we were supposed to be coming back for some more counts. She had a really rough night so we were going to take her in early. My husband went to wake her up and she had very labored breathing. The ambulance came and took her and she died. She passed away April 28, 2014.
She died on a Monday and we buried her on a Friday. My husband's son graduated on Saturday. We never got a chance to stop and mourn. Our life just kept going. That's the way we roll.
Since Camryn passed away, our whole world is memory-making. You don't realize what your child misses out on. Camryn didn't get to go to dance classes or play softball or do gymnastics. I don't want to say that we jump through hoops, but now we let our kids do whatever they want. At 5 p.m., we start driving them around and don't get done until 8 or 8:30 p.m. And when they don't have stuff going on, we go to Okoboji for a long weekend or go to the waterpark, or go on a 10-day adventure.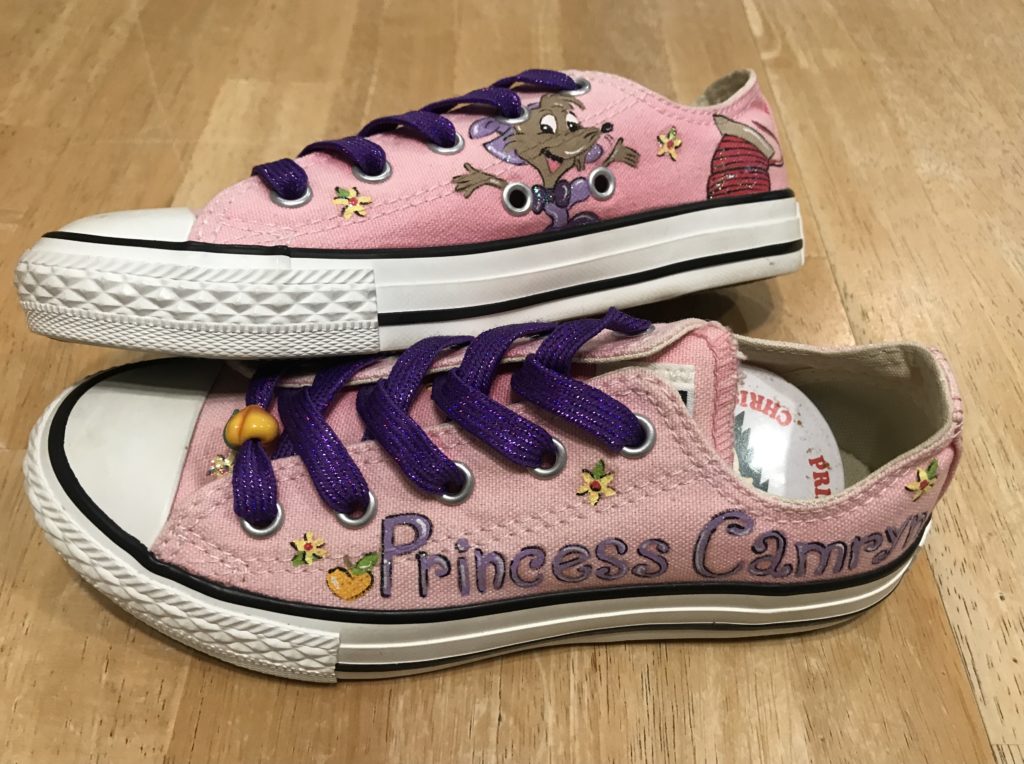 Camryn will always be part of our family. We have a pair of traveling shoes that a woman in New Mexico made. She provides shoes for sick kids. Camryn's shoes showed up two days after her funeral. She never wore the shoes but they go everywhere with us. If you were to see a family picture of the Storbecks, the shoes are in the picture. The shoes are like having her with us.
Obviously losing a child is difficult. But the hardest part is finding the right balance for our kids and our family. We don't want everything we do to be revolving so much about Camryn and the fact that she's not here. The twins are so in tune to all of this that if we don't do things the way we had been doing them, they'll bring it up. This was the first summer that we didn't do a family picture with the shoes because we want them to have fun memories and not, "Boohoo, my parents are sad because Cam's not with us."
Having a child with cancer sucks. Having a child die from cancer sucks even more. You have to figure out how to turn negative situations into positive. You have to figure out how to turn that around because you can't be angry and sad all your life. Everybody has a cause. If you don't have a cause, find one. Find a reason to do something good.
---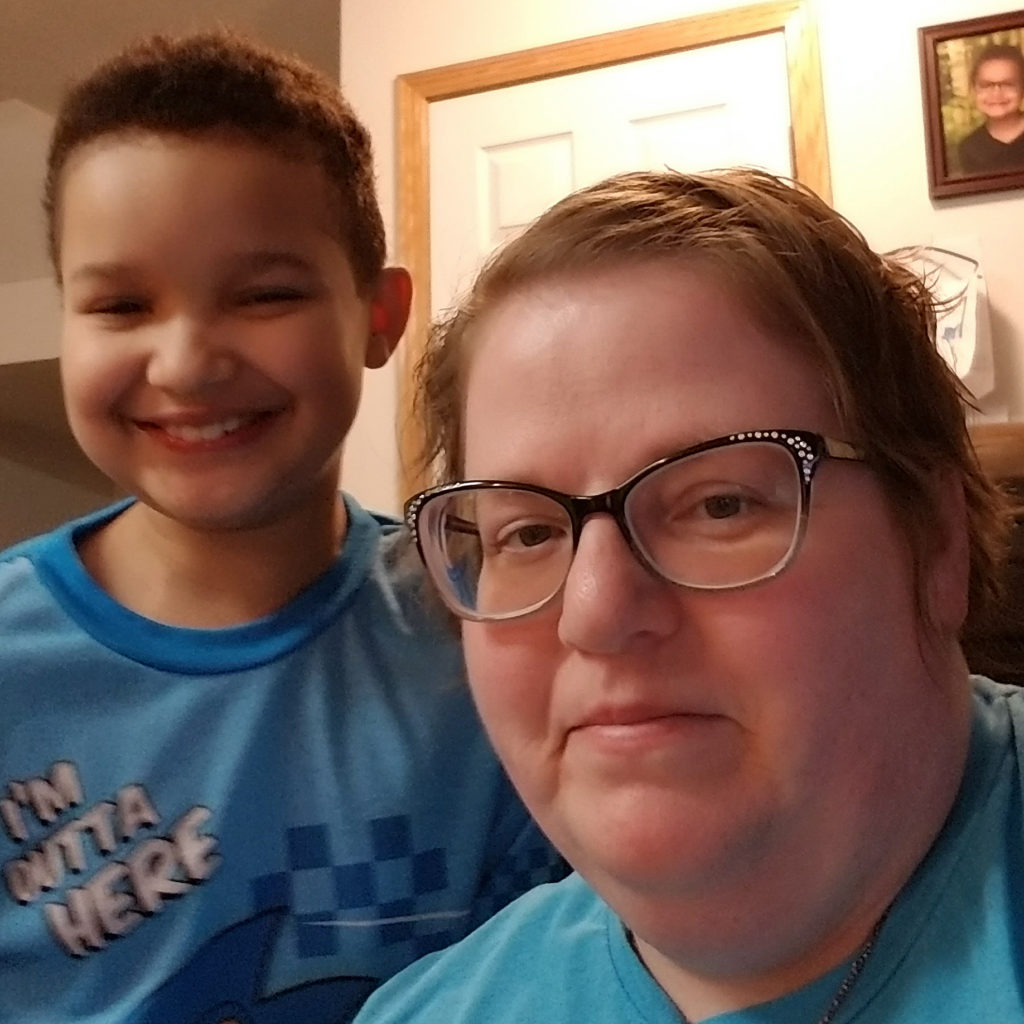 Lori Cook
Lori Cook is the mother of Kellan, who at 4 years old was diagnosed with B-cell acute lymphoblastic leukemia in July 2016. Now 9 years old, Kellan has been cancer-free for two years. They live in Des Moines.
Kellan hadn't really been sick, per se. He kept complaining of his butt hurting. At first we thought he was constipated. We took him to urgent care and they told us he had perianal strep and something viral. They didn't do any bloodwork but they did give him antibiotics. He briefly got better but then the symptoms came back. I took him to a different urgent care clinic on July 3. They said the reason he was saying his bottom hurt was because there was pressure from his organs being enlarged.
They told us that we needed to be seen at the hospital. We ended up at the Blank Children's Hospital emergency room and later that afternoon we were admitted.
I do medical billing for Mercy. I'm definitely not a medical professional but I had picked up on a few things. I would hear the doctors mention hemoglobins and I started to think that it was either some kind of cancer or a kind of blood disorder. That night, the doctor told us he had leukemia.
The next day, they did surgery to put his port in and start chemo. He was in the hospital for four or five days. It was completely overwhelming. The first six months were the hardest and most intense.
At the beginning, I was not taking care of myself very well. My gums were bleeding and my fingernails started to peel apart. I would sometimes get a rash all over from stress. I was too focused on making sure Kellan was OK and not taking care of myself as well as I should. After that six-month period, it got better. In a weird way, I was getting used to the routine of everything.
I had a hard time talking to people about it without bursting into tears. I cried in so many places – even when going to the pharmacy. After a while, I could explain what was happening without completely losing it. Thankfully I had a lot of good support from family and friends.
When Kellan was first diagnosed, I didn't want to freak out and concern him. My ex-husband wasn't the best with medical stuff and details so I felt that I needed to be calm and in charge. Later as things went on, I would sometimes admit when I was worried or upset, so Kellan would know it was OK to be sad and upset at times. Even though he was 4, we always tried to explain things to him.
I feel like I'm not as brave as he was, considering all he went through. But I think it takes a sense of taking deep breaths and going through things one day at a time.
Thankfully I had a flexible job and I was still able to work. There were definitely times that I wasn't able to get up to full-time hours but my boss at the time would let me work on weekends or later in the day. In our situation, we didn't have the financial burden that some people have. Kellan was adopted through the state, so we have Medicaid insurance for him. We didn't have to worry about payments.
The most important thing is to have a support system. It's great to have family and friends, but having some kind of organization or group where you can talk to parents and other family members of kids with cancer is crucial, too. I never would have wanted Kellan to be sick, but there's a whole group of people that I wouldn't have met otherwise. I definitely cherish things and treasure things more. I don't take things for granted.
Now, Kellan is a little medical guy, which is good and bad. Sometimes he'll say, "My muscles are feeling kind of tight today, I don't think I can pick up my toys right now." Even though he's not doing chemo anymore, he senses that I get a little anxious when he has a fever. The sense is always there, it's never completely gone.
---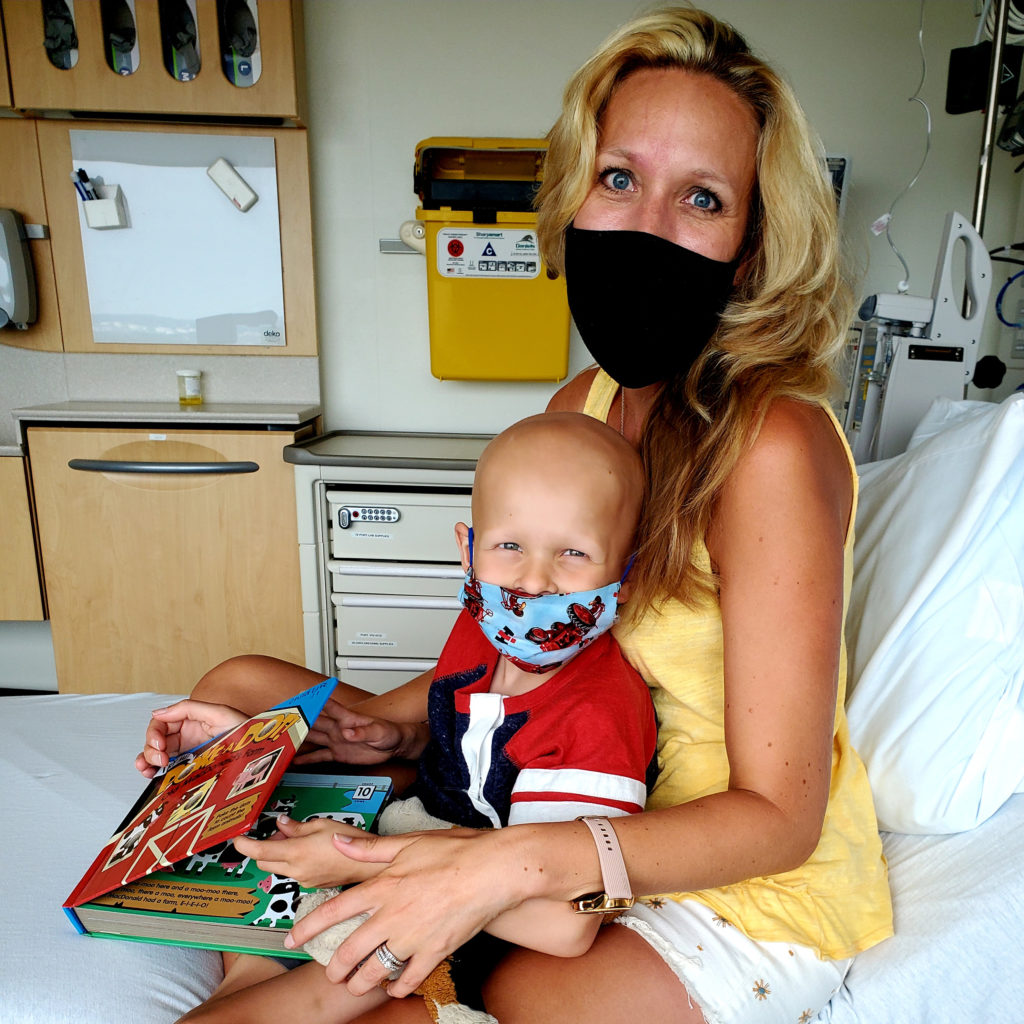 Dawn Popelka
Dawn Popelka is the mother of Austin, 4, who was diagnosed with Wilms tumor earlier this year. She, her husband and their three kids live in Clinton County.
You never think it'll be you, and then it is.
I'm incredibly close with my sister. Last October, we dramatically lost her husband. We were really sidetracked with family trauma and helping her. Just after Christmas, we started noticing Austin not wanting to get up and play. He's always had a bit of a tummy but I noticed that his abdomen was sticking out a bit more. We took him to our doctor on Jan. 7 and she knew that something wasn't right. She sent us to the emergency room. The doctors did an amazing job. My husband was just off work and I had him on speakerphone and the doctor told us that there was a coconut-sized mass coming out of his left kidney and that Iowa City had a bed waiting for us and we'd be going by ambulance.
We got to the hospital in Iowa City at about midnight. There were doctors and surgeons coming in at all hours.
When he was in his surgery on the 9th – which was supposed to take two hours – my husband and I got a call 15 minutes into it and the anesthesiologist said that part of the IV broke off in his arm and so they had to surgically remove that broken part before they could go into the primary surgery where they would remove his tumor and kidney. That was a long day.
At the very beginning of his radiation, I was at the hospital every day. Our alarm would go off at 3:30 a.m. so we could be there at 6:30 a.m. They did offer the Ronald McDonald House to us, but it was worth it to us for Austin to have the normalcy of being at home, sleeping in his own bed and being with his siblings. We were in the hospital for just under two weeks.
The first thing we did was order books to try to help our other kids understand. We've learned to devote special time to each child and not just give Austin all of the attention. It's hard. It's all a blur and I feel like we're just in survival mode.
It's been a roller coaster. Our road map of treatment is 33 weeks long. We're not out of the woods yet, but we're at the phase of waiting and hoping and praying.
My most dominant feeling has been gratefulness. I'm so grateful that we found it and have an amazing team at the University of Iowa. They're the generals of this army. I'm grateful for the community we live in. Of course we're terrified and scared, but we've tried to focus our fear into something good. We're doing a toy drive to raise awareness about pediatric cancer.
I saw a quote once that said something like, "I don't know how you're doing this," and the answer is "We weren't given a choice." You've got to reach deep. You just do it. It's weird how the sense kind of takes over you when you don't have a choice. You do everything for the well-being of your child.
I try not to let fear control me. I have to believe in the doctors and the health care providers and studies out there. Believing in a higher being helps. We can't wait to celebrate someday.
Special thanks to Lily Scott and the Children's Cancer Connection.