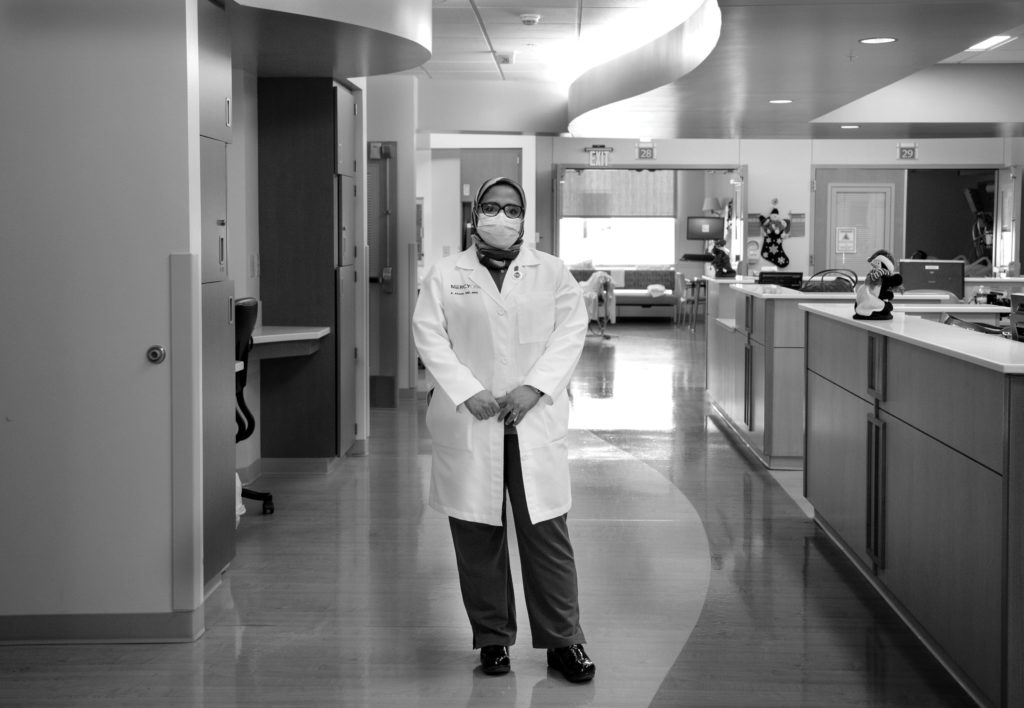 Aneesa Afroze is the infectious disease consulting physician, president of medical staff and director for antimicrobial stewardship at MercyOne and is responsible for day-to-day medical staff issues and patient treatment planning. Co-workers describe her as the Dr. Anthony Fauci of the hospital, by which she is flattered, but she says she is "in no way close" to being like him. I spoke with her in early December and then again in January. The conversations have been combined, edited and condensed for clarity.
---
In two words, I am tired and exhausted. I can add a third word by saying that it's depressing. There are times that you don't know what's helping and what's not helping. Patients are crashing left and right. I have not seen so much death in the hospital in the 12 years that I've been working here.
We have done everything and we are still not able to control this surge of cases. Just the other day, I saw on the news that there were 4,000 deaths in one day. One person was dying every eight minutes in Los Angeles County. That's not acceptable. It's ridiculous. In a country like the U.S., where health care is of so much importance, why are we first in the world when it comes to the number of cases and deaths?
When are we going to get real? We have a tragedy every day. If something happened and 2,000 people died, you'd remember that for ages. The death and the suffering that you've seen through all this will not be forgotten.
I don't think we ever imagined it to be this big of an issue. We train for this, but we don't get the field experience. The scale of this pandemic is just enormous. I don't think even Dr. Fauci thought it was going to be like this. Physicians have come and gone, but not many people have tasted such a pandemic. It is overwhelming at times.
In the beginning, we were trying to tread the unknown waters. We didn't know anything about it. You hear, "There's something coming out of Wuhan, China, be prepared," and people start brainstorming even before we see patients. What are we going to do in the emergency department? How are we going to triage? There was fear initially, but there was more of a sense of responsibility, which is, of course, still there. Now it's different. Even though we know so much about it, the numbers are so overwhelming that it's hard to keep up. You can't admit every person.
We had some breathing time in June and July when numbers weren't as high. We were trying to recover from what happened in the previous months. We didn't have time to bring back everything that we lost with revenue and nurses before the surge happened again.
You hear politicians say how many beds and ventilators are available. Yes, there are beds and ventilators, but where are the nurses to take care of these patients? I think in Iowa, from a bed and ventilator standpoint, we may be OK. But we don't have the personnel to take care of all of the sick patients. When you open up COVID units, we have to close others. People are still going to have heart attacks, strokes and trauma. Where are these people going to go? If you don't have ICU beds, how are we going to do open-heart surgery?
One day, a lady probably in her 50s came in. She was really sick. I was called to see her and I was told that she was dying. I asked if we had spoken to the family, I talked to the ICU doctor and then I just froze. I didn't know what to do. She's basically dying alone. The patient's nurse held her hand and I just stood there, also holding her hand, because there was only a couple minutes left of her life. She died the same day she came. You don't forget that. For me, it was that one patient. For those nurses, there are many patients like that. They are having this experience frequently.
The mental health consequences are going to linger for a long time. This is going to totally change the face of medicine. The future of medicine is not going to be the same. We are going to live in fear of these kinds of things because we have lived it. I'm sure people who are considering this profession will have a different approach to it.
The hardest part is the enormous suffering you're seeing for so many months. It's heart-wrenching. Someone dying alone is the most depressing and frustrating part of this. We are vulnerable to whatever we see. We are supposed to be more resilient than normal people, but we are human beings, too.
In this midst of chaos and sense of responsibility and focusing on learning about this, you tend to forget yourself. There has been a lot of emotional instability among a lot of health care workers. We take all these things home. This affects our sleep. This affects us emotionally.
Certainly I think the best thing for us as colleagues is talking to each other. The few minutes we get to eat lunch with each other helps us unwind a bit. We try to elevate each other's moods. Once in a while, we talk about our patients' experiences. Here and there we do shed a tear. But we are not made for that. We are supposed to be very resilient people, and we portray ourselves like that.
Administrative leadership have offered counseling. There are therapists we can anonymously talk to. There are videos that we can watch. They've sent out newsletters about meditation and yoga and what services are available for mental health, but I will honestly tell you we have no time for that. We have no time to pause and seek help for ourselves at this time.
You just can't relax. When I leave the hospital, I'm exhausted. If I eat dinner with my family, those are the few minutes I spend with them before I catch up on emails and meetings to prepare for the next day. So that takes you to midnight, then you barely have a few hours to sleep. There's really no physical or mental rest in that sleep.
I work anywhere between 12 and 15 hours a day. By the time I leave, it's sometimes 9 p.m. Spring break in March was my last vacation. Right when I came back, it's been constant since. There were some periods where I would work 20 days in a row. I took my first days off around Thanksgiving. I tried my best to avoid meetings, and I did, except for one because I wanted to be up to date. I had a few days off during Christmas break, which was rejuvenating.
I think we're doing more now than we ever did. But that zeal of being called heroes is not there anymore. One weekend I came out of my house and saw a sign that said, "A health care hero lives here." I didn't know who put that there. Later we found out that our medical group decided that they would go and put signs in yards as a surprise, and it was. It was nice. It felt good.
I was first in line to get the vaccine at 7:30 a.m. I wanted my name to be the first because this is a historic moment. Driving to work that day, I felt a ray of hope. I got emotional. It went very smoothly. The second vaccine, I had some soreness in my arm and I was tired, but I had also had a long day. But it's back to normal. Everything feels fine. For me, getting the vaccine was an accomplishment. This is what we were waiting for.
I need to be a role model to tell others that they need to get the vaccine, too. This is the only weapon we have against COVID-19. If we don't use it, then we cannot control this virus. We certainly are disappointed when we see what people in the community are doing and not believing.
For the sake of our mental health, we are in more need of normalcy than anybody else. We are tired, we are exhausted. We are nowhere near herd immunity. It's depressing, it's disheartening, but there is hope. The vaccine, with its efficacy of 95%, is definitely a ray of hope. We will keep going because we are committed to providing the best care.
The pandemic has taught us a lot of lessons. I think we have grown intellectually and psychologically in how we handle things. We have learned how to improvise our policies and work as a group with different departments. We have created better relationships with different departments. You've come to know and appreciate so many people and the hard work they've put in.
---
'There are still going to be some very difficult times ahead'
Sydney Leach is an emergency department physician and associate director of the emergency department at MercyOne. She is also the medical director for the Johnston-Grimes Metro Fire Department, where she oversees medical protocols. I spoke with her in early December and then again in January. The conversations have been combined, edited and condensed for clarity.
---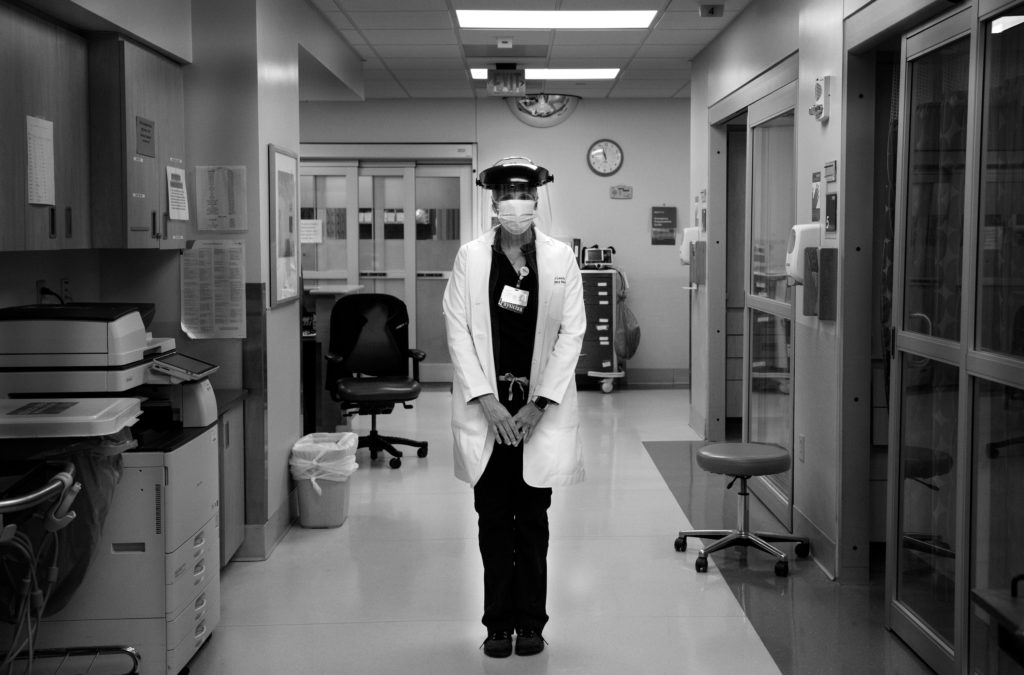 I've never seen anything like this in my career, where you had a disease that has affected all of our lives in some manner. I can't think of anyone that I know whose life today isn't different than it was a year ago because of how we've adjusted to this disease. Normally my kids are not hearing on the news what's going on in my workplace. But now it's something that they are keenly aware of.
I am feeling cautiously optimistic, but it's been a long march. At first there was a lot of trepidation, fear and worry. There's been concern about hospitals filling up, emergency departments filling up and a lack of recognition by the public about what's going on.
I've always been hopeful. I've never been super pessimistic. I've always felt like we are going to get through this eventually, it's just a matter of when, and what cost. But there's obstacles and barriers along the way, like how much we're able to affect the public's perception and get people to change their day-to-day lives. As things drag on for months, we have fatigue with dealing with how this virus has changed our lives.
Initially, there was an outpouring of support from the public to front-line workers. There were meals being delivered to the hospital every day. People were overly concerned and were sending texts to us. Someone put a health care hero sign in my yard. I felt odd about it. This is just the career that I've chosen. I'm doing the same thing that I've been doing for the last 11 years. So for people to suddenly take notice and thank me for that, it felt unusual to me. I don't think any of us are in it for the glory.
There are two constraints right now: beds and staffing. We've had a lot of employees that were out with COVID. We had to build a call schedule, just to have people that are on backup to come in, which we've never had to do. At one point in November, 10% of our workforce was out. There are days when the hospital is so full that you feel that you can't give the full attention to every single patient like you want.
The hardest part is treating patients who are younger and don't have other medical conditions and seeing them suffer. There's also the burden on the elderly population. There's a whole generation of elderly patients that we've lost to this disease. My grandmother died of COVID; she was in her 90s. I wasn't able to go and be with her or have an in-person funeral service.
I'm surrounded by colleagues who are going through the same things. As a director, that's also been something to deal with. I might know how it's working out for my family, but I also worry about all of my colleagues and their families who are dealing with things. We've had people in our department who have had loved ones die and then they have to come back to work.
We support each other and try to cheer each other up and ask how things are going. I'm still good friends with the residents who were in my program in Detroit. We have a group text of people scattered all across the country. We'll ask how things are in Charlotte, N.C., or Florida or Michigan. We share ideas with each other.
There are still going to be some very difficult times ahead of us in the next few months, but I've always felt that this is just like running a marathon. You've got to keep a consistent pace. You don't want to be out of the gate too fast. You don't want to start sprinting to the finish line too soon.
I think we're at mile 17. Hopefully we're not going to hit the wall, where we run out of hospital resources throughout the country and then there would be nowhere else to care for patients. People in the ER have been worried about that all along. We mostly operate near capacity in a normal year anyway. We are always walking a fine line every winter when influenza pops up. We are always facing bed situations for patients in December through early March anyway, so this just adds a whole other level.
Since the spring, I don't think there's been a day that I've worked where I haven't taken care of somebody who has COVID. I end up in the area where we have sicker patients that have more of the moderate to severe cases.
I've been putting people on ventilators throughout my entire career. That's one of the main procedures that we do. Normally when you put somebody on a ventilator, their family might be in the room to give them warm wishes and hold their hand and tell them that they love them. With COVID, they have to be isolated. We often can't have their family members with them for support.
Some people with this disease don't ever come off a ventilator, so there's always that thought of whether I'm going to be the last person to talk to them. You do feel that you have to be there to provide that emotional support for them and you wish you had more time to do that. But if you're putting someone on a ventilator, it's a hurried situation. There's not a lot of time to address the emotional needs of the patient.
I had a friend who is an emergency physician whose neighbor is a Johnston City Council member. He said that the council had been discussing whether Johnston should have a mask mandate or not and that they were looking for some perspectives from medical professionals to give insight into what we were seeing in the hospitals. I told them the numbers in the schools, the numbers in the state and what we were seeing in the hospitals.
Below are comments made to the City Council in mid-November:
Based on our population, if Iowa were in a state of low transmission, we would have only 22 cases per day, not 5,000. What about Polk County? Any number less than 10 new cases per 100,000 people in 14 days is considered low incidence community transmission, per the CDC. We are nowhere close to where we need to be in our county or our state or our city.
I am here tonight to let you know that this "wave" is going to impact our resources in the local hospitals and clinics so much more than the first wave. What can hospitals do? We can make temporary ICUs in operating rooms and recruit doctors and nurses from other states. The easiest, immediate thing we can do is to cancel elective surgeries that would require anticipated ICU care, like heart bypass surgery or brain tumor surgery.
This is what happened last week in Polk County and is continuing. Patients who, for example, suffer a heart attack, stroke or a severe car accident with brain injury might end up in a regular hospital bed rather than an ICU bed, which means fewer nurses and staff watching over them. Patients who have been waiting for their elective surgeries, like hip replacement or heart valve replacement, had them canceled.
Last week MercyOne locally had 140 staff members out with COVID-19. Other metro hospitals faced similar staff shortages. Several EMS agencies have had local outbreaks. I worry that once EMS gets the patient to a hospital there will not be a nurse or a bed to care for the patient. Can our communities run effectively if our health care system is stretched to the breaking point?
What I have observed was initially when this virus arrived in March, most health care workers were afraid of what we would bring home to our families. Some of us in the ER moved to separate locations from our families and kids for weeks to months and talked to our spouses and children on Zoom or Facetime. Others tried to stay away from their families for days immediately after a block of shifts. We changed our clothes in the garage and never wore our wedding rings, watches or took anything into the hospital other than a plastic bag holding a drink and our car keys.
We got used to taking care of patients with the disease and realized when we wore PPE, disinfected our ambulances and were meticulous about washing our hands, we weren't catching it. We moved back in with our families and kids and reconnected. The community became more relaxed too. Too relaxed. People stopped wearing masks, basketball teams played games indoors with spectators without masks, families and neighbors got together indoors.
Then the hospital saw more and more front-line workers getting ill, but why? They were still mandated to wear PPE. It is now coming from community spread. It's less likely I will bring the disease home to my family after caring for/touching/talking to multiple covid patients daily, although I still worry about this. I'm more likely to pick this up from my family, or at the store, or watching my kids play basketball.
Three days after the meeting, the mayor made somewhat of a proclamation for a mask mandate in the city.
I have received both doses of the vaccine along with a lot of my colleagues in the emergency department. I was quite excited to get mine. About two or three days before I got it was when the first doses were being administered in the U.S. I was watching TV that morning while on the treadmill and I got emotional watching a physician in another state getting their vaccine. I started to tear up, like I was watching some sappy movie. I think it was just a release of pent-up emotion of what all of us have gone through over the last nine months and the hope that it represented. When I got it myself, I didn't tear up. I was probably trying to be tough. I didn't really have any symptoms. It was like a flu shot, where it just feels like you have a bruise on your arm for a few days.
The numbers in Iowa have been improving over the last several weeks, so that's nice to see. But there's this background worry because we see what's going on in the rest of the country. When is that wave going to hit here? What will the new mutations look like? Vaccine rollout has been slow. So while it may help us as providers, is it going to make a dent in case numbers?
I want people to remain cautious and follow public health guidelines. Doing a little bit can go a long way. I'm hopeful that the public will be accepting of the vaccine. I also want the public to know that we are here for them. I don't want people to be scared of going to the hospital to seek treatment for COVID or anything else. We don't want people to feel like it's a horrible place to be right now.