Thirty percent. That's roughly the proportion of executive-level leadership positions in Iowa that are held by women. This statistic is perhaps important not because it's new, but because it's NOT new.
So why are we bringing it up now? One of the main intentions for Fearless is to continue bringing issues like these to the forefront so we can talk about them. And besides, in our current news cycle, where staying up to date with what's going on feels like the "I Love Lucy" chocolate factory scene, it's easy for things to get pushed aside. So let's take this opportunity to refresh where we're at and what we need to do.

For this story, I looked at data from the Equal Employment Opportunity Commission, which can be found here. Under Title VII of the Civil Rights Act of 1964, the EEOC requires periodic reports from public and private employers across the country about the composition of their workforces in terms of sex and race/ethnicity. Specifically, I analyzed the report about private companies with 100 or more employees and federal contractors with 50 or more employees.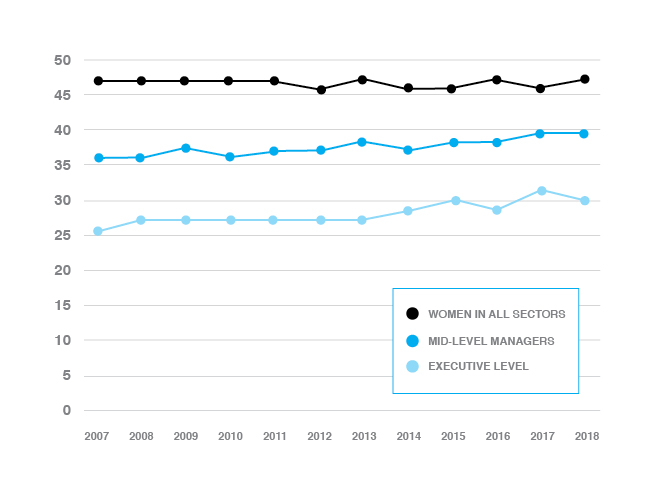 Women in Iowa have consistently made up 46% to 47% of the private-sector workforce in Iowa. However, when it comes to women in leadership positions, that rate drops significantly.
Currently, women hold about 40% of positions in the midlevel management division. At the executive level, that number is 30%. The EEOC defines executive-level positions as people who create strategies for the entire organization, with positions including CEOs and CFOs. Midlevel managers report to those in the executive-level positions.
Note: The EEOC keeps records on its website dating back to the 1990s. However, from 2006 and earlier, the executive and midlevel management categories were combined. By using that metric, the percentage of women in those roles has only risen 7% in 20 years, from 31% to 38%.
There is an even greater disparity when it comes to representation of women of color in leadership positions.
Women of color make up about 18% of women in Iowa's workforce but only 3% of leaders at the executive level and 8% at the midlevel manager level.
In 2018, of the 2,287 women in executive-level leadership positions, 15 were Black, 21 were hispanic, 22 were Asian, and nine were two or more races. There was no representation of American Indian or Hawaiian women.
To further conceptualize this data, I examined members of the Iowa Business Council, which consist of the 22 largest employers in the state.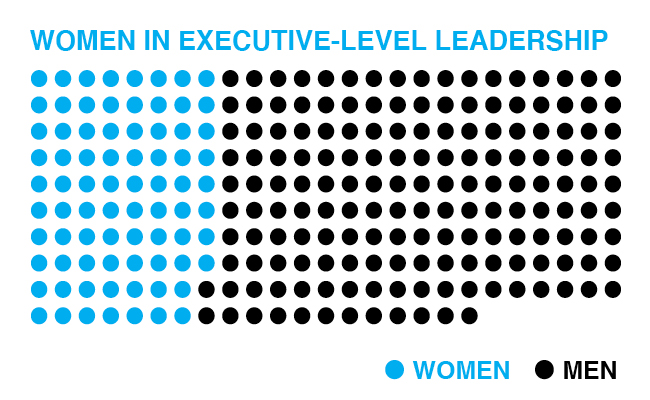 Of the information that was readily available, women make up 39 out of 113 board of directors positions, or 34%, across these companies. In executive-level leadership positions, women represent 78 out of 244 positions, or 32%.
Leadership information from the Kent Corp., Fareway and Vermeer was not made available. Data for the other companies was compiled using information on their websites.
***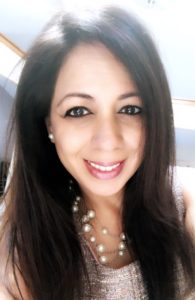 Sarika Bhakta has lived experience representing these disparities.
Bhakta was born in Gujarat, India, but grew up in several different Midwest cities.
"I've lived in many communities throughout my professional career. Having a lot of intersectionalities, I have never looked at my gender, race or nationality when it came to professional opportunities. I was raised to believe that if I worked hard and put the time in to continue to learn and develop, that it will pay off. Never once did I think about my gender, race or nationality as being something that would be a roadblock for me, because I always counted on my skills, qualifications and my track record to illustrate my capabilities for a position."
Until she came to Iowa.
"When I came [here], it was blatant that [my identity] could not be discounted," she said.
Working in the community and economic development industries, Bhakta said she's always had successful track records in lower to midlevel leadership positions, but never at the top. 
In the span of six years, she was rejected from three different organizations where she was being considered for their top executive position. But in all three cases, they hired someone who, as Bhakta describes, was tall, white and male.
"That was a rude awakening for me. My ego took a beating," she said. "I had a decision to make. Do I continue to die slowly inside day in and day out for a paycheck? Or do I make a major shift in my life to try and find a purposeful way of living?"
Bhakta ultimately started her own firm, Nikeya Diversity Consulting and became a certified diversity executive, where she now works with business leaders to drive diversity, equity, inclusion and engagement practices in their companies.
***
So, what's the deal?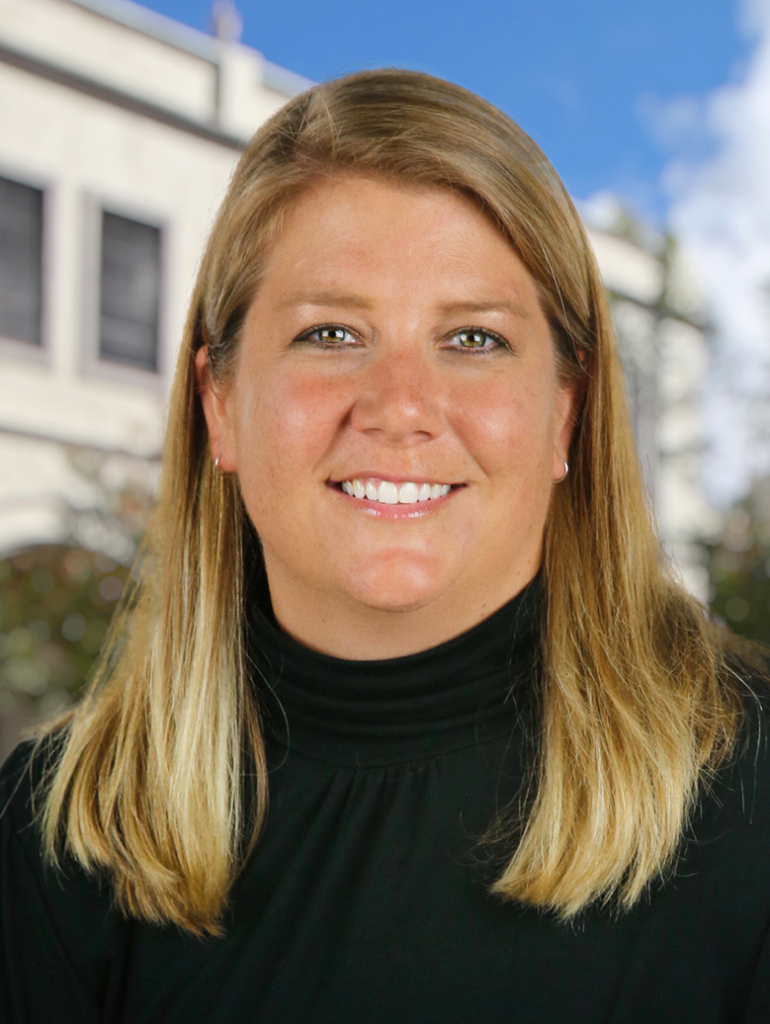 It's not that there's a lack of talent. Women make up the majority of those who have college degrees in the state and make up more than 50% of the population.
Tara Widner, assistant teaching professor in the leadership studies program at Iowa State University, often refers to the metaphor of a leadership labyrinth when teaching, which breaks down the challenges that women face into three main areas.
Human capital:

"Women don't have the same developmental opportunities. They're not given the same opportunities to keep growing."
"As much as we try to be forward thinking … almost all of the emotional labor for our home falls to women. So it becomes, how much bandwidth do women have to run the household and run things at work?"

Gender differences:

"We have mental models for what we believe something should look like. And our mental models for what leadership should look like is very much male-dominated, and white male-dominated. So if women try to practice leadership in the same way, they're seen as ineffective."
"Women are less likely to speak up and advocate for themselves, which is unfortunate. Women have different negotiation aspects and they don't self-promote in the same way that men do."

Prejudice:

"We have stereotypes of what gender should look like. We very much expect that women lead a certain way. But it's kind of a Catch-22 because if women are leading in a more participative or democratic way, they might be seen as a person that can't be decisive."
What can we do about this?
Both Widner and Bhakta agree that in Iowa, the road to progress has been long.
"We have a lot of work to do from a visible diversity perspective, especially when it comes to race and ethnicity per se," Bhakta said. "It's the notion of Iowa nice. We are not aware of the biases that come into play because we inherently feel that we are very welcoming and hospitable."
Widner says the first step to change is acknowledgement.
"We have to admit to ourselves that there might be implicit biases that are built into us through society that we have to address on our own. Acknowledging them doesn't make them a weakness, it gives you an opportunity to find where you can have growth."
Individual level:

Widner: Learn negotiation tactics. "We need to be working with folks about how to negotiate for yourself."
Bhakta: Understand that leadership styles differ across gender, race and ethnic identities. "For example, when you have a manager that has a basic understanding of Indian culture, they can understand that as a woman, you did not grow up boasting about your achievements, being in a patriarchal culture. … How does that translate in a Western workplace? If you don't share your achievements, you don't get the credit. But in [other cultures,] you were looked down upon if you were boasting."
Widner: If you're in a position of power, leverage that to be a productive ally. "Address gender, race and ethnicity stereotypes, do cultural competency training for your entire organization."

Interpersonal level:

Widner: Work on decreasing stereotypes. "The only way you do that is through intentional self-work on cultural competencies."
Widner: Talk about salaries. "Making salaries a taboo subject is part of what's causing women to not reach parity on gender equality and salary."

Organizational level:

Widner: Work with employees to examine implicit biases. "Acknowledging that racism exists isn't something that we should be hiding. … There's the idea of people saying that 'I don't see color.' They see that as the right answer, but it's actually like, if you can't see color, then you can't see the struggle that comes with being a person of color. It's that idea that it's better to ignore it. But it's not better."
Widner: Practice inclusion by listening to different perspectives. "It's one thing to have folks at the table. It's another thing to give them a voice you're actually going to listen to."
Bhakta: Give women the same developmental opportunities by creating intentional mentoring programs. "I think women also need to ask questions about what it means for them to be a part of those developmental opportunities, like 'What do you want to do with me once you've developed me?' Am I on a track to being an executive, a partner or on a board?"
Bhakta: There needs to be accountability at the top to make it a priority. "Companies need to have their executive pay linked to equity, diversity and inclusion efforts. Create goals around metrics about saying that in five years, we're aiming to have X number of women in management positions."
Bhakta: Don't fill seats just to meet a quota. "If you have a glass of milk and you pour chocolate syrup into it, that's diversity right there. But what happens if you don't do anything to it? The chocolate is all the way at the bottom. You have to stir it up. You can't have diversity for the sake of diversity. It can't just be about representation. The individual has to have a voice and has to feel valued and have a sense of belonging and that they feel that they can make a difference."
Bhakta: Look at the younger generations that are entering the workforce. What are their values? Generation Z is both more racially and ethnically diverse than previous generations. "Individuals are going to look for companies that value diversity. Even existing talent, they're looking at what your leadership looks like. If they don't see someone that looks like them at the leadership level, are you going to be able to retain them? Probably not."

Societal level:

Widner: Pass paid parental leave and equal pay laws. "[From a policy perspective], we need to think about gender equity and domestic responsibilities."
Bhakta: Redefine what leadership success looks like. "I think we really need to explore other pathways for leadership trajectory in corporate America that go beyond the traditional management track. … Why can't you have a different technical track?
Bhakta: Understand that women are not a monolith. "The most important thing to remember is that when you're thinking about women, is that women are not monolithic. Especially if their intersectionalities they identify with makes them members of other underrepresented groups as well. It just simply compounds."
Final thoughts
Widner: "Leadership in our businesses and our governments is going to be more productive and innovative and financially successful if you're taking into account differing viewpoints. You've got to have folks represented at the table."
Bhakta: "We can't afford to not have conversations around these topics anymore. We need to be able to foster a safe space to have these crucial, courageous conversations. … It starts with us. We have it in ourselves to be able to impact change."