By Emily Blobaum, Fearless editor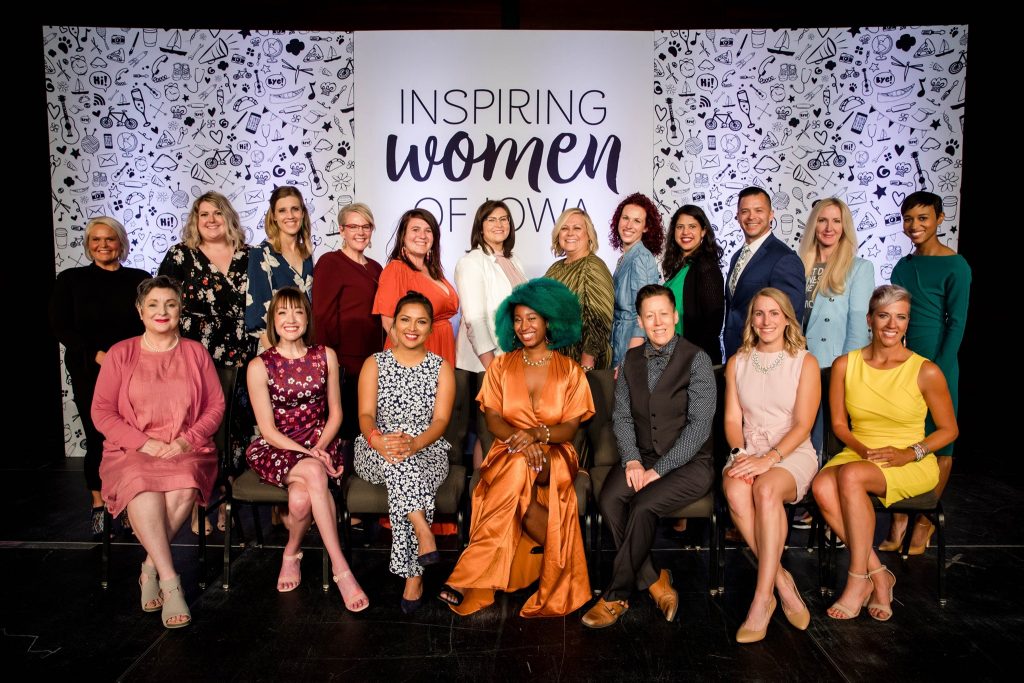 At an event held both virtually and in person at the Community Choice Credit Union Convention Center, four Iowans were honored at the fifth annual Inspiring Women of Iowa ceremony May 14. 
The event, which was organized by the Girl Scouts of Greater Iowa, honored women of courage, confidence and character, while also recognizing inspiring businesses for women and an inspiring advocate for women.
In her "Inspiration" speech, Girl Scouts of Greater Iowa CEO Beth Shelton addressed the audience by saying there is still a need to call out inequality and ensure that barriers and discrimination don't hold people back.
"We are here to celebrate you, and we are also here to advance equality, inclusion, justice and empowerment. … Being female is not the part of the ecosystem that is broken.
"To the female engineer in the room, whom it is expected that you take the team notes because you're the lone female: We see you. To the executive attending a conference who does not have access to a private space for nursing or pumping: We see you. To the caregivers who have sacrificed your own health and well-being: We see you. To the 3.4 million women who have left the workforce in the past year because of the raging pandemic: We see you."
The first award of the day went to companies honored with the Inspiring Business for Women designation.
To be eligible, companies and organizations must show support for women's equality and advancement in the workplace, be it through policies like maternity/family leave and family-friendly practices, having women in leadership roles, organizing special women's initiatives or ensuring equal pay and equal opportunities for women.
Companies honored were BH Cos., Breathe Physical Therapy & Wellness, DHI Group, Golden Openings, Kading Properties, NCMIC and Roth Cox Search Group.
Finalists for the Inspiring Advocate for Women Award were Jen Carruthers, owner/executive producer of 11 Eleven Productions; Erik Dominguez, owner and public speaking trainer at Speak Up Stories; Erica Douglas, founder of She Plays; and Lydia Wolken, rural sexual abuse advocate at ACCESS.
Dominguez won the award for his work in lifting others, "especially people of color and women, through knowledge, support, empathy and unwavering leadership."
"I want to acknowledge that I'm a man winning this award and that I haven't always been an inspiring advocate for women and my bias, privilege and ego oftentimes prevented me from lifting women up," Dominguez said in his acceptance speech.
He also urged his fellow male counterparts to work on "safer spaces for everyone."
Finalists for the Courage Award were Chelsea Krause, software and control business lead for Iowa and Minnesota at Rockwell Automation and trainer at Burn Boot Camps in Ankeny and Clive; Sheryl Moore, president and CEO of Wink Inc.; Krista Tedrow, executive director of the South Central Iowa Workforce Board; and Karla Walsh, freelance writer.
Tedrow was given the award for "showing courage her entire life, residing in the foster care system until the age of 9, defying the odds and overcoming barriers."
In her speech, with her young daughter at the hip, Tedrow talked about how it can be hard to see yourself as courageous.
"I don't know if I would necessarily consider myself the most courageous person, but I do know that I've drawn courage not only from God, but from people in moments I needed it the most," she said.
Finalists for the Confidence Award were Katherine Harrington, president and CEO of the West Des Moines Chamber of Commerce; Manisha Paudel, chief equity officer for the city of Des Moines; Amy Strutt, business initiatives consultant at Wells Fargo and city councilwoman in Dallas Center; and Olivia Samples, holistic doula at Kismet Doula Services and training coordinator at the Iowa Coalition for Collective Change.
Paudel was given the award for "focusing her efforts on creating a just, equitable society for all."
In her speech, Paudel gave a shoutout to her family, who had traveled to Des Moines from Nepal, and also made a point to uplift other honorees.
"The world cannot be equitable or just by just one person doing the work. It requires all of us," she said.
The final award of the day, the Character Award, was given to Tricia Rivas, owner of Trixies Salon and Spa, for "her salon's record of giving back to the community" and for leaving others who interact with her "walking away feeling uplifted and empowered."
Rivas' speech was filled with appreciation for her family and friends. "So many of you that are sitting in this room support me day in and day out," she said. "You love me and you call me out on my crap when I need it."
Other Character Award finalists were Nora Crosthwaite, founder and CEO of Stagerie and real estate agent at Home Sweet Des Moines; Erin Huiatt, owner of Des Moines Parent and president of FemCity Des Moines; and Molly Lopez, co-founder of Daniel L. Lopez Ministries, senior consultant at Baton Global and strategic adviser at Bloch & Reed Association Advisors.
A replay of the event can be found at the Inspiring Women of Iowa website.