If there's anything that I've learned in interacting with, reading about and listening to women in leadership positions over the last few years, it's that the path to getting where they are now was not a straight line. Occasionally, I'll even meet women who have said they never imagined themselves leading an organization. 

As I've mentioned before, one of my goals for Fearless is to introduce (or in some cases, reintroduce) you to new faces and voices from across the state and in doing so, go beyond surface-level conversations about what they do, and instead focus on who they are. 

For this piece, I wanted to focus on women leaders in the nonprofit sector and learn about all of the jobs that they've held. I went into these interviews not with the goal of reciting a resume, but rather to really get into the experiences that these leaders have had in different points of their lives that have shaped who they are now. In doing so, I had one essential question: How did you get to where you are today? 

These interviews have been edited and condensed for clarity. 
Meet Courtney Reyes, executive director of One Iowa since 2019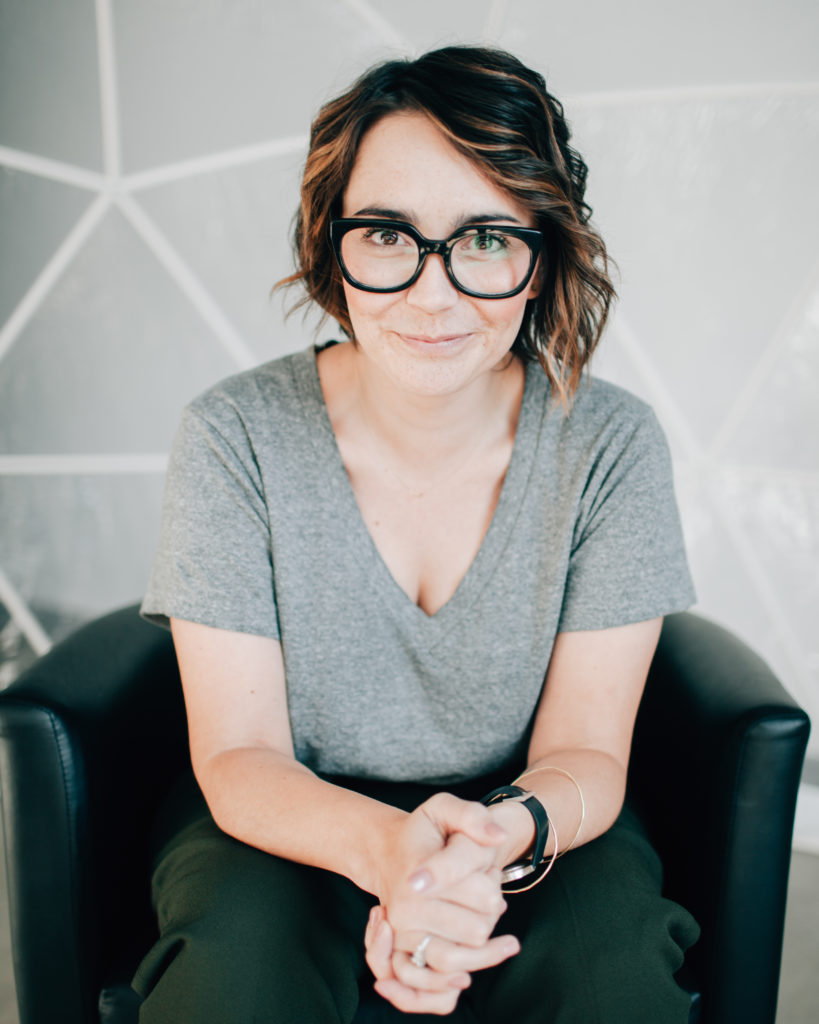 One Iowa is an organization based in the Des Moines metro area that seeks to advance, empower and improve the lives of LGBTQ Iowans statewide. 
How did you start working at One Iowa?
In 2016, I worked at a little spa in West Des Moines. These folks were amazing. They embraced who I was, they loved me and all of my queerness. It was a really great job because I could still hang out with my kids after school. The morning after President Trump was elected, I was putting away lipsticks and I said, "This is not going to work. He is going to be coming for me, my family and my people." I knew that I had a voice that I could use and I needed to use it.
Daniel Hoffman-Zinnel was the executive director of One Iowa at the time, and he and my wife, Kate, were in the Greater Des Moines Leadership Institute together so we had connected a few times. He asked if I was interested in working at One Iowa. I took it, not really knowing what I was getting myself into. I started at One Iowa as an office assistant in 2017 and I only worked 20 hours a week. I hadn't been an advocate for the LGBTQ community and I had only been out for a couple of years. I showed up wide-eyed and was ready to learn and do anything. I started putting myself into a position to grow.
To have my one-year anniversary as executive director of One Iowa in 2020 was definitely not the year I signed up for. I have one year of experience, but I will take that as 10 years. At the beginning, I knew I had the skills to do this and lead a team, but then my eyes kept getting bigger. We had 14 anti-LGBTQ bills come out of the Statehouse. Then a global pandemic. Then a liberation of Black people. All of those things happened and we kept showing up and doing our best to provide for LGBTQ Iowans and raise the voices of Black individuals in our community. I keep getting challenged with "What kind of leader do you want to be?"
Was being the leader of One Iowa a goal of yours at all at the time?
No. I didn't know at that time. Oddly enough, in June of 2019, I said out loud, "I could see myself running this organization in three to five years, which is funny, because Daniel resigned a month later and I became interim executive director. So that was a good reminder to be specific with the universe when you put things out there. She's always listening.
Women convince themselves that they're not qualified for a job. I spent time as interim executive director and then we hired an executive director. So I said that I wanted to be the assistant executive director. That was something that I felt really good about. And then that person resigned due to health issues very quickly after, then they were like, "The job is yours." I thought to myself, three months ago, in my mind, I wasn't qualified to do it.
What was your first job?
I was a cashier at Keith's Super Value. I played sports all through high school, so I didn't have a lot of shifts but I would work every Sunday morning because I wanted to put gas in my car and hang out with my friends. The skills in that job have led me throughout my entire career. I can connect with human beings and make them feel warm and welcome. That's a huge strength of mine and I loved [greeting customers]. I also loved getting promoted to being a closer. I would count the money and do the courtesy counter, and it sounds so nerdy, but I liked that extra responsibility.
What were other jobs you held along the way?
I'm not sure that I ever knew what I wanted to be when I grew up. I grew up in a tiny little town in southeast Iowa, and no one said that you should go to college. I was the first person in my family to go to college. I just went because I got a scholarship and I knew I needed to go.
[At Iowa State University], I worked at a day-old bread store. At one point, I had to wear a giant Twinkie costume. So that was a good lesson in life that you will do things that you didn't think you would do. At this particular job, I would close on Sundays. At one time, a guy followed me to the bank with the bank bag. I can remember calling the police and having that fear that that person had been watching me for how long. I'm reminded of this overwhelming fear of existing as a woman in our country, and that's before you layer on other things like if you're Black or queer or trans. I hope for the day when I can walk to my car at night and not feel like I'm going to get raped.
I got a degree from Iowa State in child, adult and family services. I picked that because it was very broad and I knew that I liked helping people. On a field day, I went to the House of Mercy, which is a substance abuse treatment facility in Des Moines. I got an internship there and then I got a job there as a resident counselor to women. I think I worked the 3 p.m. to 11 p.m. shift. That's where I learned some of the hardest lessons about how folks' lives were so different than mine. I grew up with a mom who was an alcoholic. I knew what addiction could do with a family because I watched it happen to mine, but it was this firsthand experience that it doesn't matter what happened in someone's life, they need love and support. I got to be with these women who were trying to reunite with their children. I was 21 years old. I worked there in that position for a while and then switched up to a day shift, then moved to be a case manager. I got to form a lot of different relationships, and that helped shape who I am. I worked there for seven years.
When Hutch was born, I stopped working at House of Mercy. My mom was dying at that point. My mom died when I was 25 because she drank herself to death. So living through that and then working at House of Mercy where addiction was all around you and people were trying to get clean, and then you watch your mom not be able to do that, was too much.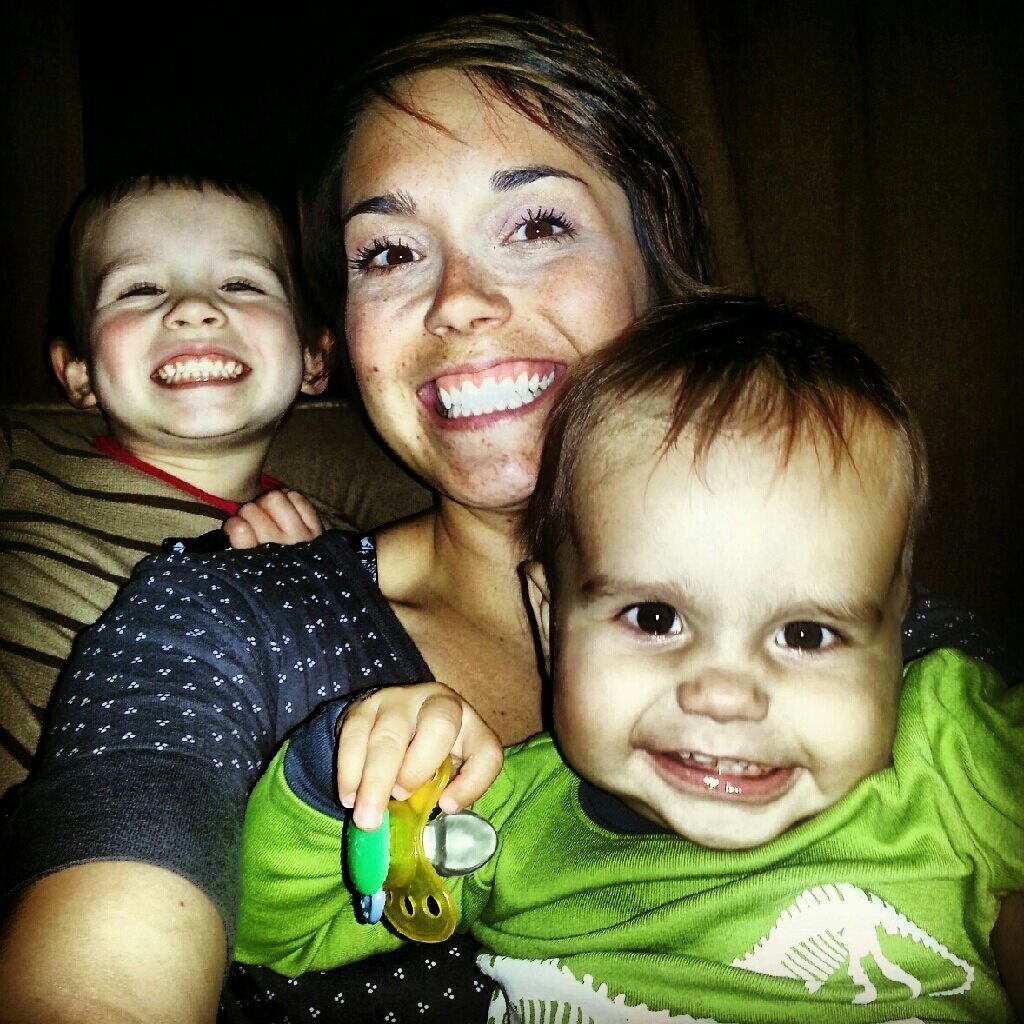 Being a stay-at-home mom, that's the one thing I knew that I wanted to do and have in my life. I'm so thankful that I got to do that and I learned a lot about myself, especially that if you don't take care of yourself, it's hard to give. That's one of the biggest challenges women face in our culture, that you're supposed to be a super mom, a super partner, and a super career person. But that's not realistic. I think that [being a mom] takes incredible leadership skills and is often discounted. I stayed at home with my little boys for seven years. I had this huge gap in my resume, and I'm thankful that [Hoffman-Zinnel] didn't see that as a deficit but as something that could be brought to the table. Moms get shit done, and that's the bottom line.
Then I got divorced. That was probably one of the things that changed everything. So as a stay-at-home mom, I needed a job. I started working at a small business downtown, and that was a really incredible time. When I worked there I told them that I was getting divorced, and the next day my hours were cut. So I was like, "OK, that's not great." A little while later I came out to them and I was not on the schedule. I texted and called and finally the owner called me and said, "We don't have a position for you." I didn't do anything, even though I believe that was discrimination. Because I was going through a divorce, I couldn't do any more hard things in my life. I absolutely regret not doing that. But it helped fuel what I do now.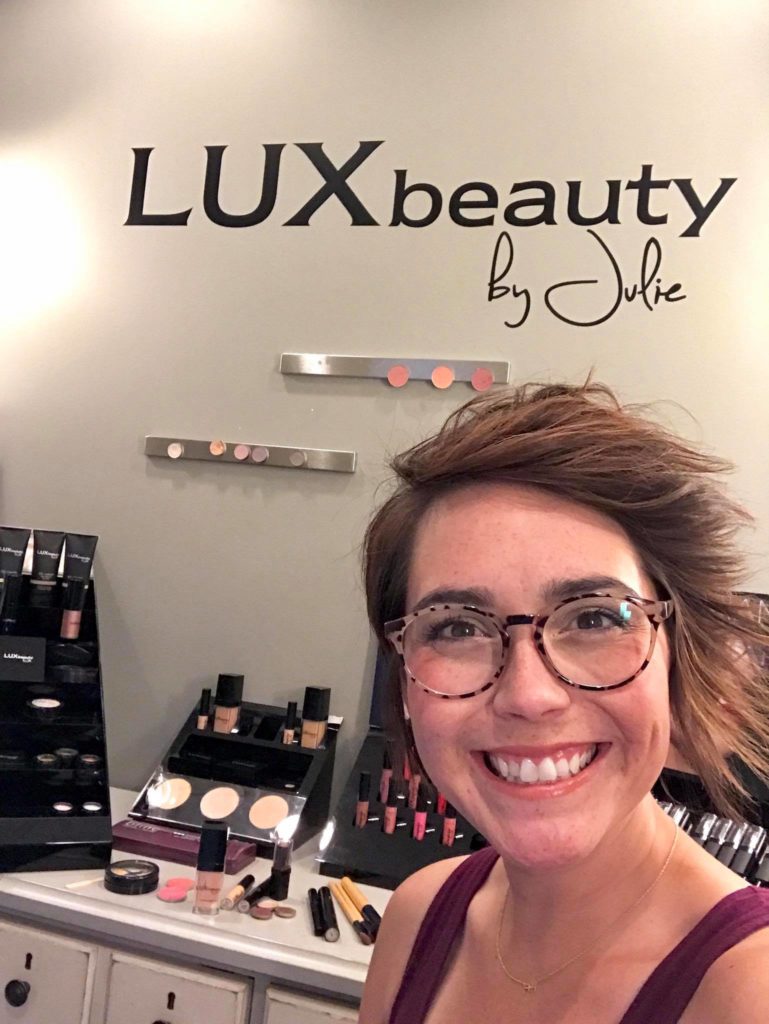 I went to my therapist and she connected me to a spa in West Des Moines. She said, "I hope this isn't weird, but I think you're perfect for this job." I was so nervous to come out because the only experience I had coming out to an employer, my hours were immediately cut. But they were like "Oh, my God, when can we meet her? I bet she's amazing." I'm so grateful for that job because I got to find myself a little bit more. We called me the shop girl. It was the best. I helped people set up their appointments and plan some events and talked about which products to carry. But then Trump was elected and I was like, "I've got to do something else." I was able to go to One Iowa and be embraced for my queerness.
What is your leadership style?
I keep showing up. I lead with a heart-led, authentic leadership style. I think you can engage a lot of people that way, but that also means your heart can be smashed so very easily. This year has brought a lot of that.
Transparency with my team is incredibly important to me. With the pandemic, I could have chosen a route of not disclosing a lot of information with them, or I could have been very open with them about what's happening with our finances and how we're going to do this. I feel that has helped build that trust.
One of my biggest strengths as a leader is to be able to ask for help. A good friend of mine told me that we don't have to be experts at everything. We can be really good at a few things and have other people help us. That was some of the best advice that I've ever received.
Why do you do what you do?
I believe that LGBTQ people should get to thrive in our communities. I think that we're a bright spot. We add this vibrant nature to everything we do. I want LGBTQ people to be able to show up and thrive, and not just survive. And to be embraced and celebrated. I believe folks should have access to quality health care. I believe you should be able to live your life and not be fearful. That because I'm holding my wife's hand downtown, that I'm not going to get called something.
---
Meet Lisa Ambrose, CEO of Amani Community Services since 2014
Amani Community Services is a culturally specific domestic violence and sexual assault agency serving African Americans in Black Hawk and Linn counties.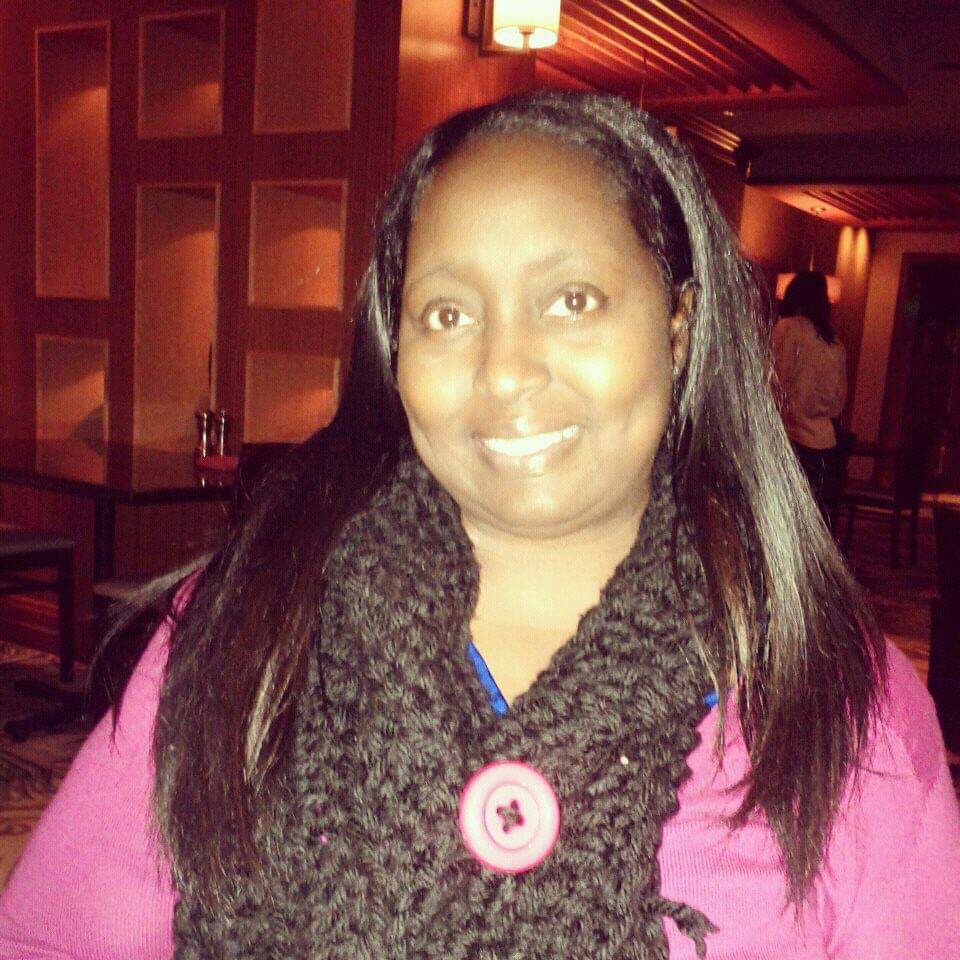 Why did you start Amani?
I became a domestic violence advocate in 2010. I couldn't put a name to what domestic violence was until I went through the training to be certified by the state of Iowa. I like helping people. I like helping people out of that situation. I was an advocate for about four years.
What did you want to be when you grew up?
I really didn't know what I wanted to be. My dad worked at the John Deere plant. Working at John Deere then was like working at Amazon today. We never talked about what I was going to be or do. We never talked about careers. They wanted us to go to school, but they never talked about "OK, now you're going to college." My mom never worked and so I think that it just wasn't on the radar at all.
What was your first job?
When I was 17, I got pregnant in high school. I had my baby and graduated on time. I had good grades, but I never remember a counselor coming to me and talking about careers. In high school, I was in a program similar to work study and I worked in corrections. I think I worked at DHS and I worked at the Department of Corrections. I was filing … a bunch of nothing, really. Nothing extravagant.
My first real job was probably when I worked in a nursing home as a nurse aide. It took a toll on me, though, because there was never enough help. I also saw people coming into work and doing it for the money and not because they care about the people. Eventually I said, "I've got to get out of this." I got carpal tunnel in my hand. I had to have surgery. My doctor said, "Your body is really not meant to do this type of work. You need to go back to school." That was the first time that someone talked to me about going to college.
What were other jobs you held along the way?
I worked at a lot of fast-food restaurants. At Hardee's, I was the biscuit maker from 5 a.m. to 1 p.m. When I was at Wendy's, Arby's and McDonald's, I worked as a cashier and in the drive-thru. I actually liked working in fast food. The fast pace of it makes the time go by quickly. I liked to serve.
I even worked at a chicken plant one time. I remember getting on the bus, going there and I remember putting on boots and heavy gear. I didn't even last a week. Factory work was not for me. I was doing a variety of jobs because I really didn't know what I wanted to do.
When I finally decided to go back to school, I went to Hawkeye Community College and Upper Iowa University. I knew I wanted to be in a field where I could help people. But I wanted to work a career where I could have weekends and holidays.
When I graduated from Upper Iowa University, I got my first social working job at Operation Threshold in Waterloo in the low income energy assistance program (LIHEAP). When I was working there, I had my first bout with domestic violence. My partner had called and got me fired on the 87th or 88th day. I was so close to my 90 days. Once I graduated from college, I had a different mindset, different friends and wanted to move forward. He couldn't handle it.
From there, I went to work in the Waterloo school district. I thought I was going to be a counselor. But then the school [Longfellow Elementary] closed. They lost their funding, so I didn't have a job.
Then I started working with people with disabilities at Families First. I learned how to advocate for them. I did that for a couple of years. I realized that I knew I wanted to get back into the field in terms of working with families. I ran into my old principal and he was working for Seeds of Hope. He said, "I know you have the degree; all you need is the training. So the next time an opening comes up, I'm going to tell them about you." And that's what happened. That's when I really got the passion to work with victims of domestic violence. But we lost our funding and I went to work for another domestic violence agency called Waypoint. That's when the opportunity presented itself for someone to start an agency for African Americans. So I talked with a couple of board members at my old job, we applied for a grant and we got it.
What did you learn about yourself along the way?
I learned that I love to do hard work. I'm not the type of person who works at the same job for a long period of time. I've learned to go with my first instinct. Don't doubt myself when I make a mistake. Don't overthink decisions that I make. I'm OK with saying, "You know what, I messed up."
What is your leadership style?
I'm learning about that. I didn't anticipate being in this position. It wasn't something I had thought about. I was sort of in the position overnight, so I didn't have time to learn what my supervisory style was. I'm not a micromanager at all. I let people's work speak for themselves. I like to give people opportunities for different ideas.
[I never wanted to be someone in a leadership position]. Too much responsibility. You have to talk too much. Some days you don't feel like talking. You have to have a listening ear. You have to have an open mind. You have to be careful with what you say and do. It's a lot. I said I would try being a leader. There were days when I said, "I can't do this." But I kept with it. I knew that if I stopped, I didn't know who would pick up that position. This has really been an on-the-job training. Every day I'm learning something. If I saw this job opening in a newspaper right now, I would have been like, "Nope. I can't do that."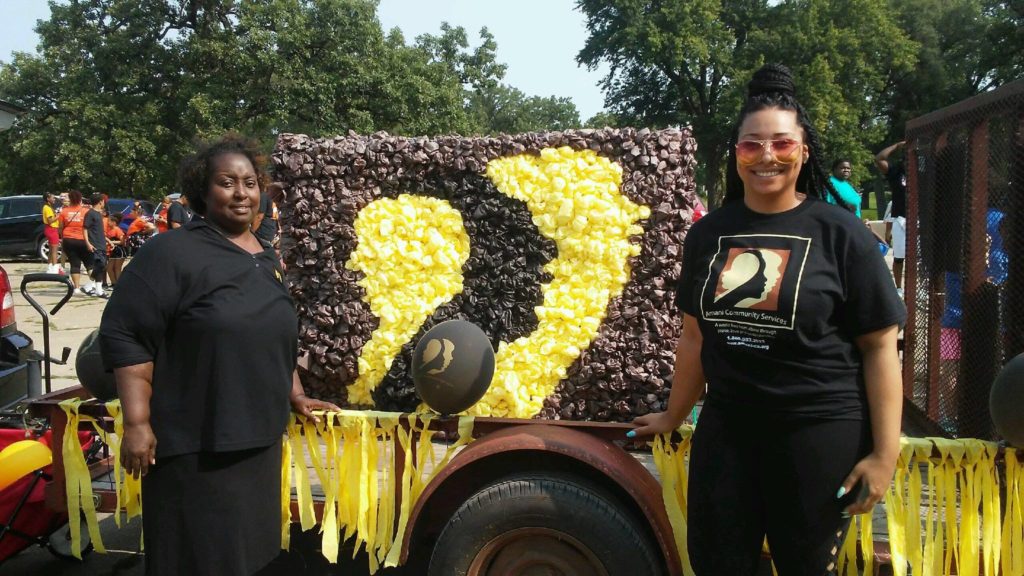 Why do you do what you do?
In my community, Black people have already had a lot of trauma in historical experiences, racial disparities and systemic differences set up against people of color. We experience trauma on a daily basis. I know that I have to do this work so I can give clients that are dealing with domestic violence and sexual assault that in time, with help, you can be healed and move on in your life. I want to have an agency where they can come to talk to people that look like them and have that experience and still experience. Just because I'm a CEO doesn't mean I don't get discriminated against or go through the same trauma. It still affects me every day. There is hope. You have to find in this crazy world that we live in, you have to find something that you really enjoy to help others.