As told to Emily Kestel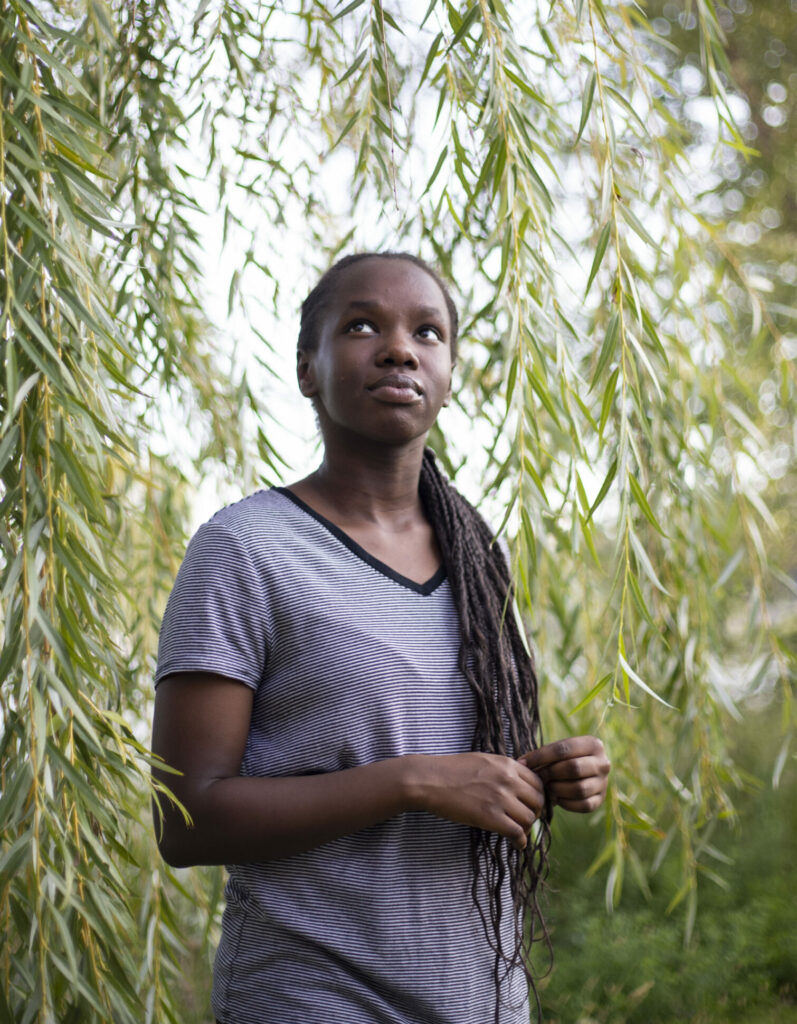 Mayada Alwan is a senior at Valley High School in West Des Moines, where she is a founding member of RISE, a student club that mentors refugees and immigrants. She and her family are Sudanese, and immigrated to the United States from Lebanon. She is the oldest of four siblings.
The following story has been formatted to be entirely in her own words, and has been edited and condensed for clarity.
I was born in Lebanon and I went to an Islamic private school. I was one of three African girls at our school.
A lot of times, if African immigrants come to Lebanon, they usually work as cleaners. My dad was lucky, he worked for a Saudi Arabian family who had land in Lebanon, and he managed their land.
A lot of people who grew up in a place where they're a minority, they have a lot of identity crises. In Lebanon, I didn't really feel that. I was surrounded by Sudanese people outside of school hours most of the time, so it wasn't that isolating of an experience. I can't recall experiencing any microaggressions or discrimination in school, and I think it was because we were part of the same faith; we were all seen equal in the eyes of God.
I wasn't allowed to tell people that I was coming to America. We left very abruptly. I didn't even get to say goodbye to my friends at school because I had gotten my first period that day. I was having cramps and my mom had to pick me up from school. Because we were preparing to leave, I wasn't able to go back and say bye.
When I first came to Des Moines, it was hard for me to find a community or people who shared similar interests with me. I was put into English as a second language (ESL) classes because they thought I didn't speak English properly. But I did, I just needed encouragement.
The experiences of being an immigrant in America and being an immigrant in Lebanon are very different. In Lebanon, I felt more understood, because at least we spoke the same language – Arabic – even though we had different dialects. We were close enough where I was able to find a sense of home and belonging. People were very receptive and interested in my culture.
When I started school here, I didn't really feel that. My way of living and my culture was so different from the way it is here. I had to explain things I didn't have to explain to my family or friends in Lebanon. I would be scared to show off food that wasn't familiar to them. In my culture, we eat certain foods with our hands. A lot of people see that as unsanitary.
Over time, I've realized that I'm representing my culture and my country wherever I go. For a lot of people, I'm the first Sudanese person they've met. I have to water down so many of my experiences for people to be able to understand.
I make sure my siblings are doing well in school. They're 14, 11 and 3. [In immigrant households], family is your priority. I clean, and if my mom isn't feeling well, I cook. I make the doctor's appointments. I'm like a house manager. As the oldest, I'm going through a lot of firsts that my parents have not gone through. I'm going to be the first person in my family to go to college. So I'm making sure I know as much about this experience, so when my siblings go through it, I'm able to help them along the way. I don't have the guidance of my parents, I'm the test experiment.
It takes a lot of fearlessness to be an immigrant. Even if you make this large leap and travel across the world, you're not guaranteed a job. You're not guaranteed that all your hard work or your pain and suffering is going to pay off. But you still go through it and you still make that sacrifice for yourself, your family, your friends and the people of your country. It takes a lot of perseverance to exist in the world.
I've always been able to bounce back, and I don't give myself enough credit for that. It's so easy to cave in and spiral, but I've always had the strength in me to pick myself back up.
Sophomore year was my most difficult year. There was the pandemic, and I had to support my siblings through that because my parents would work a lot. I'm a social person. I really enjoy large gatherings and going to parties and stuff like that. So when that was taken away, that really affected my mental health and performance in school. My sense of community fell apart during the pandemic.
I had my best year when I was a junior. One of the clubs I joined was CORE, Community of Racial Equity. I've always been passionate about human and civil rights work, but before I joined CORE, I never thought I had the power or influence as a teenager to do something about social justice.
I made a lot of friends. It was a safe space. I didn't have to explain my experiences of racism or sexism to them, because they understood. It was like looking in a mirror.
In CORE, I was the main person organizing the Black History Month announcements. In February, every single day we had a teacher and a student from CORE go over the intercom and talk about a historical Black figure. I would make sure everybody had their scripts. We also made trivia for people to interact with.
The facilitators of the club put a lot of trust in me to get it done, and I appreciate that they thought I was capable of doing something like that. That was the first leadership role I really had. I became more confident, and that's what led me and my friends to create RISE, the Refugee and Immigrant Student Embassy, where we mentor ESL students.
Oftentimes, ESL kids get isolated from clubs and activities and athletics because they're trying hard to survive and support their families. You really don't have time to think about yourself.
I would talk about this with a lot of people, but I never found a way to do something about it. It was really frustrating, because at our school, all of the ESL classes are in a certain area of the building. Even physically these kids were isolated.
The administration saw that this was a problem, so they wanted a mentorship program where you could get paired with a kid who speaks the same language as you, and you could help them along the way, or eat lunch with them. A lot of the kids decided we wanted to be more, and that's how we created RISE.
One of the things that we wanted to do was create a multicultural mural. We got it approved by our principal, and as a group we interviewed artists to see who was the best person to translate our ideas. We hired Jill Wells, and gave her all of these ideas and themes we wanted to portray, like perseverance and confidence. We wanted to showcase the cultural diversity of our school. Our staff members are white people and the people on the walls are white, but they are not the only people at our school. We deserve to be seen and appreciated. The mural is a constant reminder that we exist, we are important and we're valuable members of society.
I've found a really good group of people here. But I think in this country, it's going to take a lot of systemic change that I don't think I will see in my lifetime for me to feel completely like I belong here.
It's so important to explore [other cultures], even within your community. There are so many interesting, vibrant people around you. Be curious, respectful and not judgemental. Be honest about your prejudice and privilege. Be an active listener and spend time learning about people's different cultural practices. That makes us feel welcomed.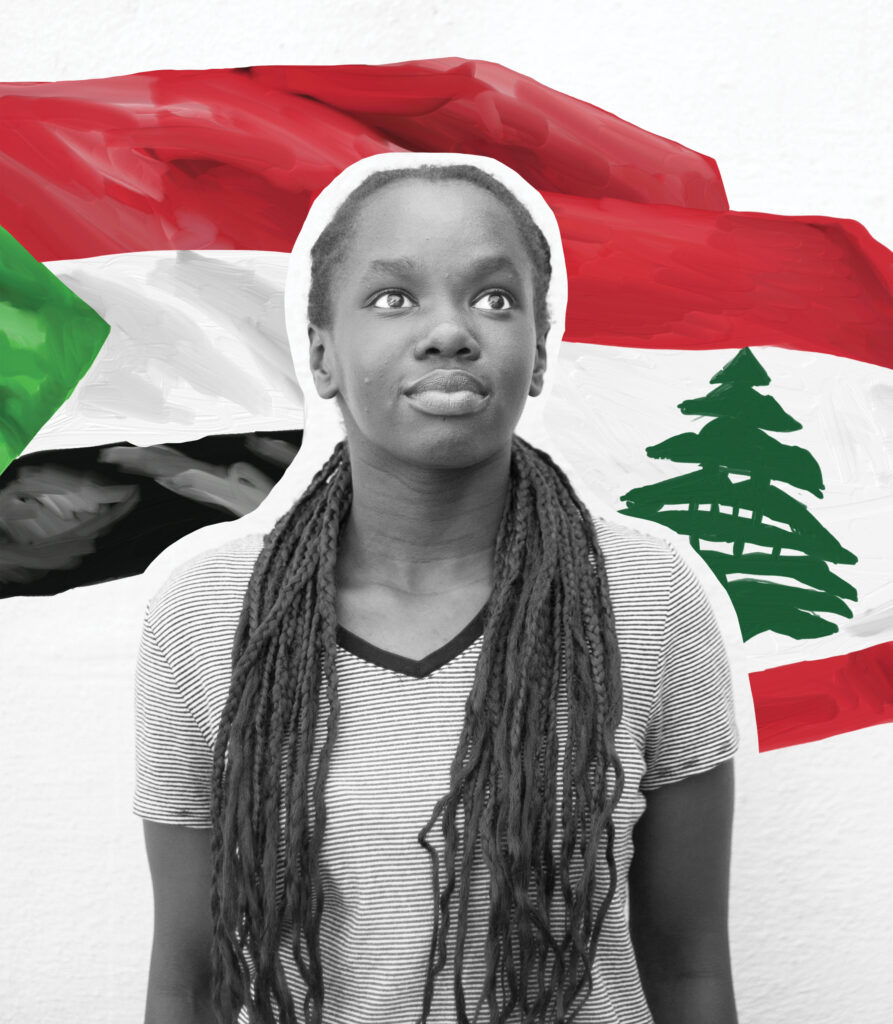 I try my best to not do anything that signifies that I'm different, besides things I can't control, like the color of my skin. That's a bad habit that I'm trying to work on, because I shouldn't have to do that.
Something that inspires me is Muslim women who wear the hijab, because that is a very public indicator of your faith. Despite all of the stares, despite all of the stereotyping, they still choose to do it, because that's authentically them. I hope to gain the courage to be able to wear it [all the time] someday. I usually just wear a hijab during Ramadan. I want to start wearing it in college.
I want to become a polyglot and be fluent in multiple languages. I'm already fluent in Arabic and English, but I want to be fluent in Spanish, French and Korean.
I also want to get a Ph.D. I really like learning and education. I'm interested in public health and immigrant services. Hopefully I'm able to do something with that. I want to do something with both STEM and humanities. Getting an interdisciplinary education is very important to me.
I want to work for the United Nations. I want to go back to Sudan and help girls go to school. So many of the women in my family were not able to continue their education. I want to take all of the lessons that I've learned here, and I want to go back and invest in my community, because at the end of the day, that's where my parents came from.