By Emily Blobaum, Fearless editor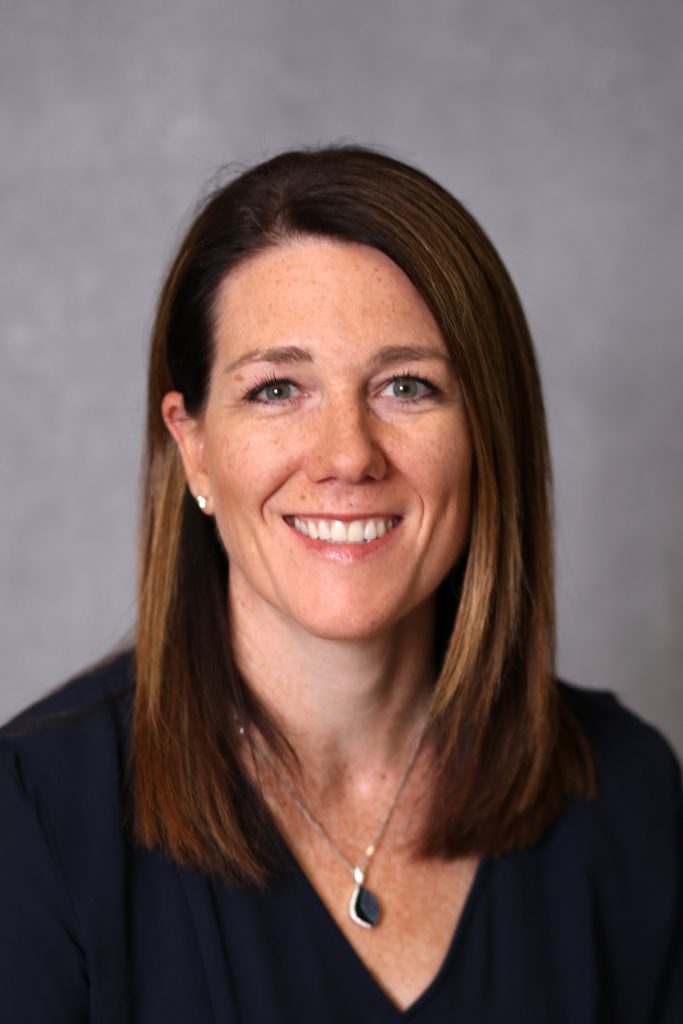 Dr. Patricia Kallemeier is rarely seen around the DMOS Orthopaedic Center office without her white coat.
Yes, she wears it because it has deep pockets and keeps her warm. But as one of three women out of a team of 30 doctors at DMOS, she mostly wears it because dressing the part helps set her apart. Occasionally patients won't realize that she's the surgeon, she said.
"Sometimes I'll be going through a pre-operation meeting with a patient and when I get to the end, they'll ask, 'Wait, are you the one operating on me?'"
Kallemeier is no stranger to casual instances of sexism or unconscious bias. When she first started working at DMOS 14 years ago, she was the first female orthopedic surgeon to join the practice. At that time, her contracts only used "he" pronouns and did not mention maternity leave.
She'll still get letters that refer to her as "sir," to which she says, "Come on, really? Women can be doctors too."
There's a well-known riddle that goes like this:
A father and a son get in a car crash and are rushed to the hospital. The father dies. The boy is taken to the operating room and the surgeon says, "I can't operate on this boy, he's my son." How is this possible?
Answer: The surgeon is the boy's mother.
The mindset that women can't be surgeons is falling out of popularity, although the rate of women in surgery remains low.
About 21% of general surgeons are women and of the 29,613 orthopedic surgeons in the most recent American Academy of Orthopedic Surgeons survey, 6.5% were women. Kallemeier estimates that 10% of the orthopedic surgeons in the Des Moines area are women.
Kallemeier went to the University of Iowa for both her undergraduate and medical degrees, completed her residency at the University of Minnesota in Minneapolis, and worked a one-year fellowship at Washington University in St. Louis.
Originally on track to become a general surgeon, she was guided into the field of orthopedic surgery by a mentor.
Kallemeier credits Ann Van Heest, a hand and upper extremity surgeon and director of the residency program in the Department of Orthopedic Surgery at the University of Minnesota, with fostering an environment that was supportive and welcoming to women. In her class, she was the only woman out of six residents, but by the time she was chief medical resident, 50% of the class members were women.
But even now, that's rare. In a 2018-2019 GME dataset, of the 179 orthopedic surgery residency programs, 12 programs had no women residents. Additionally, 18% had only one woman.
Kallemeier said her experiences in her residency and fellowship programs were positive. She was fortunate in that she didn't experience any sort of sexual harassment like many other female surgeons.
The hardest part wasn't the 60-hour weeks, helping residents with dissections, reading articles and taking calls in the emergency room to help reattach fingers, she said.
It was having a child.
"Where do you fit it in?" she said. "You finish high school at 18, undergrad at 22 and medical school at 26. If you're looking at a six-year residency, that puts you at 32 before your first job."
When Kallemeier eventually became pregnant after a year of trying, she remembers one of the residents expressing shock that she had even considered having a baby during her fellowship. She recalls the resident saying, "Wow, I can't believe you accidentally got pregnant during your fellowship year."
The fellowship limits time off to six weeks total for the whole year, so Kallemeier had to shorten her maternity leave to just 2½ weeks. Upon her return, she remembers her attending doctor sending her home to take a nap because she looked exhausted.
"It was hard. I won't sugarcoat it. It was tiring."
A 2018 national survey of general surgeons who had one or more pregnancies during residency found that 39% seriously considered leaving their program. Thirty percent also said they would discourage female medical students from entering the field because of the difficulties in balancing parenthood with residency.
Calls for improvements in parental leave policies in residency programs have increased. The American Osteopathic Association Board of Delegates has pushed for a uniform parental leave policy across all programs.
In an article in the Iowa Orthopaedic Journal, Van Heest detailed reasons why gender diversity is lacking in the the field of orthopedic surgery, including:
Musculoskeletal medicine is poorly represented in medical school curriculum and is not a required clinical rotation.
Female medical students are more influenced by faculty mentors and role models than are male students.
More than 80% of women have experienced discrimination, bullying, sexual harassment or other harassment.
Van Heest said that 30% female representation should be the goal to rid the culture where a woman is the only female surgeon in a sea of male surgeons.
"Gender diversity needs to increase in orthopedic surgery. Female surgeons help provide culturally competent care and can help address health care disparities."