As told to Emily Kestel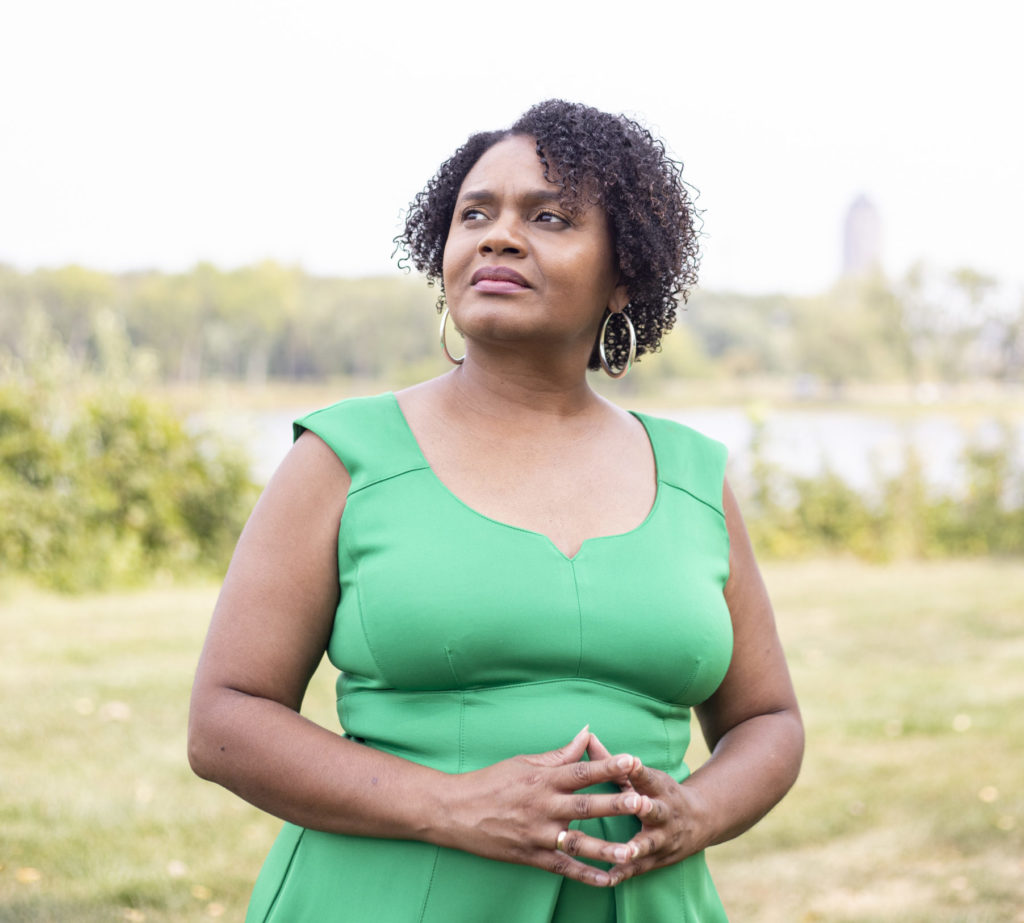 ---
Teresa Zilk is a mental health advocate and the founder of Stories To Tell My Daughter, which is a storytelling experience dedicated to centering the voices and experiences of Black women and other women of color. She is also the owner of Teresa Zilk Creative Consulting LLC. Originally from Arkansas, she and her family have lived in Des Moines for 20 years.
The following story has been formatted to be entirely in her own words and has been edited and condensed for clarity. This story mentions suicide and may be triggering to some.
---
I was 19 when I found out I was pregnant. I thought, "That can't be right." But it was right. I remember being really scared because I knew my [adoptive] mother would be disappointed in me. I didn't want to disappoint her. When I told her, she said, "This is not what I sent you to school for. I sent you to school to get an education."
I was raised by several women. Mostly, I was raised by my great-aunt Sweet. It wasn't a perfect upbringing because I lived in so many homes. But they loved me. My birth mother was 15 when she had me. She couldn't raise me. She was too young.
My great-aunt Sweet wanted me to know how to clean a house, how to shoot a gun and how to drive a car by the time I was 10 years old. She thought that you needed to know how to keep your environment clean, how to take care of yourself, how to defend yourself and that a car gave you a sense of independence ― that way nobody could hold you down.
One of the things that she taught me was to always respect the storm. You do that because that meant that God was doing his work. So during a thunderstorm, we would get really quiet. Anything electric was turned off. You couldn't even talk on the phone. You sat in silence or you went to bed. During the storm, you rested. A storm was like medicine. Storms represented transformation.
When I think about my life, I've had a lot of storms. But I'm so thankful that my aunt gave me the wisdom to learn to get quiet and rest. Sometimes you have to listen to the storm and what the message is. We see storms as something of destruction, but the storm is medicine. The storm has a message.
When I was 8, my aunt Sweet died. There was nobody in our immediate family in Arkansas who could take care of my three brothers and me. We were going to become wards of the state but we ended up going to live with family in Chicago and were adopted.
There are certain perceptions people have about having a child out of wedlock. People chalk you up to be a statistic. I'm not a statistic.
When my son was born, I remember looking into his big beautiful brown eyes and thinking, "Wow. Here we are." I remember telling him that I promised to be the best mom that I could be.
Six months after he was born, I enrolled back into school. It took me seven years to get my undergraduate degree. It felt so good, because the whole time that I had been going to school, my kids were going to school with me. When my oldest was a baby, I used to take him to class with me. When it came time to graduate, they were all there. My children were there, my husband was there, my family came in from Chicago. It felt so good.
My youngest son suffered from depression. When I had to hospitalize him after his first suicide attempt, I realized that I had to give up any control that I had and put my faith in the system that was caring for him. In the moment of having to surrender control of my then 18-year-old son to a hospital, I became fearless. That was a pretty profound and life-defining moment.
I'm a mom. Moms fix things. Moms solve problems. This was a situation that I was not equipped to solve. It was scary. It was the first time that I really realized that you don't always have control over what is happening in your life. You can't always control what is happening to your loved ones.
My son is no longer with us. He died in December 2020 when he was 21.
I started the Stories To Tell My Daughter journey in 2011. I lay down on my couch to take a nap and I had a dream. I was in a library sitting at a table. There were women coming up to the table, and I remember looking out into the crowd and there was an outline of a figure jumping up and down waving at me. It was strange, but when I look back now, I understand that it was the idea trying to get my attention.
I didn't actually do it until March 2018. I would start and stop. But I finally just did it. The final push came in the aftermath of my son's first suicide attempt. I felt like I was going to go into a depression and I knew I needed to put my focus elsewhere. I needed to focus on something uplifting. My family was all involved in the planning.
I thought nobody was going to come to the first event. I remember getting on Eventbrite and my daughter was sitting next to me and she asked how many tickets I was going to put down. I said, "I don't know, 20?" I thought it was going to be a small event. I ended up estimating about 50 people. We had it at the Thoreau Center. We sold out of the 50 tickets and we ended up having more interest. So we moved to a bigger space the second year.
The event this past summer almost didn't happen because I was so sad. I didn't think I had the energy to do it. People would message me about the event and ask when it was going to be. Doing it was the best thing for me because it got me focused and moving. It gave me a better sense of direction and it pulled me out of my sadness.
Stories To Tell My Daughter is a healing event. Stories can heal. There's really good energy to soak up and feel inspired. Everybody there cares about the storytellers. If you mess up or stumble, somebody will say, "That's all right, take your time." It's a lot like being in church. You have storytellers and audience members that say how much they get out of it. But I don't think people understand how much I get out of it. Listening to their stories, I drew strength from them.
I just get up every day and live my life. You move forward no matter what. You may not move quickly, your steps may be slower, but you keep moving.