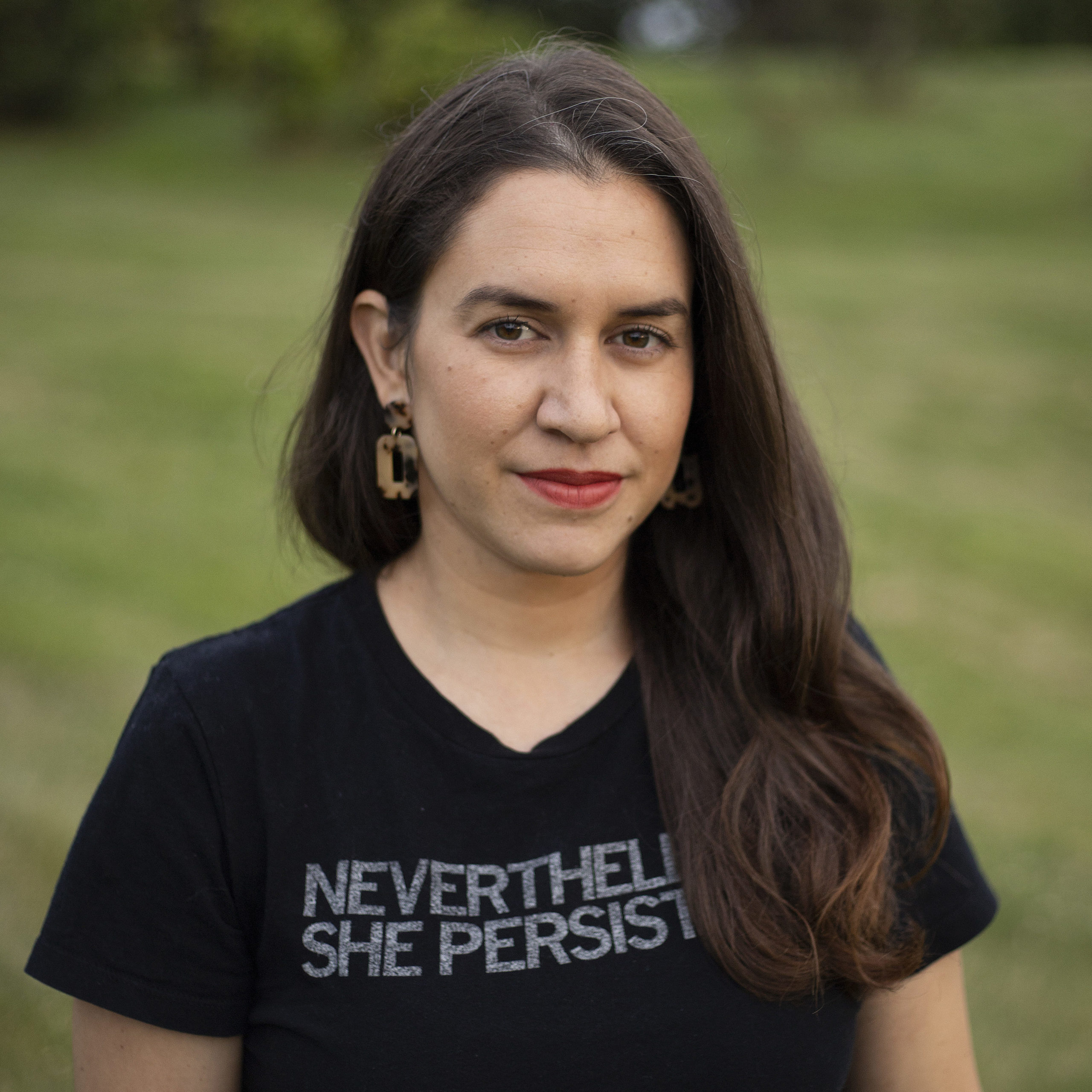 Maria Alcivar Zuniga is a doctoral candidate at Iowa State University, studying human development and family studies. A formerly undocumented student from Ecuador, her dissertation is on the impact of immigration policies on Latinx families and children. Her dream job is to become the U.S. domestic policy director.
In 2015, Alcivar Zuniga planned a peaceful demonstration before the Cy-Hawk football game to protest then- candidate Donald Trump and other Republican presidential candidates who were in town campaigning. The protest turned hostile and immediately became a spark for bigger conversations about diversity and inclusion at Iowa State.
---
My advocacy for immigrant rights and human rights started in Iowa. Once I landed in Iowa, I realized that there was so much more discrimination and racism. When I lived in New Jersey, I lived in a Spanish-speaking enclave. Nobody spoke English. You didn't really see the racism — although I'm sure there was discrimination because there always is — because I was in a space where I was surrounded by people of color. It was normal to speak different languages. When I came to Iowa, I couldn't even speak Spanish because people are telling you not to or they give you looks that you don't belong here.
I can think of so many times that I've been fearless because I'm moving in this space of fear based on my for- mer immigration status. I was undocumented for about 15 years. Speaking in public about my personal experience with undocumentation and my family's mixed status here in Iowa, typically to an audience of almost all white people, is one space where I hold this fear. Those are the times that my voice shakes. My heart beats faster. Sometimes my eyes well up with tears.
One particular time I was fearless was during a student-led forum at the Memorial Union [at Iowa State University] with then-President [Steven] Leath, then-Vice President of Student Affairs Tom Hill and then-Dean of Students Pamela Anthony in 2015. There were about 500 students, faculty, staff and community members from Ames who attended. I knew people were going to show up, but I didn't know it was going to be that big.
I opened it up, talking about my experience during the Cy-Hawk game. I told the story of what happened to me that day.
Another undergraduate student and I went to the tailgate lot right outside the stadium with a big banner that read "Students against bigotry" where the Republican presidential candidates were going to show up. It was just her and I. At that moment, my friend said, "I think we should wait for more people." I felt the fear and I felt her doubting herself. I said, "No, we need to go and stand so everybody can see the banner and know where we are."
People started pushing us to try to get through us and break our banner. I heard a man say, "If it ain't white, it ain't right," next to a Black man who was with us.
People were coming up to my ear and saying, "Oh, you don't speak English?" because we weren't talking. Do you know how hard it was for me not to turn around and say something nasty to that person?
Another woman kept bothering me while I was holding the banner there silently, saying, "Go back to your country," and "Do you even pay taxes?"
We stood there for four hours. Another woman ripped my friend's sign in half. I just knew that if anyone else was going to confront her, it was going to get bad. I stepped up to her and I said, "Are you crazy? Are you out of your mind? Do you want to start a riot? Why would you do that? Don't do that. Stop." People were applauding her. It took so much for me to hold all of my energy back. That was so disrespectful.
Another woman grabbed my face and she said, "You don't belong here, honey." I didn't know what to do. It was like God was helping me in that moment because I did not react to that, thankfully. Then it got crowded and the cops were called. It all happened so fast.
At the forum I told President Leath that he failed me as a student and that the Iowa State University Police failed me. They failed to protect me. I wanted to make sure that they knew that I was going to hold them accountable for this, because I am part of this community.

My voice was shaking and breaking. I was almost tearing up, going through that lived experience out loud in front of 500 people and the administration. I was afraid to cry. I was afraid to be vulnerable in front of so many people. I've learned over the years that vulnerability is a strength, so it's OK to cry. It shows the humanity in you. This experience was terrible for me and all the other students who were present. We wanted the administration to know how painful it was. That was a very powerful moment for me.
After the forum, there were conversations behind closed doors with administrators. We had lots of meetings with them. It was very exhausting. We burnt out quickly, because it all moved so fast. It took a toll on our soul and our energy. Because of that exhaustion, I took a step back. I needed to refocus my energy on graduating.
It pushed me to a place of healing and self-care and looking inward to see what I needed to do to take care of myself. I do think that's also a radical act of love and I would consider that activism.
I was very angry, upset and disappointed. Then I went to North Dakota for the Dakota Access Pipeline protests at Standing Rock with a friend. The night we got there was the night law enforcement had sprayed everyone with water. It was in that space where I learned that I needed to take a step back. They said something that was very true, although it was hard for me to swallow at the time. I thought I was going there to stand on the front lines with my fist up.
They had training sessions for folks who just arrived at the camp. It was very well organized and very centered on love. When we attended the training, it was like they were talking to me. They were saying, I know you've come here for the right reasons. You have the passion for the work, but we need you to really look into your energy and see if it's coming from a place of love, or if it's coming from a place of anger. If you're coming with anger, we need you to sit down. Stay in camp, but don't go to the front lines because we don't need that energy there. We need people who are full of love and light because anger would only cause more trouble.
That moment was what really brought me down to earth. I knew I needed to heal because I'm mad at the world, the immigration system, the police and the bureaucracy of the justice system. I took a step back and I helped around camp. I helped make skirts for the women in the camp. It was an incredible experience, and that's what led me into a different perspective on activism and fighting.
Right now with the Black Lives Matter movement, there's a lot of transformative conversations and actions taking place across the country. It's so refreshing to see that it's creating dialogue but also implications of policy. I hope the momentum continues. Where I am right now is in support. Do you need grant writing for your organization? I'm here. Do you need me to rally up donations? I can help you with the marketing of that. I'm not saying that I'll never be on the front lines again; it's just not go- ing to come from the same energy. It's definitely going to come from a place of love.
---
WHAT DOES IT MEAN TO BE FEARLESS?
To me, the word fearless means not necessarily that you're free of fear, it actually means that you understand the fear and you're able to navigate that and control it. And you're also able to act, despite that fear.
WHAT DOES BEING FEARLESS LOOK LIKE?
Being fearless in my opinion looks like everyday people. For example, in my community: immigrants. Going to work, coming to this country, trying to get a job, speaking English. Those everyday things are acts of fearlessness for a community that could be mistreated and misunderstood and are trying their best to go about everyday life. Being fearless is not an amazing event. Fearless people are everywhere around us. They're going about their lives in many ways with fear. It's not a momentous event, it's about the everyday things that happen.
WHAT DOES BEING FEARLESS FEEL LIKE?
For me, fearless feels like successfully navigating and handling stress and tension that I have. It feels rewarding in some way to speak truth to power, to speak up and lift the voices of those who may not have the opportunity to share their story. It just feels powerful.
HOW DOES SOMEONE BECOME FEARLESS?
You become fearless by giving yourself the opportunity to fail, to give yourself the opportunity to be vulnerable, on your own or in public. The fearless moments in my life are all around speaking about immigration issues in public. That is what I connect with when I think of fearless moments.
DRAW THE WORD FEARLESS.
I think I would draw my mom.