As told to Emily Kestel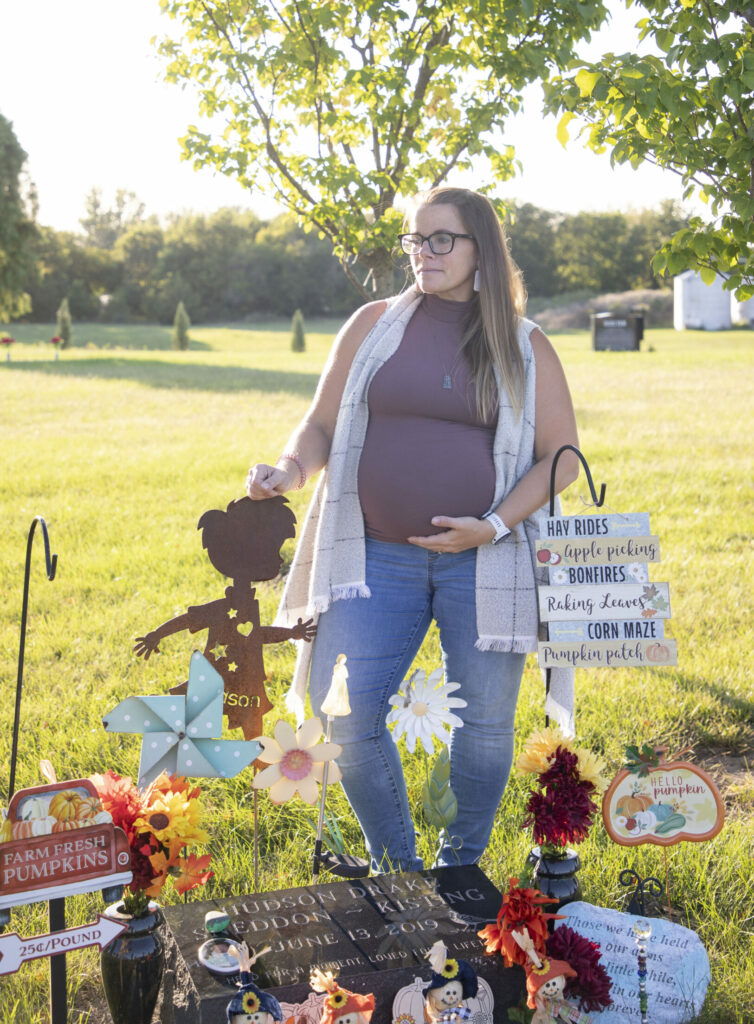 Patty Sneddon-Kisting is the executive director of the Urbandale Food Pantry. She and her wife, Lisa, have two children: Addi and Cooper. Another child, Hudson, died shortly after birth. They are expecting their fourth child this December.
The following story has been formatted to be entirely in her own words, and has been edited and condensed for clarity.
Note: This story discusses child loss and may be triggering to some.
Becoming mothers has taken Lisa and me down the road less traveled. Nothing could have prepared me for the journey we've been on for the past six or seven years.
In total, we've had nine rounds of [intrauterine insemination], four miscarriages, one IUI injectable process, three rounds of IVF and one vanishing twin. Our daughter, Addi, rocks an extra chromosome. Our son Hudson was given a terminal diagnosis.
The funny thing is, for the longest time we didn't even want kids. It wasn't until I was in my 30s that I thought, "I wonder what a little me or a little Lisa running around would look like." I remember how exciting it was to think of the possibilities.
Lisa had no intention of ever carrying. But after the miscarriages and failed attempts on my end, she said, "OK, I'm gonna try." She got pregnant with Addi in November 2016.
We received Addi's Down syndrome diagnosis in early 2017. You could have told me that Addi was going to be born green like Elphaba from "Wicked" and I would have been like, "Cool. We're having a baby."
We announced her to our friends and family on World Down Syndrome Day in March. We had a lot of questions and there were a lot of unknowns, but that was the first time in being very transparent with a big part of our journey. We were met with love and support – and we still are. She was born in July [2017] and has rocked her extra chromosome ever since.
When we decided to try again, there were more failed attempts and miscarriages. We switched to an IUI injectables process, where you're monitored more. The day before I was supposed to have a trigger injection, I got a phone call that said my estrogen level had skyrocketed and I was at risk of having quads or more if we went through with it. So we couldn't do it. We switched over to IVF, had our egg retrieval the next day and transferred two embryos. In November 2018 we were told about the vanishing twin, but that we still had one good heartbeat – Hudson.
Graduating from the fertility clinic was the furthest I'd ever gotten in my pregnancies. All of my miscarriages and failed attempts had all happened in the first trimester. So when we got to our first appointment with our OB, I was thrilled.
At our ultrasound, we got the news that the nuchal fold was thicker than they wanted it to be. I remember Lisa and me looking at each other like, "This is deja vu." We had this exact same conversation with Addi's Down syndrome diagnosis. We got in the car and said, "What are the chances we have another child with Down syndrome?"
We were later given a not-fit-for-life diagnosis by a specialist. There were a lot of things going on with Hudson. He had a diaphragmatic hernia, which caused his bowels to move up into his lung cavity, so his lungs never developed. He only had one kidney, and his left arm didn't seem to be developing. I also had little to no amniotic fluid.
The specialist said, "You won't make it past three months. You will either miscarry or have a stillbirth. Do you want to terminate?"
At that moment, my faith in the world was diminishing. You hope for a different outcome, you hope for a miracle. We had lots of second opinions, but there was nothing they could do.
We knew that termination was not something we wanted to do, so instead we decided to celebrate. We made a babe's bucket list. We took maternity pictures, went to concerts, took road trips and had a 200-day birthday celebration with cake. I'm a big runner, so Hudson logged a lot of miles. I did an indoor triathlon.

While I was pregnant with him, he was happy, content and healthy. He was proving all of the doctors wrong, in a sense. He got bigger. All the things they said he wouldn't do, he did. It didn't change their prognosis or the outcome, but he was a strong little nugget that just kept on growing.
I remember one of our appointments where the doctor said, "You actually might make it to a live birth." That was my goal.
Weathering and navigating a terminal diagnosis is making a birth plan for a live birth, and a birth plan for a death. And while you're still trying to pick out a name, you're purchasing a grave plot.
Having to decide between medical intervention and comfort care is not something I would wish on anybody. Is medical intervention being selfish when you're going against what every single doctor has told you? Is comfort care giving up on your child? How are you supposed to make that decision?
We were supposed to have an appointment with the neonatal surgical team at 2 p.m. on June 13 to decide between the two. I was right at 35 weeks. I went into labor that morning. Hudson had made the decision for us to go with comfort care.
When we went in that day, I was so mad. I wanted all 40 weeks. I knew what the inevitable outcome was, and it was too early. I wanted every moment that I could have with him, because in my belly he was happy and healthy.
There was no time for an epidural. They had me hooked up to the monitor at 11:50 a.m. and he was born at 12:32 p.m. Hudson Drake weighed 3 pounds, 15 ounces and was 14.25 inches.
I heard one gasp. They laid him on my chest. All of the people who didn't absolutely have to be in the room left so Lisa and I could have our private time with him.
I held him and told him we loved him and how sorry I was. The hardest part was holding him while his heart stopped. He was alive for about 45 minutes.
It was hard not to notice his body changing, the color leaving, his skin hardening and getting so cold. I often wonder if I made the right decision keeping him with me for so long – but I know I did. [The hospital allowed Patty and Lisa to keep Hudson with them after he died while they grieved.]
We have so many really great pictures of us and Addi together as a family. I got to help with his first bath. We read him books like "On the Night You Were Born" and "I Love You More." He was baptized and was read his last rites. We took time to do all of those things that were important. Each individual thing that we did was very much a moment in its own. Nothing was rushed.
We stayed at the hospital for two days. He didn't leave my side. I don't think I slept the entire time. Then the time came to hand him over. The nurse kept telling me to take as much time as I needed.
I finally had to tell her, "If you keep telling me that, I'll never leave."
His funeral was a week later. I think I went to the funeral home every single day up until it, because I knew there was going to be a moment that I couldn't hold him anymore. How do you soak in all of the moments to be with your son when you're on a time limit?
In the days after the funeral, I remember telling myself, "Patty, you knew this was the inevitable outcome. Why aren't you handling this better?"
You can never prepare yourself for the death of a child. My friend had told me, "You know, you can't Patty your way through this, right?"
I can't fix this. It's manageable, but you have to figure out a way where grief, gratitude, joy, pain and loss can all coexist. I always say, "I visit grief, I just don't unpack my [stuff] and stay there."
There's a lot of grief that comes along with child loss. The emptiness and numbing feelings of things you will never get to experience with your child. The daily doses of tears, and having to answer questions like "How many kids do you have?" I always say, "I've got two in my home and one in my heart."
I don't ever want Hudson to be something that happened to us. I don't ever want him to be a fuzzy distant memory or a mountain we had to climb. That's one of the reasons why I share his story so much and why we talk about him.
There is also joy in Hudson's story. I'm so grateful he picked [Lisa and me] to be his mothers and that we get to share his story. He changed our lives. Every year we do a walk to remember and we raise money to purchase cuddle cots for hospitals. It has been fantastic to be able to give other families experiencing those unimaginable moments that gift of just a little bit more time.
I remember being in the hospital and all the nurses telling me about what I needed to do to stop my milk from coming in. Wear tight bras, cold compresses and drink certain teas. No one even thought to ask if I had considered pumping and donating my milk, which is exactly what I wanted to do.
Pumping and donating milk was part of my healing and grieving process. More importantly, it was also a way for me to honor Hudson and help other little ones. So four to six times a day for 92 days, I pumped. I thought about Hudson, I talked to him, I cried, I smiled, I thought about the kiddos we were helping.
The months after Hudson died were hard. Not just because he wasn't here and navigating child loss, but life doesn't stop when tragedy strikes. In a short few months following his death, Lisa quit her job to start her own business. My job was reassigned and I had to take a significant pay cut; then I took a chance on myself and started a new position. Addi had some health issues that landed her in the emergency room seven times. There were four hospital stays, one NG tube, a G tube, pneumonia, RSV and rhinovirus. There are so many seasons to motherhood, to parenting.
After Hudson, we had two embryos left. Here I am, making this decision again that could potentially put my family in financial hardship. It's not cheap. It's also finding the courage to try again when you know what the outcome could be.
Cooper was [implanted] in May 2020. There was a lot of anxiety that came with it. You're just always waiting to get to the next milestone. Yay, I heard the heartbeat. Yay, we made it to viability day. Even in that last week of being pregnant with Cooper, you could not get him into my arms fast enough.
One time my dad said, "You carry him an awful lot. Are you ever going to put him down?" When you have one kid pass away, would you put your child down?
I also remember that the first time we had to hand Addi over for a surgery was the first time I actually felt a panic attack. As simple as the procedure was, I had to tell the surgeon, "I have already had one child die; you need to bring this one back to me."
Motherhood is the greatest title I've ever been given. Addi taught us how to advocate and use our voice. She forces me to slow down and appreciate life. Hudson really changed my world in the sense of "I can do hard things." Cooper mended parts of my heart that I didn't think were going to be mended.
I will never let the things that I'm going through steal my joy. I'm always going to have a spark for life. I'm always going to have a spark for people, laughter and giving.
I cannot change what happened. But what I can control is how I move forward.